M-Power Your Potential

Thursday, 5 May 2016 from 7:30 AM to 8:30 AM (EDT)
Event Details
What are you working to create in your life? 
Whatever it is, growth is essential to your satisfaction and success. But growth doesn't just happen, at least not the kind we want. It requires intentionality and a desire to expand beyond your current capacity. This course will transform your wishes and dreams by increasing your capacity and adaptability to change.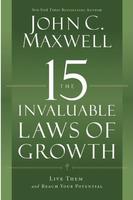 Learn about what it takes to grow and reach your potential along with other like-minded people. This powerful study uses John Maxwell's book, "The 15 Invaluable Laws of Growth" as our guide for 5 sessions of discovery, growth and transformation. 
The Laws of Growth will help you: 
Focus on growing with a purpose 
Identify the best environment to support your growth
Stretch your abilities 
Pursue your lifelong dreams
Go from wishing to making it happen
Starting Thursday May 5th to Thursday June 30th, the meetings are 1 hour per week every other week for 5 sessions over the period of 10 weeks.  If you want to make 2016 your best year ever, register now! Limited spaces available!
When & Where

Online Teleconference
You will receive the number and passcode as well as options for easy, convenient ways to get on the call from wherever you are.



Thursday, 5 May 2016 from 7:30 AM to 8:30 AM (EDT)
Add to my calendar
Organizer
Lorna Weston-Smyth
The quiet voice of change that keeps the focus on the end goal to accelerate success.

I have spent a lifetime helping people navigate from where they are to where they want to go. For some that's been an issue of being stuck in their own leadership or self-leadership, unable to make a commitment and follow through with it themselves, unable to lead their teams to where they want to go. For others it's been unlocking a limiting belief that's held them back. So whether there's an opportunity in front of you that you need some skillset development or maybe there's an opportunity in front of you that maybe there's a limitation, either way what I do is I help people unlock their potential.