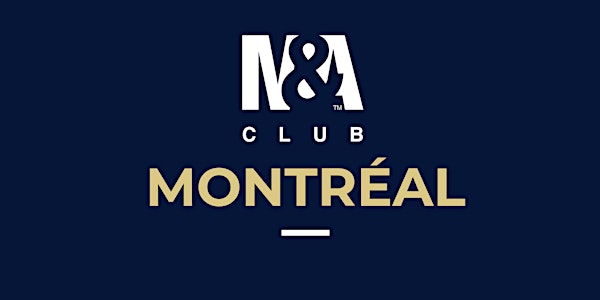 M&A Club Montreal Hybrid meeting
Blakes Panel on Distressed M&A Trends and Structures in Canada
When and where
Location
Blake, Cassels & Graydon LLP 1 Place Ville Marie #3000 Montréal, QC H3B 4N8 Canada
Refund Policy
Contact the organizer to request a refund.
About this event
(version française ci-dessous)
Blakes Panel on Distressed M&A Trends and Structures in Canada
Topics covered will include:
Overview of Types of Insolvency Proceedings, including CCAA and BIA
Court Supervised Sale Process, including SISP, stalking horse bidders, auctions and credit bids
Employment issues, including transfer of employees and liabilities under benefit plans
Deal Terms and dynamics, including speed of process, risks related to limited vendor due diligence representations and indemnities, closing conditions and the possibility of "synthetic" R&W insurance
Court Approval, including Reverse Vesting Orders and Assignment Orders
Presenters:
Angelo Noce, Partner, M&A and Private Equity, Blakes (Moderator)
Sebastien Guy, Partner, Restructuring & Insolvency, Blakes (Panelist)
Catherine Gagné, Associate, Employment & Benefits, Blakes (Panelist)
Jean Tessier, Partner, M&A and Capital Markets, Blakes (Panelist)
This M&A Club Montreal meeting is hybrid: you can attend virtually on Zoom or in-person at Blakes office (Montreal).
In person meeting from 11:30 am (EST) to 1:30 pm (EST) (Networking, Lunch and Round table).
Webinar in English from 12:00 pm (EST) to 1:00 pm (EST)
***
Table ronde de Blakes sur les tendances et les structures relatives aux F&A de sociétés en difficulté au Canada
Voici quelques-uns des sujets qui seront abordés :
Survol des types de procédures d'insolvabilité, y compris en vertu de la LACC et de la LFI
Processus de vente supervisé par le tribunal, y compris le PVSI, les soumissionnaires-paravents, les enchères et les offres de réduction de créance
Questions relatives à l'emploi, y compris le transfert d'employés et les passifs au titre des régimes d'avantages sociaux
Modalités et dynamique des opérations, y compris la vitesse du processus, les risques liés aux déclarations et indemnités limitées indiquées dans la vérification diligente du vendeur, les conditions de clôture et la possibilité d'assurance des déclarations et garanties « synthétique »
Approbation du tribunal, y compris les ordonnances de dévolution inversée et les ordonnances de cession
Présentateurs:
Angelo Noce, Associé, F&A et capital-investissement, Blakes (Modérateur)
Sébastien Guy, Associé, Restructuration et insolvabilité, Blakes (Panéliste)
Catherine Gagné, Avocate, Emploi et avantages sociaux, Blakes (Panéliste)
Jean Tessier, Associé, F&A et marchés des capitaux, Blakes (Panéliste)
Cette réunion du Club M&A Montréal est hybride : vous pouvez y assister virtuellement sur Zoom ou en personne au bureau de Blakes (Montréal).
(Veuillez noter que les réunions du M&A Club sont gratuites pour les membres et que les places sont limitées).
Réunion en personne de 11h30 (HNE) à 13h30 (HNE) (réseautage et table ronde).
Webinaire en anglais de 12h00 (HNE) à 13h00 (HNE)