Macarons Workshop at the Lincoln Apartment Bakery/Atelier macarons à Lincoln Apartment Bakery

Sunday, 14 April 2013 from 1:00 PM to 3:00 PM (EDT)
Event Details
Sociale Presents: Macaron Workshop at the Lincoln Apartment Bakery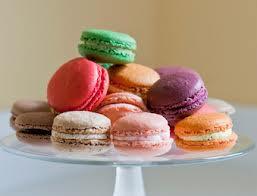 They're known as the pinnacle of patisserie, and have defeated many a dedicated pastry chef over the years; macarons are as delicious as they are tricky to make. Sociale is excited to be partnering with the lovely Lincoln Apartment Bakery for an afternoon of macaron-making! During this workshop you'll learn the secrets to these bite-sized treats, create a selection of delicious flavours, experiment with mouthwatering fillings, and try to resist eating your take-home samples before you get out the door! Clas
s includes welcome drink, recipe sheets, two-hour instruction and practice, tea and tasting plus a gift bag of macarons to take home.

About the expert baker extraordinaire:
Jessica McGovern is originally from Ireland, and has been experimenting in the kitchen since before she could spell 'kitchen'! She graduated with a Bachelors degree in English and Theatre in Ireland, worked in Africa and China, then went on to complete a Masters degree in Journalism in Scotland, before working in France, Argentina, and finally, Canada. She divides her time between baking classes and freelance journalism, and hopes that teaching people to make cake will eventually bring about world peace, or at the very least, temporary world contentment.

Sociale is thrilled to offer you exclusive pricing.
Please note that spaces are limited, so book now! 

Non-member: $35
Member: $30

Become a Sociale VIP member today! Visit

http://

socialememberships.eventbri

te.ca/ to see all the perks and to register.

What is included in this cost:

A welcome cocktail
A 2-hour hands on workshop where you'll learn to make macarons from scratch
At the end of the lesson, participants will be able to enjoy their creations in the company of their cooking classmates and even take some home!
**You will get an email confirmation with workshop location within 72 hours of booking

IMPORTANT:
All participants must arrive on time
Please note that this workshop will be held in English. However, our workshop experts as well as your Sociale hostesses will entertain a bilingual group.

Dress code: Casual. Wear whatever you feel comfortable cooking in. Aprons will be provided.

If you have any allergies, please e-mail info@socialemontreal.com after booking and we will accommodate you to the absolute best of our abilities.

Facebook:

https://www.facebook.com/

TheLincolnApartmentBakery
Website:

http://

www.lincolnapartmentbakery.

com/



**************************

**************************

***********

Ils sont reconnus comme étant l'apogée de la pâtisserie et ont donnée du fil à retordre à plusieurs pâtissiers au fil du temps: les macarons sont à la fois délicieux et délicats à préparer. Sociale est ravie de collaborer avec Lincoln Apartment Bakery pour un après-midi de confection de macarons. Pendant cet atelier vous découvrirez les secrets derrière ces bouchées sucrées, vous créerez différentes saveurs délicieuses, vous expérimenterez avec des garnitures qui vous mettront l'eau à la bouche, et vous essayerez de ne pas manger tout le fruit de votre labeur avant de partir! L'atelier inclut un cocktail de bienvenue, des fiches recettes imprimées, deux heures de cours et de pratique, du thé, une dégustation et un sac cadeau de macarons à rapporter à la maison.

À propos de la pâtissière extraordinaire

Jessica McGovern est originaire d'Irlande, et a commencé à expérimenter dans la cuisine avant même de pouvoir épeler « cuisine »! Elle a obtenu un Baccalauréat en Anglais et Théâtre en Irlande, a travaillé en Afrique et en Chine avant de compléter une Maîtrise en Journalisme en Écosse. Elle a ensuite travaillé en France, en Argentine et, enfin, au Canada. Elle partage son temps entre les cours de pâtisserie et la pige journalistique, et espère qu'enseigner aux gens à faire des gâteaux amènera la paix dans le monde, ou du moins une satisfaction mondiale temporaire.

Sociale est ravie de pouvoir vous offrir cet atelier à un prix exclusif!
Notez que les places sont limitées, donc réservez sans tarder!

NON-MEMBRE : 35$
MEMBRE : 30$
Devenez membre VIP de Sociale! Visitez le

http://

socialememberships.eventbri

te.ca/ pour découvrir tous les avantages dont vous profiterez en devenant membre et pour vous inscrire.

Inclus dans le prix :


Un cocktail de bienvenue
Un atelier pratique de deux heures où vous apprendrez à faire des macarons de A à Z
La chance de goûter à vos créations en compagnie de vos compagnons de classe et la possibilité de rapporter des macarons à la maison
**Vous recevrez un courriel de confirmation avec l'adresse dans un délai de 72 heures après achat.

IMPORTANT

Tous les participants doivent arriver à l'heure.
Veuillez noter que cet atelier se déroulera en anglais. Toutefois, les animateurs des ateliers et les hôtesses de Sociale feront de leur mieux pour répondre aux besoins d'un groupe bilingue.

Code vestimentaire : Décontracté. Portez des vêtements dans lesquels vous êtes à l'aise pour cuisiner. Des tabliers seront fournis.

Si vous souffrez d'allergies, veuillez nous envoyer un courriel à info@socialemontreal.com après vous être inscrite et nous mettrons tout en œuvre pour répondre à vos besoins.

Facebook :

https://www.facebook.com/

TheLincolnApartmentBakery
Site Web :

http://

www.lincolnapartmentbakery.

com/
Have questions about Macarons Workshop at the Lincoln Apartment Bakery/Atelier macarons à Lincoln Apartment Bakery?
Contact Sociale
Organizer
The Sociale concept caters to Montreal women and focuses on learning, networking and socializing. The ultimate goal is to empower women in a modern way and to offer a dynamic platform to meet and connect. The company offers access to hands-on workshops and events, a daily look into what's happening in the city, highlights notable women and spoils their members with contests and giveaways. Sociale also provides an array of public relation services to businesses. 
Offering free memberships to their community, members benefit from a bunch of perks. In doing so, Sociale aims to expose their followers to curated products & services by both local and global companies, allowing them to experience the best of the city. So join us today and become a member!
Throughout the years, the Sociale vision has evolved and will continue to do so. Supporting local charities in their #SocialeGivesBack efforts has become an integral part of their mission.