Description
Please join us for lunch on December 8th to hear from Andrew Scheer as part of our federal leadership candidate series. This is our last event until 2017!

Let's give him a warm Macdonald-Cartier Club of London welcome!
Please share this with fellow conservatives who would like to meet the candidates.
As a reminder we are increasing our meeting frequency to accommodate the candidates who have asked to meet our members! When the leadership race is complete we will return to meetings every other month. (Please see schedule below for upcoming dates.)

Here are some more details about Andrew Scheer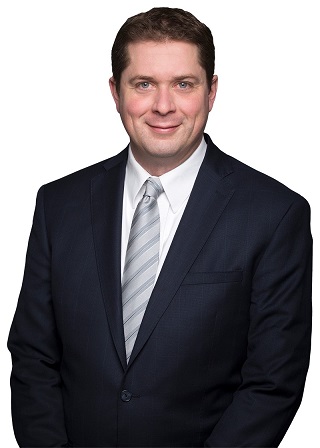 Andrew Scheer has spent his working life both in the public and private sectors, providing him with the experience he needs to be an effective representative for the hard-working families of Regina-Qu'Appelle because he knows how Ottawa "really works" and he's also intimately aware of the many opportunities and challenges that face other hard-working families in Saskatchewan.

Andrew studied History and Politics at the University of Ottawa and the University of Regina, and is fluent in both official languages.

For several years prior to 2004, Andrew worked in Ottawa for the Leader of the Opposition, specializing in communications and outreach and learning "how things really work in Ottawa". He also worked in an MP's riding office, learning about the dual responsibilities of a working parliamentarian when in Ottawa, and as a hard-working champion for the people he represents back home.

When still a young man, he made the decision to move to Saskatchewan permanently because he strongly believes in the vast opportunities this province has to offer hard-working families like his. Andrew and his wife Jill live and work in Regina, where they raise their five children, Thomas, Grace, Madeline, Henry, and Mary. In Saskatchewan, Andrew passed the Canadian Accredited Insurance Broker program and started his career in the insurance industry, working at Shenher Insurance in Regina.

In 2004, the people of Regina-Qu'Appelle placed their confidence in Andrew and elected him to the House of Commons as one of Canada's youngest MPs. They have continued to maintain that confidence, choosing to re-elect him in 2006, 2008, 2011, and 2015. Andrew now has twelve years of experience making sure that the needs and concerns of Regina-Qu'Appelle are heard in Ottawa.

In the 39th Parliament Andrew served as the Assistant Deputy Chair of Committees of the Whole. In the 40th Parliament Andrew served as the Deputy Speaker.

On June 2nd, 2011, Andrew was honoured to be elected the Speaker of the House of Commons for the 41st Parliament.

Following his re-election in the October 2015 general election, Andrew was honoured to be selected as the Official Opposition House Leader by Conservative Party Interim Leader Rona Ambrose.
Most recently, Andrew stepped down as Official Opposition House Leader to run for the Conservative Party Leadership.
We invite you to meet Andrew at the Macdonald-Cartier Club of London and hear his vision for the future of the party of our country. All family and friends are welcome.
Reserve your tickets early to ensure your spot!
Upcoming dates:
19-Jan - Scott Reid

16-Feb Kellie Leitch
16-Mar Deepak Obhrai
20-Apr Erin O'Toole