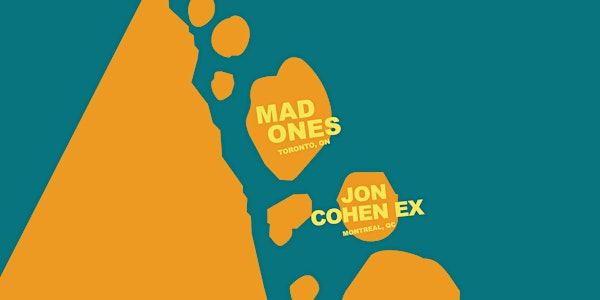 Mad Ones with John Cohen Ex
Location
The Dakota Tavern
249 Ossington Ave.
Toronto, ON M6J3A1
Canada
Sales Have Ended
Ticket sales have ended
Tickets available at door
Fortune Stellar Records Presents: Mad Ones with John Cohen Ex
About this event
Mad Ones blurb:
A bit of Big Star by way of The Replacements... Crunchy, garage-tinged rock'n'roll done right.
Mad Ones have toured Canada, the U.S. and Europe extensively in support of 3 full length albums, an EP and multiple singles. The trio closed out 2019 as direct support for Can Rock 90's legends Rusty on a 7 date tour of central and eastern Canada. 4th LP "Breakdown" will be released in early summer 2020 on Fortune Stellar Records starting with lead-off single "Hollow Head" arriving in April.
Previous album "Regretless" (2017) featured guest performances from members of beloved Canadian bands The Sadies and Constantines and primary single "End Of You" received significant CBC 3, satellite and campus radio play. "Regretless" was toured largely in Europe and Canada developing a dynamic performance range that built on the foundation of the hard rocking duo heard previous releases Sanciety (LP 2016), Burning Window (EP 2013) and Behaviour (LP 2011).
Jon Cohen Ex blurb:
Go Getters is Jon Cohen's 5th release. Recorded by Dave Draves (Kathleen Edwards, Jim Bryson) at Little Bullhorn in Ottawa, mastered by Jett Galindo (Neil Young, Sam Roberts) at the Bakery in LA, and set for August 4th release on Sugar Gator (Jess Reimer, Moulettes), the intriguing thing about this record is its propensity to defy genre. This is playful yet moody music,"Baby Life" is a high-energy intersection of Ween and The Strokes, while album closer "Go-Getters" bounces effortlessly from George Harrison to Lightfoot to Pavement in a single measure. "33rd Floor" channels Beatles, Blur and Jefferson Airplane. At times orchestral or grungy, the E.L.O vs. the 90's vibe is raw and unapologetic.
In the end, JCEX's earnest songs and dynamic high-energy live shows are what shine through - the band has vested emotional strength into this album and live performances. With a confident yet loose stage presence and unpredictably precise instrumentation, Cohen's crooning vocals and unintimidating presence emanate from anything he does, reminding even the most wound-up of us to tap a toe, maybe even jump out onto the dancefloor.