m:AD Women 2014

Wednesday, 12 November 2014 from 8:00 AM to 12:00 PM (EST)
Event Details
---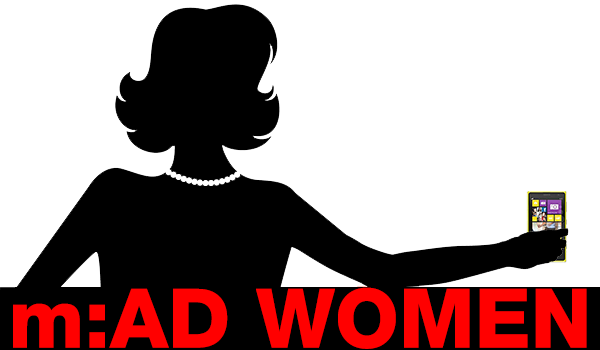 Join Ad Women of Toronto and Microsoft for m:AD Women, a half-day conference for the brilliant women of today's advertising industry. The session promises to be both inspirational and thought-provoking, we look forward to seeing you there!
$5 of every ticket sold will be donated to our charitable partner Dress for Success Toronto!
DATE: Wednesday, November 12, 2014

SCHEDULE:
8:30am   - Registration & Breakfast
9:00am   - Event Begins
9:10am   - Alyson Gausby - The Evolution Of Cross-Screen
9:45am   - Dress for Success
9:55am   - Sheila Heti, Heather Mallick, Haley Mlotek - Women In Clothes
10:45am - Networking Break
11:05am - Barbara Morris - Reaching Within for Resiliency: Practical Strategies for Bouncing Back                          from Life's Ups and Downs
12:00pm - Networking
12:30pm - Event Ends

LOCATION: 2nd Floor Events, 461 King St W, Toronto, ON M5V 1K4


---
PRESENTED BY

---
IN SUPPORT OF

Ad Women of Toronto has teamed up with Dress for Success whose mission is to promote the economic independence of disadvantaged women by providing professional attire to help women thrive in work and in life.

Professional attire provided to Dress for Success Toronto and Dress Your Best will be given to referred women and men for interviews and employment. These clothing donations will enable clients to begin to build a professional wardrobe.

We are asking all attendees to please bring a piece of clean and ready to wear, new or gently-used, women's and men's professional attire in any size. For full donation guidelines please click here.
---
SESSIONS
The Evolution Of Cross-Screen
Being where consumers spend their time is vital for brands to stay relevant, effective, and competitive. But, it's a tall order to be able to reach your customers at the right time and place within today's complex ecosystem. Microsoft's new Canadian Cross-Screen Evolution study investigates the evolution of the distinct relationships that Canadians have with each of their screens, as well as how and why they multi-screen, helping marketers and advertisers better connect with their audiences.

Women In Clothes
Noted Toronto Star columnist Heather Malick, writer and former publisher of Worn, Haley Mlotek, and author Sheila Heti will speak about Women in Clothes, the new crowd-sourced book featuring 639 women from around the world talking about their relationship to what they wear. The session will include opportunities for participants to answer questions from the book's "style survey" and uncover the hidden motives behind why they wear what they wear.

Reaching Within for Resiliency: Practical Strategies for Bouncing Back from Life's Ups and Downs
One thing in life that's for sure – we all have our ups and downs. Some of us bounce back from adversity like a rubber ball and then there are others who are knocked down by life's smallest punches. 
Resilient people are the ones who succeed no matter what life throws them. They're the ones that, as the saying goes, "when the going gets tough, the tough get going". The research shows us that we all have the capacity to be resilient.

Through this engaging, interactive session, Barbara will share her story of her debilitating automobile accident. A story of resilience and what she learned about herself and others. Attendees will learn how to strengthen their ability to overcome whatever they are facing. They will gain personal insights into their reaction to adversity and they will discover their own their unique personal strengths that will help them get back on track.
---
SPEAKERS

 

Alyson Gausby, Consumer Insights Lead, Microsoft
As Microsoft's Canadian Consumer Insights Lead, Alyson is responsible for translating consumer intelligence into trends research to provide value for the Canadian marketplace.

 

Sheila Heti, Author
Sheila Heti is the author of six books, including the critically acclaimed How Should a Person Be? and the New York Times bestseller Women in Clothes. She writes regularly for the London Review of Books and served as Interviews Editor at The Believer magazine for several years. She lives in Toronto.

 

Heather Mallick, Columnist, The Toronto Star
Heather Mallick is an author and staff columnist at The Toronto Star.

 

Haley Mlotek, Editor of The Hairpin & Publisher of WORN Fashion Journal
Haley Mlotek is the editor of The Hairpin and the publisher of WORN Fashion Journal. She lives in Toronto.

 

Barbara Morris, President, Elevate Organizations
Barbara Morris is an inspirational speaker, consultant, trainer, facilitator and catalyst for change. As President of Elevate Organization Inc. and a Certified Professional Coach, Barbara guides individuals, teams and organizations past barriers and toward high engagement, high value and high performance.

With more than 15 years of experience leading a successful consulting company, executives, entrepreneurs and managers have come to rely on Barbara as an effective problem solver and change navigator. Business and professional groups frequently call upon her to share her insights and tips for developing proficient leaders and inspiring a workplace culture of performance.
---
When & Where

2nd Floor Events
461 King St W
Toronto, ON M5V 1K4
Canada

Wednesday, 12 November 2014 from 8:00 AM to 12:00 PM (EST)
Add to my calendar
Organizer
Ad Women of Toronto serves as an exchange of the wisdom, passion and power harnessed by our members in this industry and beyond and provides a forum for women in communications to collaborate, network, inspire and debate.