Description
Have you ever imagined Little Red Riding Hood as a fashion blogger? We have… That's the story behind "FABLED", the pre-launch of MADE2MEASURE, Toronto's newest fashion festival!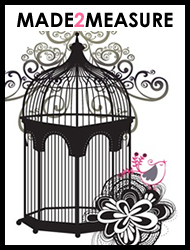 On Thurs. July 7 (2011), friends and media will gather at Toronto's legendary Gladstone Hotel (1214 Queen St. West, Toronto ON) for an evening inspired by fairy tale, fashion and beauty.
FABLED features our favourite childhood characters, re-imagined and presented as young, modern, stylish women. Reputed stylist Cassiopea Tapper (Tchad Magazine, Peace Magazine) has been charged with sourcing local designers and boutiques for modern interpretations of Dorothy's ruby slippers, Alice's black mary janes and Little Red Riding Hood's infamous cloak.
FABLED will be featured as a live installation; fashionistas, bloggers and media are invited to photograph each character in and around the Gladstone Hotel and West Queen West!
Guests will enjoy popcorn and cocktails while special guest DJ Ree leads you to the dance floor with a mix of hip hop, house and everything in between!
Secure your spot at this event; tickets are $10, available online via Eventbrite. To access the $10 Guestlist, email info@frugalfashionweek.com with your request. Proceeds from the pre-launch party will go towards subsidizing the room fees for exhibiting designers.
See you at the MADE2MEASURE PRE-LAUNCH!
--
In July 2012, the MADE2MEASURE festival, an annual celebration of art, fashion and community, debuts at Toronto's landmark Gladstone Hotel! 11 artists and designers will re-decorate a hotel room on the Gladstone's famed 2nd floor. Each room will be unveiled at an Opening Night Party, held just weeks before Frugal Fashion Week. Guests will be treated to a multi-level installation, inspired by fashion. The festival opens to the public for the remainder of the weekend; each room will become a pop-up boutique, showcasing the current and upcoming collections of each exhibiting designer.
Organizer of MADE2MEASURE: FABLED PRE-LAUNCH PARTY
MADE2MEASURE, Toronto's newest fashion festival, is a celebration of fashion, art and community!
The festival officially launches in July 2012.
11 artists and designers will create a multi-level installation at Toronto's legendary Gladstone Hotel.
This 3-day festival features an Opening Reception and concludes with a 2-day pop-up boutique featuring the current and upcoming collections of the exhibiting designers.