A virtual marketplace for SFU makers to show their craft! http://bit.ly/MBSFU-marketplace
About this Event
#MadeBySFU Marketplace
Shop for local products by SFU makers.
Open to the public.
Register to receive the marketplace Zoom link!
The marketplace is the grand finale where #MadeBySFU competitors use everything they've learned throughout the competition to display their products in the best light.
The marketplace is open 11AM to 2PM on November 18 and attendees are free to join anytime during those hours. Stay till the end to find out who will win the competition!
Find unique items and get your holiday shopping done early at the #MadeBySFU virtual marketplace. Check out all the competitors' and vendors' stores!
Marketplace participants:
Jewelry & Apparel
Charlie & Paisley
For the Seconds Jewelry
Pajeon Pals
Recreative Apparel
Beauty & Cosmetics
Aquila Soaps
Deine Cosmetics
Kitten Komforts
Art/Photography
Justine Crawfart
Katelyn James PNW
Natural Reflections Artwork
VoicingThruMandala
Handmade & Personalized
artisticparrot
bilibilipilipili
Designed by Unspoken
Elle Belle's Creations
Just Jay Crafts
Papermain
Vote for your favourite maker!
Attendees will receive a link to vote for their favourite maker during the virtual marketplace. Voters have the chance to win a Mala the Brand candle! Meet the makers to help you decide who to vote for!
Rules:
Must RSVP to the marketplace via this Eventbrite page
Must attend the virtual marketplace on Nov 18 to cast your vote
Open to all marketplace attendees
Date: November 18
Time: 11AM-2PM
Location: Online
You will receive the Zoom link to the virtual marketplace after you RSVP.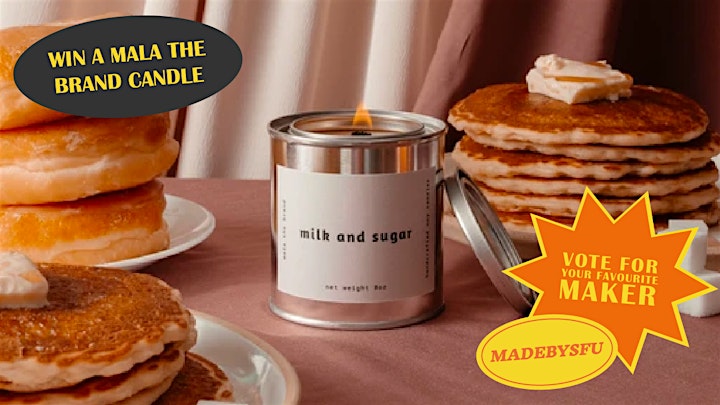 #MadeBySFU 2020
Coast Capital Savings Venture Connection and SFU Spirit Shop present #MadeBySFU, a competition celebrating product entrepreneurs from Simon Fraser University.
Application period closed.
Calling all small product businesses, crafters and DIYers at SFU! The annual competition celebrating product entrepreneurs is back. #MadeBySFU gives you the opportunity to win cash prizes and even sell your product(s) at the SFU Spirit Shop!
Whether you create and sell your own t-shirts, artwork or other types of products, you are an entrepreneur who has what it takes. Show off your unique creations in this competition!
The competition ends with the popular #MadeBySFU Marketplace (virtual in 2020) where competitors will sell their products and be judged for awesome prizes.
SFU students, staff, faculty, and alumni are eligible to apply.
Application period: September 28 - October 12
Visit bit.ly/MadeBySFU2020 for the list of prizes and more!

Western Canada's first university business incubator, Coast Capital Savings Venture Connection® is a university-wide incubator, entrepreneurship training program for students and recent alumni. From the initial business idea through to validation, Venture Connection® supports individuals exploring entrepreneurship possibilities. The program offers an early-stage business incubator, mentorship, co-op education terms, competitions, networking opportunities, workshops and seminars. Venture Connection® collaborates with all SFU faculties and departments, including the Beedie School of Business, the Faculty of Applied Sciences, the Faculty of Communication Arts and Technology, Work Integrated Learning and a wide-range of external partners. The program is supported by professional staff, including Mentors-in-Residence with substantial experience in a range of industries.