Event Information
Refund policy
Contact the organizer to request a refund.
Eventbrite's fee is nonrefundable.
This 3-hour energy recalibration deep dive with Amanda Jayne Elkes-Clark and Lena Eggers will take your inner Goddess to the Next Level.
About this event
Madlove goddess energy recalibration deep dive consists of 3 parts overseen by 4 goddesses.
Divinely designed through:
Goddesses Ma'at, Ala, Quan Yin & Aphrodite. They have come through with Magic, Alchemy & Divine Love & they will be teaching us and recalibrating us into balance, integrity, honor, beauty & love.....and quite a lot of fun! They'll help release blocks, trauma, self-doubt, lack of self-worth & lack of love & transmute these and level you up. The session will leave you feeling revived & rejuvenated with your own key to the 6D & madlove!
A bit more info:
The 3-hour deep dive will take place on Zoom.
The acronym madlove comes from:
Magic Ma'at - Balance & Integrity
Alchemy Ala - Honor
Divine Quan Yin - Beauty
Love Aphrodite - Love
Channeling, Healing and Energy Recalibration will go through these goddesses. If you would like to learn more about each of the goddesses you can research:
Egyptian Goddess of the Underworld - Ma'at
Mother Goddess of the Earth - Ala
Bodhisattva of Great Compassion - Quan Yin
Goddess of Love - Aphrodite
Who's Hosting: Lena Eggers & Amanda Jayne Elkes-Clark
More About Lena Eggers:
Lena has been a student of Spirituality all her Life. As a child everything glittered and sparkled for her and she was always lucid dreaming & manifesting future events. After a journey in business school, as a young adult and her first experiences as an intern and subsequently, helping to launch a start-up, Lena began looking for a deeper meaning to Life. Her passion for Yoga started in 2009; and she is now a certified Yoga Teacher 200H RYT and her soul's language is dance. Lena has 3000 + hours of one-to-one training + additional experience in the subjects of Energy Calibration (EC), Mysticism & the Esoteric, Snake Medicine Healing, Multi-Dimensional Healing, Shadow Work, Soul Retrieval & Expression Healing, Akashic Record Healing, Light Code Interpretation & Healing & Auric Cleansing. Her deeply empathetic nature and experience make her a lovely guide for this journey of Healing and EC with these Divine Goddesses.
More About Amanda Jayne Elkes-Clark:
Amanda has been a student of spirituality, and an envoy for the Divine her whole Life. She learned about the 6th dimension and up from a young age and she's had at least 45 years of Divine Spiritual Practice (DSP). Her unique magical way, and deep knowledge is a real gift to anyone who gets to enjoy her Medicine. She's got a light-hearted approach mixed with a deep-wisdom, which at times cuts through everything, and goes straight into your soul. Being blessed with synesthesia, her perception goes beyond anything that you can imagine, as she sees everything in color and form- especially music and people. Imagine what it must be like to see the music all the time and walk around in it. Her experience allows a deep trusting feeling when you are in her presence, and any journey into the esoteric & other dimensions with Amanda, is purely Divine. Her speciality is sound healing, and some of her beautiful music & voice has already been acknowledged & catalogued by the National UK & Wales Sound Archives.
We look forward to welcoming you to this Divine Deep Dive!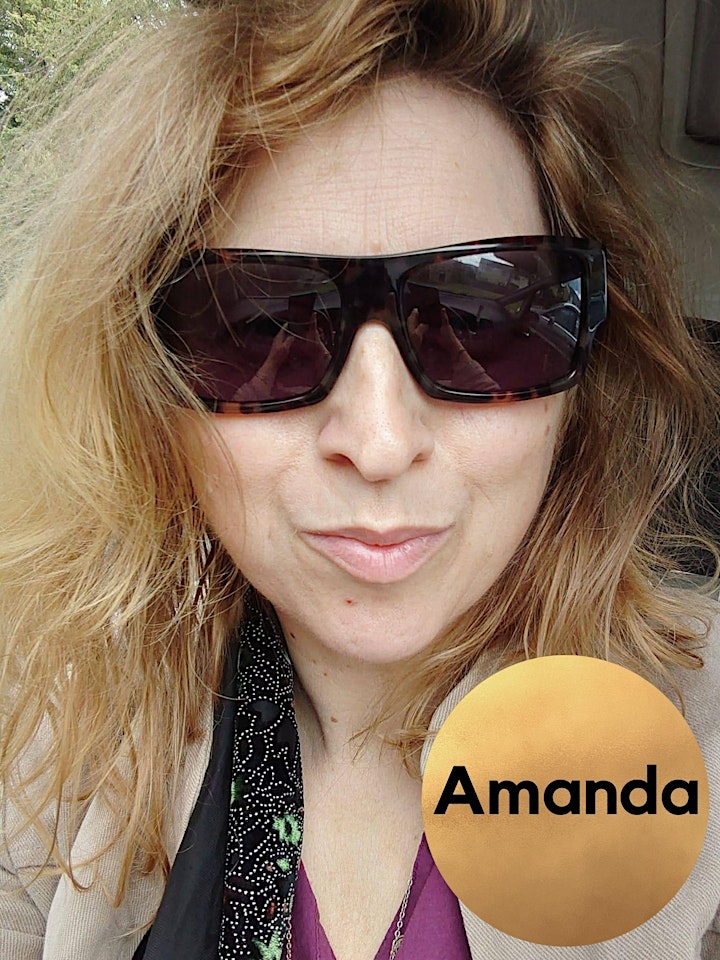 Date and time
Location
Refund policy
Contact the organizer to request a refund.
Eventbrite's fee is nonrefundable.
Organizer of madlove: a goddess energy recalibration deep dive