About this Event
Limited seating remains! Don't miss this special event - purchase your tickets now.
This Dec. 28th, Master Illusionist Chris Pilsworth will cast a flight of fancy guaranteed to captivate the audience in a spectacular demonstration of sorcery. Prepare to be amazed and delighted by the sheer originality of Chris's masterful performance, alongside his wizarding wit in an intimate setting. Show suitable for children, teens and adults.
Afternoon show beginning at 2:00 PM; doors open at 1:30 PM. Children 5+ years, teens and adults welcome.
The magnificent hour-long performance will be followed by an up to half hour Q&A where Chris will reveal the secrets behind some of his signature tricks, as well as answer any (well, maybe not *any*) questions asked of him. Bring the whole family for an inside look at the craft of an international award-winning magician, and discover the true power of magic.
10 Fun Facts About Chris
1. Winner of both national and international magic competitions
2. Headliner at the world famous Magic Castle in Hollywood, CA
3. Over 6,000 performances
4. Cut 8 ladies in half, 7 successfully
5. Delighted audiences on 3 continents
6. Pulled 2,000 rabbits out of a hat, actually the same rabbit 2,000 times
7. Brought amazement to millions and grief to that one guy who was a jerk
8. Over 1,000,000 kilometres traveled, all uphill, both ways
9. Star and creator of sold out theatrical productions
10. Entertained Royalty, Supreme Court Justices and Ambassadors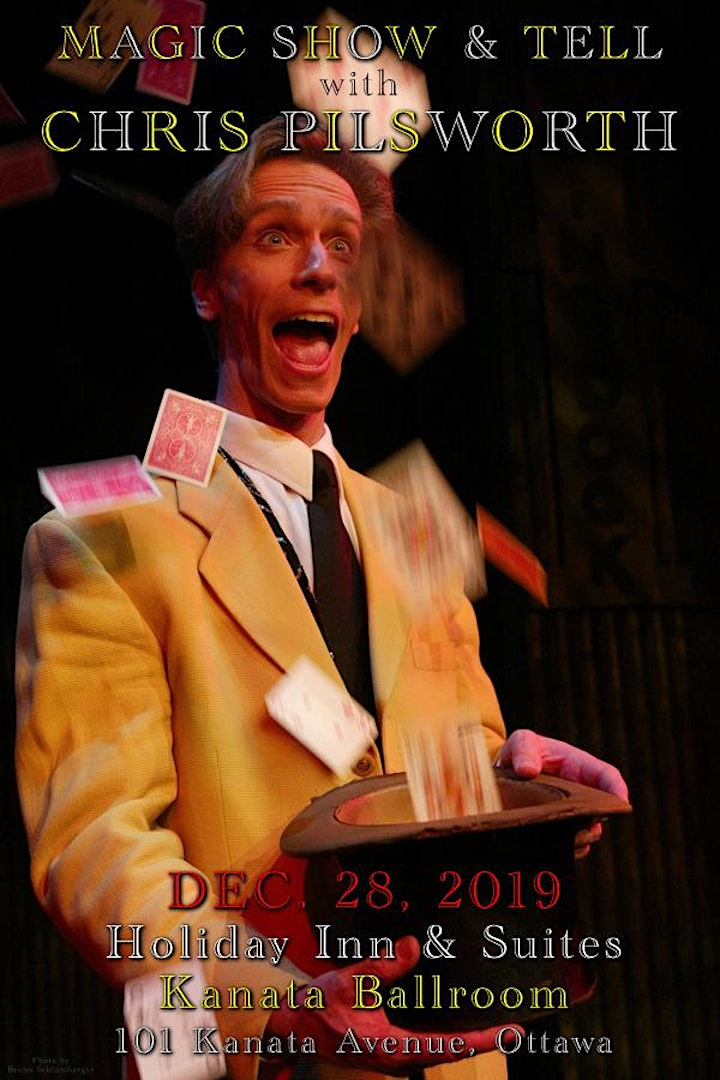 Event Details
The performance begins at 2:00 PM and is held in the spacious Kanata Ballroom. Tickets can be purchased online through the event listing or with the Eventbrite app up to 2:00 PM on the day of the event. Limit of 10 tickets per order.
Food or beverages are not permitted inside the ballroom. The hotel has a restaurant on site. Ice water is provided at the event.
Photography, video, and audio recordings are not permitted.
Free hotel parking is provided, with an overflow lot directly across Lord Byng Way.
Tickets are non-refundable, but attendees are able to change the name on the registration by updating the ticket information. Registration information should be accurate to ensure a seamless check-in process.
Ticket prices may fluctuate, based on demand.
No on-site ticket sales or cash sales at the door. Please bring either printed or digital tickets for entry.