Magical and Healing Teas (Witchy Wellness #1)
About this event
Magical and Healing Teas
This presentation and workshop will cover the preparation of magical teas, herbs/plants and their related folklore.
About the Presenter:
Amy Lou Taylor has been an active member in the Ontario Pagan Community for the last 25+ years where she had coordinated events, been on various committees and co-hosted pub-moots in two cities. Over the last 12 years she has mainly focused on her business but still participates in pagan events when her schedule permits. Amy has been an active Hedgewitch and Gardnerian HPs for over 30 years and has been making brooms for the past 17 years. She runs an organic community garden in Hamilton and she has a background in herbalism as well is a certified Horticulturalist. She also is a certified Tea Sommelier, Tasseomancer, and card reader for 30+ years. Amy's a published author and has been quoted in many articles and blogs as an authority on Tea Leaf Reading.
About the Host:
Loretta Jean is a glamourwitch high femme who provides intuitive and empathic tarot insights, one reading at a time. She has been tarot reading for over 15 years and is a founding member of the Rosa Mystica coven. Since embarking on her tarot journey she has read for friends, family, strangers she's met on trains, and more recently for a growing number of private clients. When not consulting the cards or talking to spirits, Loretta is an academic by day and a PhD candidate at the University of Toronto's Centre for Drama, Theatre, and Performance Studies. In addition to her studies, she is a founding member, performer, and co-producer of Nerd Girl Burlesque. Loretta has been involved in the Wonderworks community since first starting to work at the shop in 2011.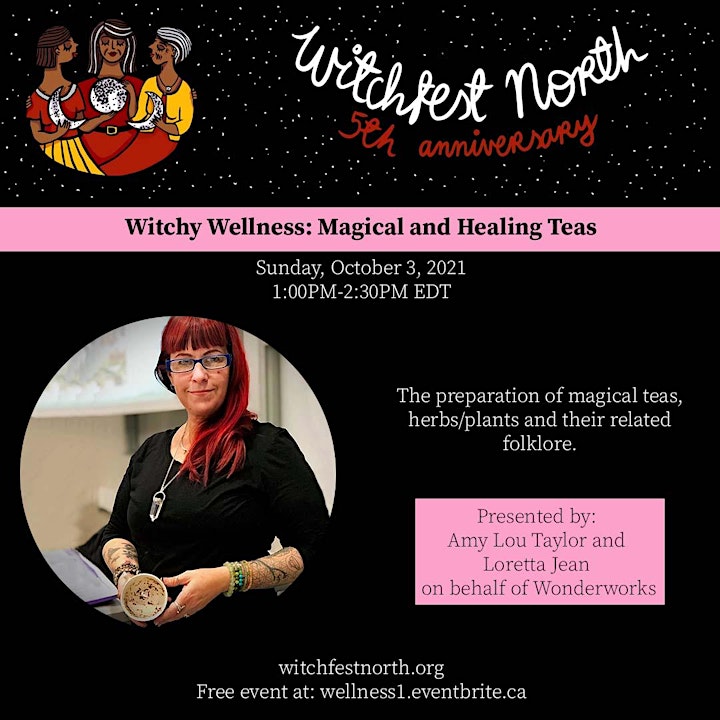 Organizer of Magical and Healing Teas (Witchy Wellness #1)
This is the 5th Annual WITCHfest North Art and Culture Festival and would not be possible without the tireless efforts of dedicated volunteers, advisors and participants who share a similar set of ethics and vision for our communal future. Our spirituality goes deeply into our ancestry and we honour the earth and all of its inhabitants. We celebrate all those who seek to connect with the sacred universe and respect its mysteries. We recognize Tkaronto, Turtle Island all of this land as the traditional and sovereign territories of Indigenous peoples. We honour all who walk their path respectfully and treat others with respect through our actions not words and are not performative allys. We have zero tolerance for racism, sexism, ableism, ageism, harassment of any kind and welcome practitioners of the esoteric arts from all communities, WOC, Indigenous, members of the LBGTQ2S+ community, and all those whose voices have been historically marginalized, colonized or suppressed. We recognize the complexity of intersectionality and welcome those who choose not to identify or be labelled. Our core organizers and advisory council are comprised of an ever-changing and expanding community of spiritual people who come from diverse abilities, gender identifications, cultural backgrounds, ages and practices. Our goal is to seek community, unite and share our diverse points of view with a wider audience so we may become a visible, welcomed and respected community. Although we are primarily showcasing the talents of and are advised primarily by women, we welcome all genders and gender identifications to participate in this festival and will ensure inclusive programming. For more information please contact witchfestnorth@gmail.com