Description
MAHE Annual General Meeting and Conference – Home Economists Making a Difference!
2:00 pm
Sunday November 19, 2017
Prairie Firehouse Restaurant, 637 Princess Avenue, BRANDON, Manitoba
Agenda:
2:00pm to 2:15pm Arrival and Registration
2:30pm to 3:30pm MAHE Annual General Meeting
3:30pm to 3:45pm Break
3:45pm to 4:30pm Keynote Speaker – Food, Finding the Real Facts, Dr. Dylan Mackay
4:30pm to 5:45pm Mentorship Circles – here's a chance to learn from one another, join these PHEc's to learn more about their areas of interest. Everyone will spend 15 minutes at each station and rotate to the next. There will be time for more chatting during the supper segment!
Grant Writing 101

- Tricia Meaud

Home Economists - Adapting & Working with Change

– Mona Cornock

Days for Girls-Volunteers Helping Girls Around the World

- Janet Menec

Connecting Farm to Food and Other Possibilities

–Jennifer Dyck & Pat Orsak
5:45pm to 7:00pm "Wandering Style" Appetizer Supper, Networking and Chef Stations
Prairie Firehouse Chef Rebekah and her team will serve up some delicious appetizers and, share their expertise at the following stations: Garnishes, Flambé, and Craft Cocktails
_________________________________________________________________
Keynote: Food – Finding the real facts
Are there superfoods? diet fixes? toxic wheat? We are barraged with special or harmful properties of food and special diets.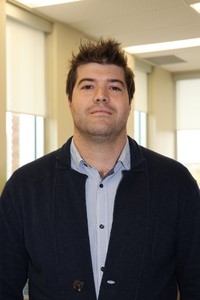 Dr. Mackay will help us think critically about the next fad or the next news story so that Professional Home Economists can share the real facts with clients, family and friends.
Dr. Dylan Mackay has a PhD in Human Nutritional Sciences. He is a nutritional biochemist, specializing in human clinical trials and inter-individual variability. As a Clinical Trialist at the George & Faye Yee Centre for Health Innovation his research is broadly focused on how lifestyle can impact chronic disease risk. Areas of special interest include type 1 & type 2 diabetes and glucose metabolism as well using health research to lower chronic disease within the indigenous community. Dr. Mackay is the American Society for Nutrition 2014 Clinical Emerging Leader Award Winner. An interest and a challenge for Dr. Mackay is using social media to combat nutrition misinformation.
Mentorship Circles – 4 tables led by Professional Home Economists
Grant Writing 101 Tips and Tricks

- Tricia Meaud, Research Partnerships Promotion Officer, Prairies Regional Office, Natural Sciences and Engineering Research Council of Canada (NSERC)
As the Research Partnerships Promotion Officer for the NSERC Prairies Regional Office, Tricia Meaud coordinates regional promotion and delivery of Connect Grants and Experience Awards. She is responsible for outreach to Prairie companies and undergraduate students eligible for Experience Awards, and she coordinates efforts to increase awareness of Connect Grants with both the post-secondary community and industry organizations. Tricia is also responsible for the review of applications for both Connect Grants and Experience Awards in the region.
Tricia began her career with Alberta Agriculture, Food and Rural Development as a Research Assistant and Project Manager. She subsequently administered several funding programs at the Agriculture and Food Council and the Alberta Livestock and Meat Agency (ALMA). After moving to Manitoba, Tricia worked as a Research Assistant with the Rural Development Institute at Brandon University. Prior to joining NSERC in 2016, Tricia was a Service Innovation Specialist with Manitoba Agriculture, where she also worked as a Program Officer on several Growing Forward 2 programs.
Tricia has a BSc in Human Ecology from the University of Alberta, and she is a Professional Home Economist in Manitoba.
Home Economists as Leaders – Mona Cornock
Having led many staff groups with change in her role in the public service, Mona will share her personal and professional philosophy about leading change. Mona Cornock, the recipient of the 2016 Distinguished Home Economist Award, is a Professional Home Economist and currently is a Director of Community Development with the provincial department of Municipal Relations. Over the years, Mona has been engaged in many leadership roles within the profession, her workplace and the community. Projects include the Agriculture Institute of Canada Gender Equality and International Development committees, a Director of the Keystone Board of Directors, the chair of transportation for Olympic Curling Trials, co-founder of Dance Images Productions, and serving on numerous executives of various organizations and committees.
Days for Girls...Volunteers helping girls around the world – Janet Menec
After 34 years working in adult education, Janet Menec (BHEc, MSc) found a meaningful way in retirement to contribute her time talents as a volunteer with Days for Girls Canada Society. in 2014, she established the Winnipeg Manitoba Chapter of Days for Girls International and loves to share her passion for this important work with volunteers around the province. To date, the Winnipeg Chapter has made and donated close to 2000 sustainable feminine hygiene kits around the world. Currently, Janet serves on the Days for Girls Canada Society Board of Directors.
Connecting Farm to Food and Other Possibilities – Jennifer Dyck and Pat Orsack
It's hard to miss the growing community of #canolaconnect if you are on social media. Jennifer & Pat will share their experience with Canola Eat Well and how this strategy can be used to develop relationships share your message.
Jennifer Dyck, PHEc
Professional Home Economist and mom of two who works for farmers. Her food journey motto: choose Canadian first, supplement with global flavours, eat whole foods most, cook at home often and always eat more veggies. Grow and invest in your community, stay active, be creative and learn always. Follow Jenn on Twitter and Instagram @jeniferdyck.
Pat Orsak, PHEc
Pat is a Professional Home Economist, mother of five adult children and farm partner. In a career working with farm families that have a passion for producing safe sustainable food, it is natural that she would want to help connect consumers to those that produce their food. Pat can be found on Twitter @OrsakPat