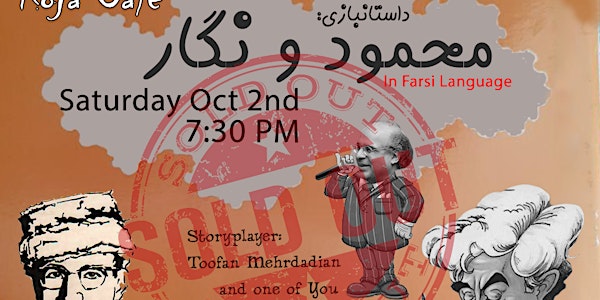 Mahmoud & Negar - Oct 02
A storytelling from one of the best story of Aziz Nesin. ( we called Storyplay) - Saturday - Oct 02
When and where
Location
Koja Cafe کافه کجا 239 St Georges Ave. North Vancouver, BC V7L 4T4 Canada
About this event
This event is in Farsi language.
این برنامه به زبان فارسی خواهد بود و دوست عزیز و هنرمند دوست داشتنی ساکن ونکوور، «طوفان مهردادیان» با کمک یکی از شما دوستان که علاقمند به داستانبازی است، قصه ای از عزیز نسین را برای حاضرین «بازیخوانی» خواهد کرد. * داستانبازی، لغتی است جدید که ما آن را برای خوانش یک داستان به همراه بازی شخصیت های قصه ابداع کرده ایم و کسی که داستان را می خواند، داستانباز می نامیم.
Please manage your time for parking, and be there 15 min before the show time.
چنانچه از اتوموبیل شخصی استفاده می فرمایید، متمنی است به جهت استفاده مناسب از پارکینگ در محل کافه، زمان خود را تنظیم بفرمایید. ضمنا (ترافیک) را در نظر گرفته و لطفا به طریقی برنامه‌ریزی نمایید که در میانه مجلس ورود نفرمایید. سُنتِ هر کسی زودتر بیاید جایی که دوست دارد می نشیند جاری ست.
First Come, First seat.
پارکینگ عمومی مشتریان مجموعه ساختمانی، از طریق کوچه مجاور در خیابان «سنت جرج» برای پارک اتوموبیل شما مهیاست.
Twin Towers Customer Parking
لطفا از آوردن کودکان زیر 16 سال خودداری فرمایید.
به دلیل رعایت پروتوکول های بهداشتی استانی، برای هر نفر می بایست صندلی جداگانه تهیه شود. ظرفیت مکان محدود به تعداد بلیت های موجود است.