Event Information
Location
TRUCK Contemporary Art
2009 10 Avenue Southwest
Calgary, AB T3C 0K4
Canada
"Why so many ties?" by Ludovic Boney is an immersive installation which invites visitors to embody the concept of passage by walking.
About this event
Why so many ties? by Ludovic Boney @ TRUCK Contemporary Art in Calgary
EXHIBITION DATES: January 21 2022 - February 26, 2022
OPENING RECEPTION: January 21, 2022 @ 6 PM - 9 PM *depending on Covid-19 situation
//////////////
We are excited to announce our upcoming Main Space exhibition Why so many ties? by Ludovic Boney. The exhibition will be on view from January 21, 2022 - February 26, 2022.
Presented as a sculptural landscape, the immersive installation invites visitors to embody the concept of passage by walking through and around its formal elements: two thousand metal rods, pine boards, and recycled plastic bags. With an interest in the aesthetics of sensory experience, Boney's sculpture evokes an experiential field, which offers both 'inside' and 'outside' vantage points and a multiplicity of spaces from the ecological to the political.
Why so many ties? was first presented at OBORO (Montreal) in 2017 and has been adapted to respond to TRUCK's Main Space.
TRUCK is open to the public Wednesday to Saturday, from 1 PM - 6 PM during exhibitions. We encourage you to schedule your visit via our website. Masks and proof of vaccination with valid ID are required to entire the gallery.
//////////////
ARTIST BIO:
Ludovic Boney is an Indigenous artist of the Huron-⁠Wendat Nation, originating from Wendake (Quebec).⁠ He has created many compelling and significant art⁠ pieces, some of which were acquired by Quebec's⁠ greatest museums and institutions. He has taken part⁠ in several solo and group exhibitions in Canada and⁠ in France. In 2017, he received the Reveal Scholarship offered by the Hnatyshyn Foundation⁠ and was nominated in the long list of the Sobey⁠ Awards.⁠
Among his latest achievements in public arts, we note⁠ his impressive Réaction en chaîne installed at L'École de Technologie Supérieure of Montreal, the imposing Cosmologie sans Genèse at the Musée National des Beaux-Arts du Québec or the spectacular Loess at the Trois-Rivières Amphitheater.⁠
His works are part of many private collections.
//////////////
ABOUT TRUCK:
TRUCK Contemporary Art is a non-profit artist-run centre dedicated to the development and public presentation of contemporary art. TRUCK supports artists and artistic communities through exhibition programming, lectures, screenings, performances, publications, commissions, off-site and public programs, residencies, community collaborations, engagement and outreach, and advocacy activities.
[IMAGES: Why so many ties? presented at OBORO in Montreal in 2017.]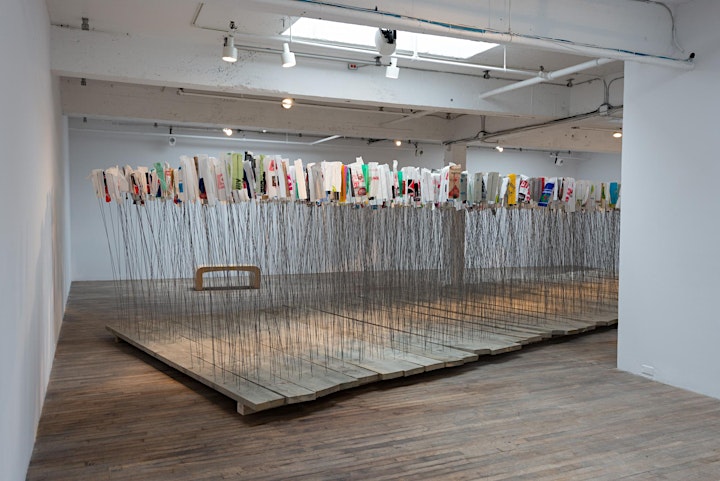 Date and time
Location
TRUCK Contemporary Art
2009 10 Avenue Southwest
Calgary, AB T3C 0K4
Canada