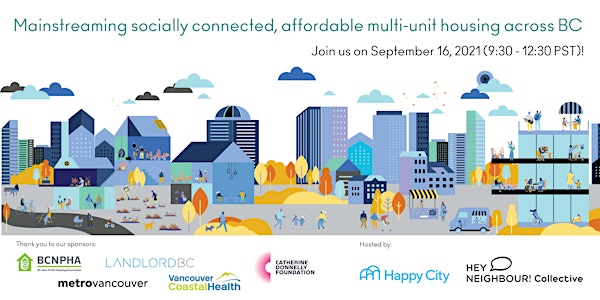 Mainstreaming socially connected, affordable multi-unit housing across BC
Join us to explore design solutions and policy shifts to enable affordable, inclusive, and socially connected places to call home across BC.
About this event
Join us for a dynamic online workshop co-hosted by Hey Neighbour Collective and Happy City to explore multi-unit housing projects, initiatives and policies that are helping to build social connectedness, inclusion and resilience through design. This conversation will be the first in a series that builds on the discussion paper produced by Hey Neighbour Collective regarding the Metro 2050 regional growth strategy: Developing Truly Complete Communities; Social equity, social connectedness and multi-unit housing in an age of public health and climate crises. (Please note that this workshop will not be restricted to Metro Vancouver issues or participants.)
Over the last year and a half, COVID-19 has emphasized the importance of healthy and socially connected housing. At the same time, it has highlighted the existing inequities in the housing system. Over the years, we have seen that socially connected communities and neighbours support each other through times of crisis. These intentional communities have emerged thanks to innovative multi-unit housing projects across BC that find ways to foster social connection and affordability. While many of these projects face systemic barriers, some have or will achieve success, thanks to courageous champions who persevere through many challenges.
Hey Neighbour Collective and Happy City will co-present with some of these housing champions to share successes and challenges to their innovations. This event will gather stakeholders representing municipalities, organizations addressing loneliness and social isolation, forward-thinking developers, architects, housing operators, researchers and advocates.
Here are some of the confirmed presenters for the first part of the workshop (more to come):
City of North Vancouver: Active Design Guidelines
Catalyst Community Developments: Madrona building in Victoria
Brightside Community Homes: Lion's View and newly approved redevelopments
Tomo Spaces: Tomo house cohousing in Vancouver
Salsbury Community Society: Co:Here building in Vancouver
Purpose Driven Development: SI Housing for women by women in Vancouver
In the second part of the workshop, we will work in multidisciplinary teams to explore solutions to challenges faced by some of the above projects that might help smooth the path for future innovators. These conversations will set a roadmap for the design and policy shifts that we need to implement to 'mainstream' the building of affordable and socially connected places to call home.
RSVP via Eventbrite if you are interested in joining us!
If you have any questions, please reach out to Madeleine Hebert (madeleine@happycity.com) and Michelle Hoar (mhoar@sfu.ca). We look forward to hearing from you!
A detailed agenda and reminder will be sent out one week prior to the event.
About Hey Neighbour Collective
HNC brings together housing providers, non-profits, researchers, local and regional governments, housing associations and health authorities. Together with residents of multi-unit housing, we experiment with and learn about ways of alleviating loneliness and social isolation while building capacity for neighbourly support and mutual aid.
Collaboratively, we're working towards a future where more of Canada's multi-unit housing communities are socially connected, neighbourly, health-promoting and resilient.
About Happy City
Happy City is an interdisciplinary firm working at the intersection of urban design, policy, engagement, and human wellbeing. We turn evidence into action for happier, healthier, and more inclusive communities. Since 2016, we have been researching the keys to addressing the loneliness crisis in multi-unit buildings. We now know that planning and housing design decisions can make or break social connection, elevate or reduce health and happiness, foster inclusion, or deepen disconnection. In 2017, we published the Happy Homes toolkit, complete with design and programming actions to boost social connection in multi-unit buildings. Since then, we have been working with the Happy Homes framework to conduct research and consult with developers across the province.
Our event sponsors
Thank you to BC Non-Profit Housing Association, LandlordBC, Metro Vancouver, Vancouver Coastal Health and Catherine Donnelly Foundation for sponsoring this event.