About this Event
The future of work is on everyone's agenda. People, place and technology are key drivers of change and innovation in the modern workplace — they shape how, where and when work takes place.
But how do you future-proof your business and optimize its collaborative processes to maximize engagement, productivity and effectiveness? Where do you start, and who can you trust to help you achieve these goals?
We've got answers for you — and the perfect team to get you through the process.
Bring Your Team!
Join ThinkTel, Softchoice and Applied Electronics for an exclusive seminar to learn how you can help your organization:
Create a collaborative ecosystem by implementing and driving the adoption of Microsoft Teams
Transition from your existing collaboration platform to a Microsoft Teams environment to optimize collaborative processes
Maximize engagement, productivity and effectiveness of your teams by streamlining their collaboration workflows
Future-proof its business by building a business case for implementing Unified Communications tools, such as Microsoft Teams
Define workplace modernization goals and requirements and learn how to support the people and processes that will drive and monitor the successful adoption of the program
Agenda:
Hear what our Microsoft Teams Experts have to say and get insights on:
Microsoft Teams as a Powerful Communications Tool — Jim Dawson, ThinkTel
Implementation, Deployment, Licensing, and Adoption of Microsoft Teams — Evan Hanks & Harshaa Annadurai, Softchoice
National Program Management and Integration of Audio Visual and other Unified Communications Hardware with Microsoft Teams — Kevin Stewart, Applied Electronics
Here to Help You!
Ask our team of Experts about Unified Communications & Collaboration tools & trends
Discuss your unique requirements and the challenges that your organization is facing
Learn about Microsoft's promotional programs to help you get started
Enjoy a delicious Lunch while we share our knowledge with you
There's More:
See a Live Demo of a complete solution featuring: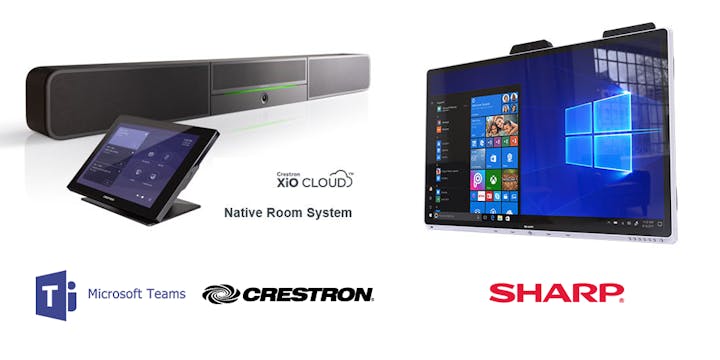 Exclusive Offer for Attendees:
Special promotional pricing for purchases made within 90 days of the event will be in effect for those in attendance.
The special promotional pricing is applicable to Crestron Flex systems for Microsoft Teams, Sharp Windows Collaboration Display, and all Microsoft Teams phones and hardware appliances. Further details will be provided during the event. Don't miss out!
You should definitely attend, if you want to:
Work with an authorized Microsoft Teams Partner
Simplify your core communication platform
Fast track your unified communications adoption journey
Customize your user experience to maximize productivity
Offer flexibility and improve morale
Meet end-user expectations
Break technology silos
Optimize adoption & usage
Drive user-based decisions
Accelerate business productivity
Increase the value of your investment
Get technical insights into how to transition to a Microsoft Teams environment
See a live demo of a collaborative workflow
You should attend if your role is:
Director of IT, IT Manager or IT Lead
Director of Technology Solutions
Chief Innovation Officer or Chief Operations Officer
Director of Change Management
Manager of Space Strategy & Facilities
Workspace Planner & Strategist
Interior Designer or Architect
Project Manager of Interior Design and Space Management
Microsoft Teams Proof of Concept projects
Microsoft Teams end-user training
Microsoft Teams administrator training
Insight and expertise to speed the adoption of technology, while managing cost and risk
Modernization of the end user workplace experience
Modernization of core data centre services by helping organizations transform key IT capabilities (i.e. operational excellence, security, reliability, performance efficiency, and cost optimization)
Microsoft Teams integration expertise and experience
Integrated media solutions and professional audio visual, broadcast and data management technology
System design, supply and hardware integration services
Innovative solutions to improve workflows, communication and collaboration for companies with media integration requirements