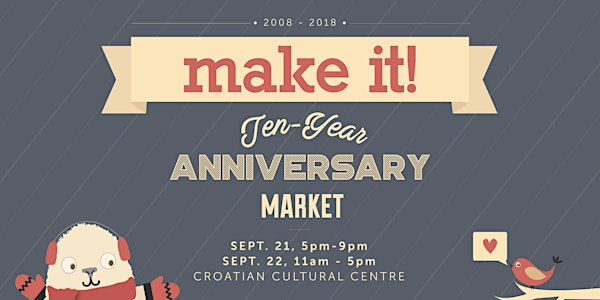 Make It's 10-Year Anniversary Market
When and where
Location
Croatian Cultural Centre 3250 Commercial Dr Vancouver, BC V5N 4E4 Canada
Description
We're celebrating our 10-year Anniversary with a throwback-style Make It!
Make It is turning 10 years old this September! To celebrate, we're hosting a throwback-style Make It at the Croatian Cultural Centre September 21 and 22. Lots of your long-time favourite Makies will be there, and (of course) we'll have great tunes, a bar, and some fantastic food trucks. We'll also have some amazing door prizes! We're so grateful to the local community for supporting us and our hard-working Makies all these years.
Invite your handmade loving pals on Facebook https://www.facebook.com/events/964017803780951.
Thank you for making the last decade incredible!
Team Make It
---
Terms and Conditions
By purchasing tickets you are entering into a contract with Make It Productions Inc.
As a fundamental term of this contract you, the Purchaser, agree that these tickets may only be used to attend Make It Ten-year Anniversary Market (Sept 21-22, 2018) ("Make It Show").
You may transfer these tickets to another person before attending the show. You may have another person pick up your tickets at the show by providing your agent or transferee with a copy of your purchase receipt.
Once the tickets have been used for entry into Make It Ten-year Anniversary Market, the person entering the show with each respective ticket may not transfer or assign the ticket to another person for the remainder of the show.
All online tickets purchased are non-refundable unless the show is cancelled for the entire weekend. No full or partial refunds shall be issued if the show is shortened or postponed and all commercially reasonable efforts have been made to prevent such a change from occurring. No refund shall be issued if the show is cancelled due to an act of god or force major.
The Purchaser waives, releases and hold harmless Make It Productions Inc. and its directors, officers, agents, employees or volunteers from any and all claims for loss, injury, or damages, economic or otherwise due to any action, inaction or negligence by any such person.
Make It Productions Inc. is not responsible for any lost or stolen tickets.