Are you ready for some FUN? Our day is filled with Meditation, Intuitive Painting, Soul Dancing and an Inspiring Message of JOY! Join Us!
About this Event
It will be a day to fill you, make you laugh and find that connection with self and others. Join us for a full day of FUN! Make My Life Sparkle Retreats present an inspiring and relaxing day retreat in Saskatoon Saturday, Oct. 17 from 9:30am to 4pm.
Four amazing entrepreneurs bring their talents and skills to share and inspire the sparkle within you to ignite! Here is what the day looks like:
9:30am Welcome and Connect
Easy tips to start your Meditation practice with Cari Moffet
Meditation has been know to help with anxiety and stress. It's much more simple than sitting in the lotus position for hours on end. Explore a few techniques to help you navigate every day with a calmer state of being.
10:30am Intuitive Painting with Kari Beyer
In this intuitive art class our goal is to release our mental chatter and listen to our heart. Did you know everything we do is an expression of us? Our job, the people we hang out with, even that grocery list we write and the words we use. We express ourselves and don't know it! As we paint we unburden ourselves from the secrets that have denied us from self-expression. Expressing your heart and soul and healing your Bodymind. This class is for all abilities. Supplies will be provided.
12:00pm - 1:00pm lunch on your own or bring a bagged lunch to stay in
1:00pm Soul Dance with Patty Meier
Soul Dance is a blend of the best parts of her love of music, movement, healing and connection. Participants will isolate their senses to focus on the music, while she guides them through the Chakra system. The experience begins by focusing the mind on the still, small, space in the heart and expanding outwards. The dance begins at the root Chakra and moves up to the crown to connect with All That Is. We finish with an art project and finally a sound bath. This is a unique experience to make a deep inner connection to your own body, mind and spirit.
2:30pm Inspiration with Fay Thompson
UTILIZING ACCESS TOOLS IN A WAY THAT WORKS!: Many people know of the tools of Access Consciousness but may not get the full benefit of them because they are trying to do them right. Take a deep dive into being, knowing, perceiving, and receiving and find the ease, joy, and glory that comes with relaxing into being you! CAUTION: This session may cause giddiness, unexplained laughter, or joy.
(Covid rules will apply as our venue is large enough for us to have our own spaces/stations with social distancing in mind. Masks are not required. Hand sanitizer as well as soap and water are provided. Please stay home if you are ill.)
Remember to bring: your own water bottle, lunch or money for lunch, yoga mat, mediation cushion or pillow, journal and dress comfortably in layers.
These retreats are known to sell out fast so book yourself and some friends a day of fun!
All presenters will have products (books) for sale and possibly other goodies. Why not pick up a signed copy for yourself or friends!
PLEASE NOTE: There will be no refunds for this event. If you do need to cancel, you are welcome to find your replacement and we will help too. If we find someone to take your place, a full refund will be issued.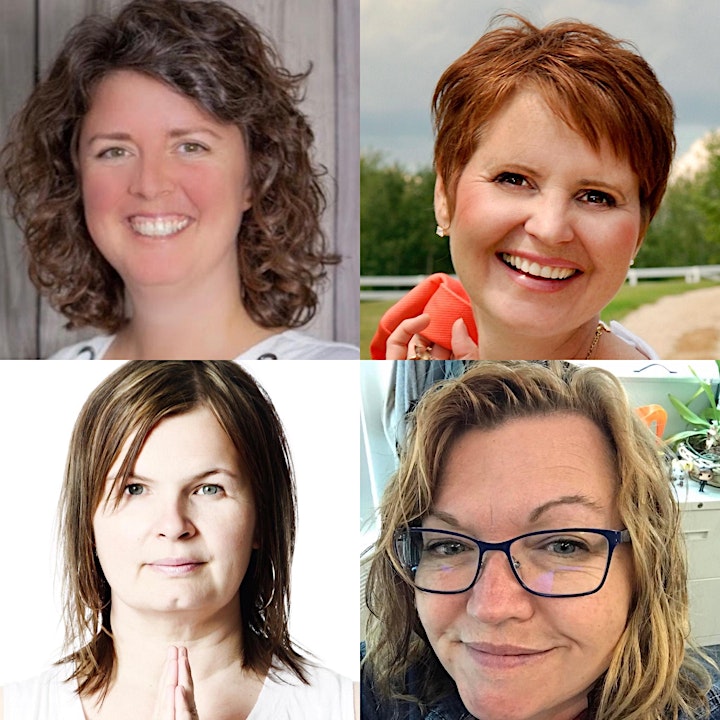 Meet your facilitators starting from the top right and going clockwise:
Kari Beyer is the author of "The Frequency of Life", intuitive artist and healer. Healing with frequency using art, words, BodyTalk and Access Consciousness is what I do for myself and for others. On my own journey I have had trouble speaking my truth. I have felt paralyzed by fear because of child hood trauma. Now I feel that I have found my voice and passion. I strive to find my inner voice, to truly believe in myself, to be comfortable in my own skin, to be wild and free and to love who I am and inspire others to open their heart and do the same.
Fay Thompson is an Access Consciousness Certified Facilitator, author, and international speaker whose primary goal is to empower people to know that life is of our own making and that we have everything within us to make our dreams reality. She is also the Editor-in-Chief at Big Moose Publishing and wishes for every person to know their voice and their story amkes a difference. For more information about Fay and her work visit: www.faythompson.com or www.bigmoosepublishing.com
Patricia Meir Patricia (Patty) Meier is a Reiki Master, Sound Healer, channel and author. She is fascinated by energy and sound. To see more of her work and ongoing services and classes visit: www.sparksofhealing.ca
Cari Moffet is a Registered Massage Therapist, Life Coach, Reiki Master, Certified Medical Intuitive, Meditation Facilitator and Author who has 22 plus years experience in the areas of stress reduction and joyful living. She is also the owner and founder of the award-winning business, Wholelife Wellness, and has become a mentor and inspiration for other women in business. Cari loves showing others how to de-stress, relax, and change up their energy after loss or trauma. For more information about Cari and her work or to purchase her latest book 'It's All About Energy', visit www.carimoffet.com