Description
Experience what it is like to see cream turn into ice cream, while feeling the cold on your hands!
Each participant will have an individual bag of ice cream mix, which they are responsible for turning into ice cream. The bag will need to be tossed and shaken until the ice cream is ready!
Once the work is done, participants get to eat the ice cream they have worked so hard to make.
Parent supervision is required. *Only the person doing the ice cream making needs to register. Parents who are ONLY assisting do not need to purchase a ticket.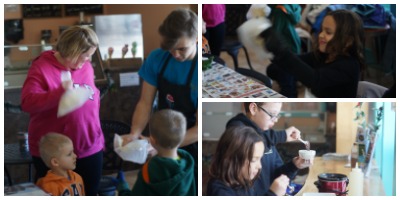 Limited to 10 participants per session. Various dates available - use "Select a date" to see all available.
Sessions available...
Friday Dec 27th 1:30pm / 2:30pm
Saturday Dec 28th 11am / 1:30pm / 2:30pm
Friday January 3rd 1:30pm / 2:30pm
Saturday January 4th 11am / 1:30pm / 2:30pm
---
Light mittens are recommended for children. This workshop is approximately 30 minutes in length.
Don't forget to also visit the cows in our Main Dairy Barn when you are at the farm.
Additional location information for the farm is available at our website www.mapletonsorganic.ca in the Contact section.
*Stay safe. If you have registered but there is severe weather that day making travel dangerous, please email info@mapletonsorganic.ca and we will issue a full refund.
For more information about the farm please visit our website www.mapletonsorganic.ca