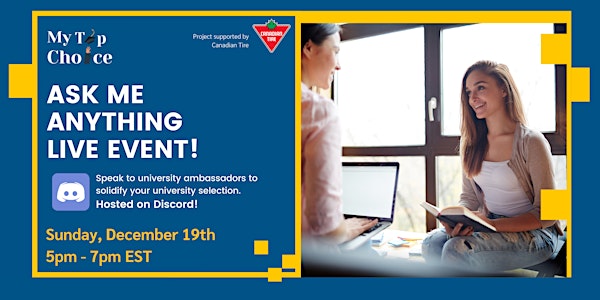 Make your Transition - Speak to Canadian University Students
Make Your Transition Night brings together university students across Ontario to have one-on-one discussions with University applicants!
About this event
Come out on December 19th from 5pm- 7pm for your chance to network with some university students!
Once you're registered, we will be sending you an invite to our Discord server. The event is located in one of the categories on the sidebar.
To High School Students: You will see each mentor's school and program labelled for each channel. You can easily pop in and out of these channels to talk to any of them as you please.
To University Students: Receive a $10 gift card of your choice (anything available in e-gift card form) for sharing your experience with students who are interested in your program or university.
You will have your assigned channel labelled. Once the introduction is over in the main room, head over to your assigned voice channel!