MakerKids Maker DIY STEM Tech Summer Sampler Camp (Aug 5-8 2014)

Tuesday, 5 August 2014 from 9:00 AM to 3:30 PM (EDT)
Event Details
Summer Sampler Camp for Kids (August 5-8) at MakerKids
9 AM - 3:30 PM
Ages  7-15
You can register your child for all 4 days or for 1 day at a time
Tuesday Minecraft, Movie-Making and More
Minecraft and digital creations (skins, mods, Printcraft) + movie-making time!  Please bring a laptop.
Wednesday Computer Surgery and Intro to Programming with Scratch
We'll get started with programming using Scratch, a free educational programming language and multimedia tool. We'll also take apart computers to see the different parts inside and how they work together! Please bring a laptop.
Thursday Build a Robot Rover!
Learn how to make a robot and use Arduino! Robot rover kits are $75 extra (includes Arduino hardware, planks of wood, motors, wires, battery pack) if you would like to take them home and keep them. Arduino is a open-source electronic prototyping platform (free software to be used with the hardware) used create interactive electronic objects. Please bring a laptop.

Friday Liquid Nitrogen Ice cream
We'll learn how to make ice cream with liquid nitrogen!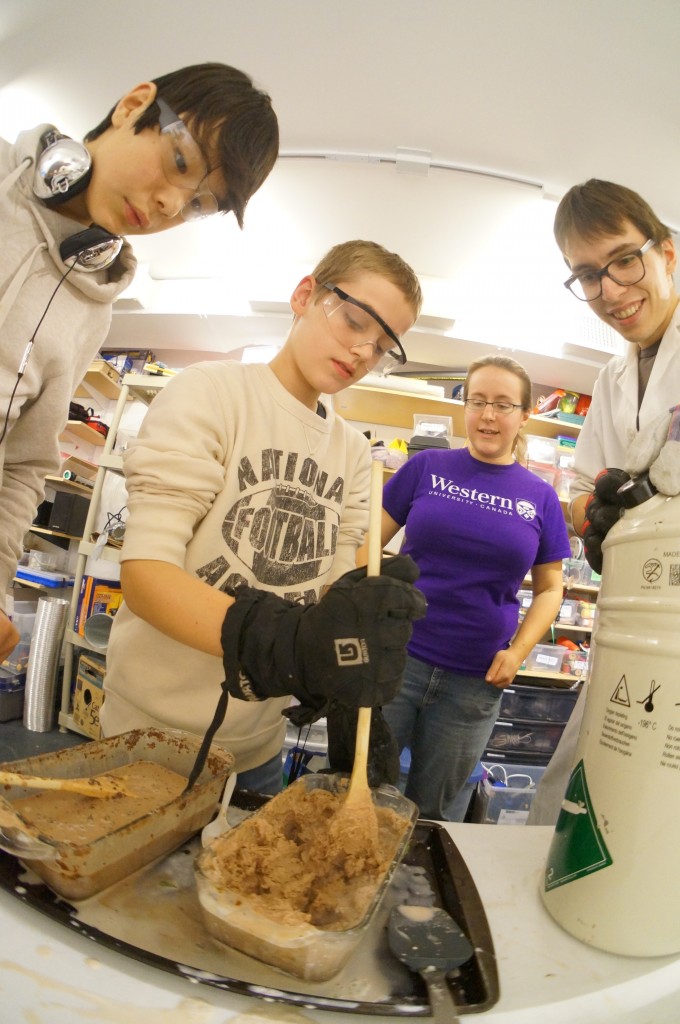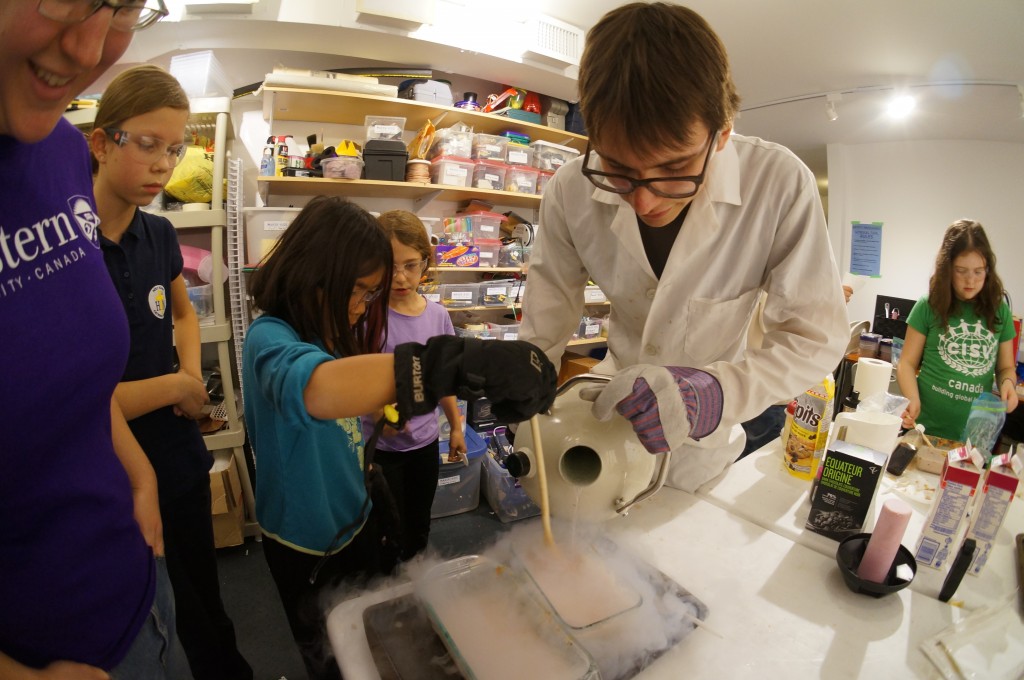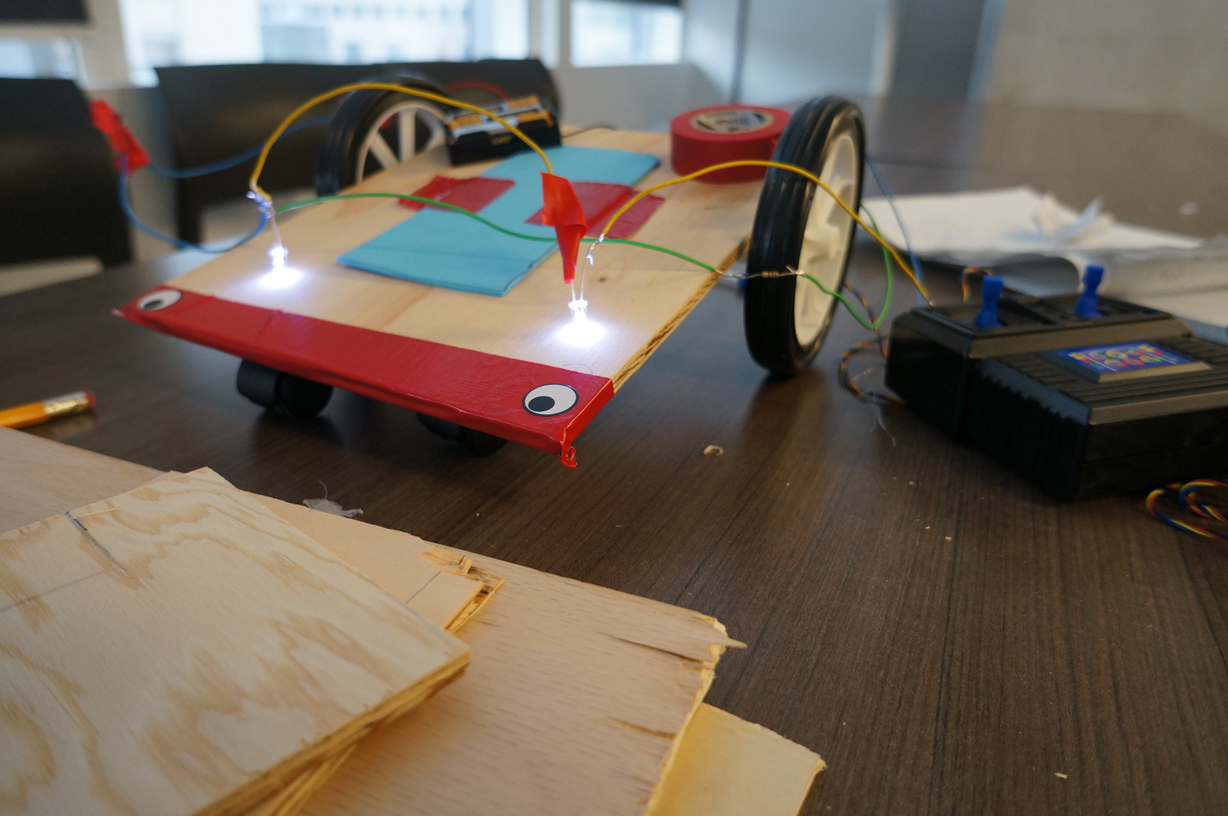 Instructor Bios
Erica is a scientist by training, with a BSc In Molecular Biology and Biotechnology from the University of Waterloo, and is currently writing her MSc thesis on research done at the Department of Medical Biophysics at the University of Toronto. She has done molecular biology research at Cornell University, the University of Waterloo, SickKids, and the Princess Margaret Hospital. She has studied many different organisms and cellular and molecular processes; a bacterium that has a symbiotic relationship with legume plant roots, how the DNA in a plant cell's chloroplast is regulated, how an important cell signalling pathway is damaged in skin cancer, and how an inherited gene mutation causes a fatal adolescent epilepsy. Being involved with tech education and scientific outreach in the community has been an important part of her learning journey so far. Erica loves robotics, programming, beading, sewing, baking (cakes and bread especially), inventing homemade ice cream flavours, and learning new things.
FAQs
What have other kids learnt at our past programs? 
 "At first when I came here, I had no idea how any of this electric stuff worked, and I'm just like, how I am going to be able to make this? But over time with my mistakes, I realized it gets easier and it comes to me and sometimes making a mistake actually teaches you something – why something doesn't work."
What skill level is this program appropriate for?

No previous experience is required-just a desire to make things! Our instructors will show you how to use any tools safely, and teach you anything else you might want to know. If your child already experience with using similar tools or materials - that's great too!

What age range is this program appropriate for?

This workshop is approriate for ages 7-15. 
Do you have any safety measures in place?
Yes, we have safety procedures and training for the kids on how to use the tools safely. Our instructors are also well trained and we usually have a ratio of 1 instructor per 4 kids.  Our woodworking shop has a lock on it and kids can use it safely when adults are around to supervise. Kids also wear safety goggles when using certain tools or materials. Any sharp tools are kept well out of reach unless someone needs to use them for a particular project with adult supervision. If you have any questions about this, please contact us. 

What is your philosophy towards making?

Our philosophy is to encourage creativity and empower kids with their own ideas for projects. We encourage all kids to participate in our programs and we don't push towards certain activities based on gender or stereotype - it's up to the child what they want to explore and learn about! We also like to encourage children in making their own decisions and to learn by doing, while we act as mentors instead of doing things for them.
Do I have to purchase a ticket in advance? 
Yes. 
Does my child need to bring a lunch or snacks?
Yes.
Do I need to stay with my child during the event? 
No.
Do I need to bring a laptop?
No, if you register for "General Admission", this means you get to use a computer here!
Is there an outdoor component?  
Yes, the kids will get to play and eat lunch outdoors at a local park such as beautiful High Park.
What are my transport/parking options getting to the event?
We are located at 2241 Dundas St W, about a 5 walk from Dundas West TTC subway station. The 504 King Street car also stops nearby. If you are driving, there is parking across the street at Loblaws.
Do you have other programs?
We have other programs for kids, teens and adults: www.makerkids.eventbrite.com
Where can I contact the organizer with any other questions?
You can email us at info@makerkids.ca
Have questions about MakerKids Maker DIY STEM Tech Summer Sampler Camp (Aug 5-8 2014)?
Contact MakerKids
When & Where

Maker Kids
2241 Dundas St W
Toronto, ON M6R
Canada

Tuesday, 5 August 2014 from 9:00 AM to 3:30 PM (EDT)
Add to my calendar
Organizer
MakerKids is a makerspace for kids in Toronto that provides creative programs that empower children to learn new hands-on skills and make projects using electronics, 3D printing, robotics, woodworking, sewing, crafting, Minecraft, programming, and more.
We offer programs for kids, teens and adults and birthday parties for kids and for adults. We are also availble for consulting, executive training and external workshops.
Contact us at: info@makerkids.com