Location
Maker Kids
2241 Dundas St W
Toronto, ON M6R 1X5
Canada
Description
Imagine something crazy, and make it!
At this one week long program, there will be a main challenge. Last year, it was a robot balloon fight. All the kids built a balloon-covered remote controlled robot, and tried to pop each others balloons in the arena. The year before we built boats holding up to 4 kids and raced them in the lake. The year before that we built soap-box race cars.
This year's challenges have not been decided yet, because we want your input! We will talk with the kids who sign up and see what excites them.
The camp runs Monday through Friday, from 9am until 3:30 pm every day. Kids ages 8-18 are welcome. Older kids are encouraged to sign up, too, we typically have a range of kids from 8 to 15 or older. The cost is $500.
On the afternoon of the last day, family and friends are invited to come and see the creations from 2:30 - 3:30 PM! We'll have a race or a battle, or a show and tell, and all are welcome.
The registration fee includes all materials required for the program. You will get to take what you build home!
Monday - Robots
Build a wired remote controlled thing. Learn skills like wiring, soldering, working with motors and more! You can also learn how to use Arduino and infrared control with your robot (this is an extra $55, please select this option at checkout in addition to the camp ticket)
Tuesday - 3D printing
We'll work with a 3D scanner! Sculpt something out of plasticine and then scan it! We'll also learn how to 3D print things like a PEZ candy dispenser top and learn how to turn a positive into a negative to create chocolate molds!
Wednesday - Minecraft
Minecraft build day! Build a pirate cove or a space station or your own dream place in Minecraft!
Learn new digital skills like podcasting!
Thursday - Woodworking
We'll learn how to make bat houses and bird feeders and build toy boats with propellers and motors!
Friday -Video and Special Effects

We'll learn how to film, edit and record a video! We'll start with learning how to create storyboards and planning out the story and plot line. Next, we'll create the scene and start filming the story. You can also use the things you made throughout the week in your story. It's editing time! We'll learn how to edit the footage and also add special effects using free software.
Example of Past Activities: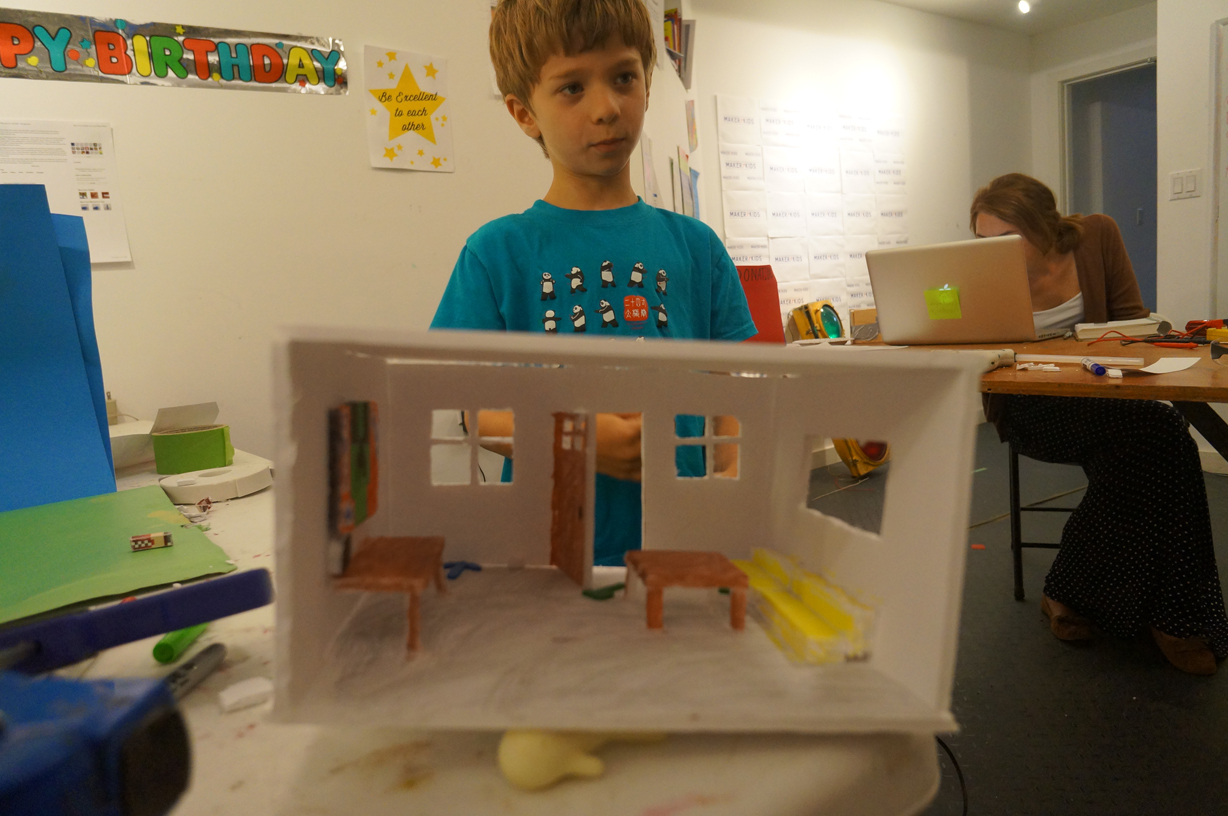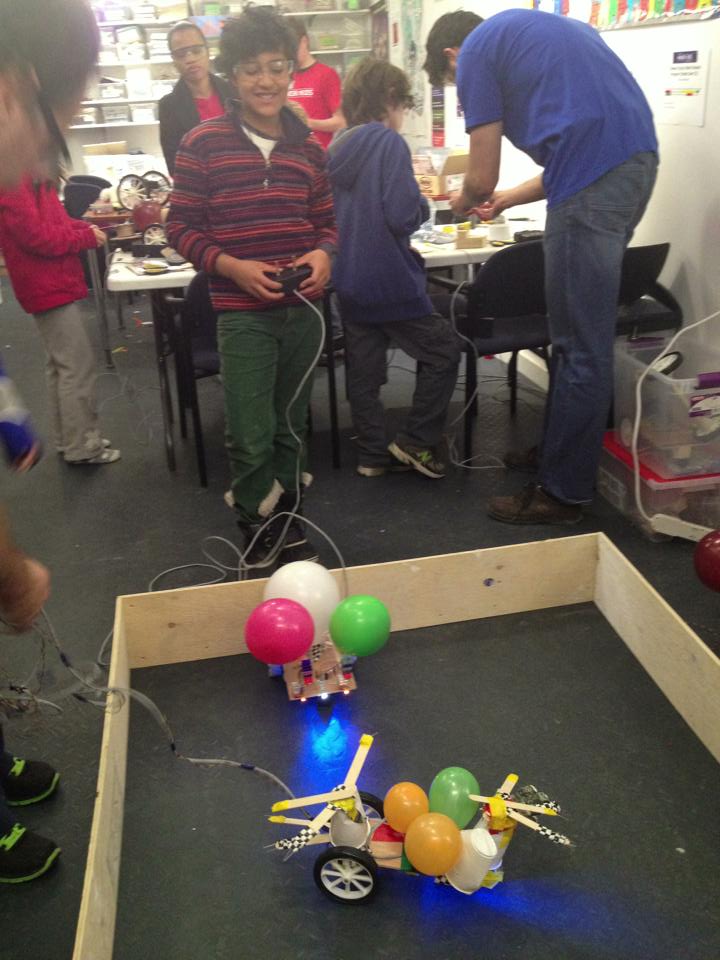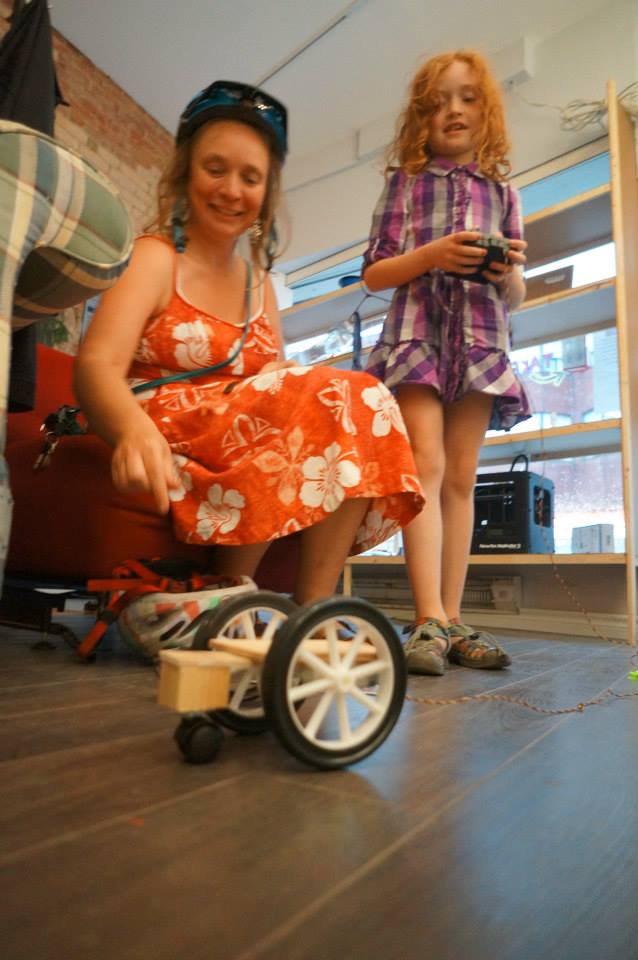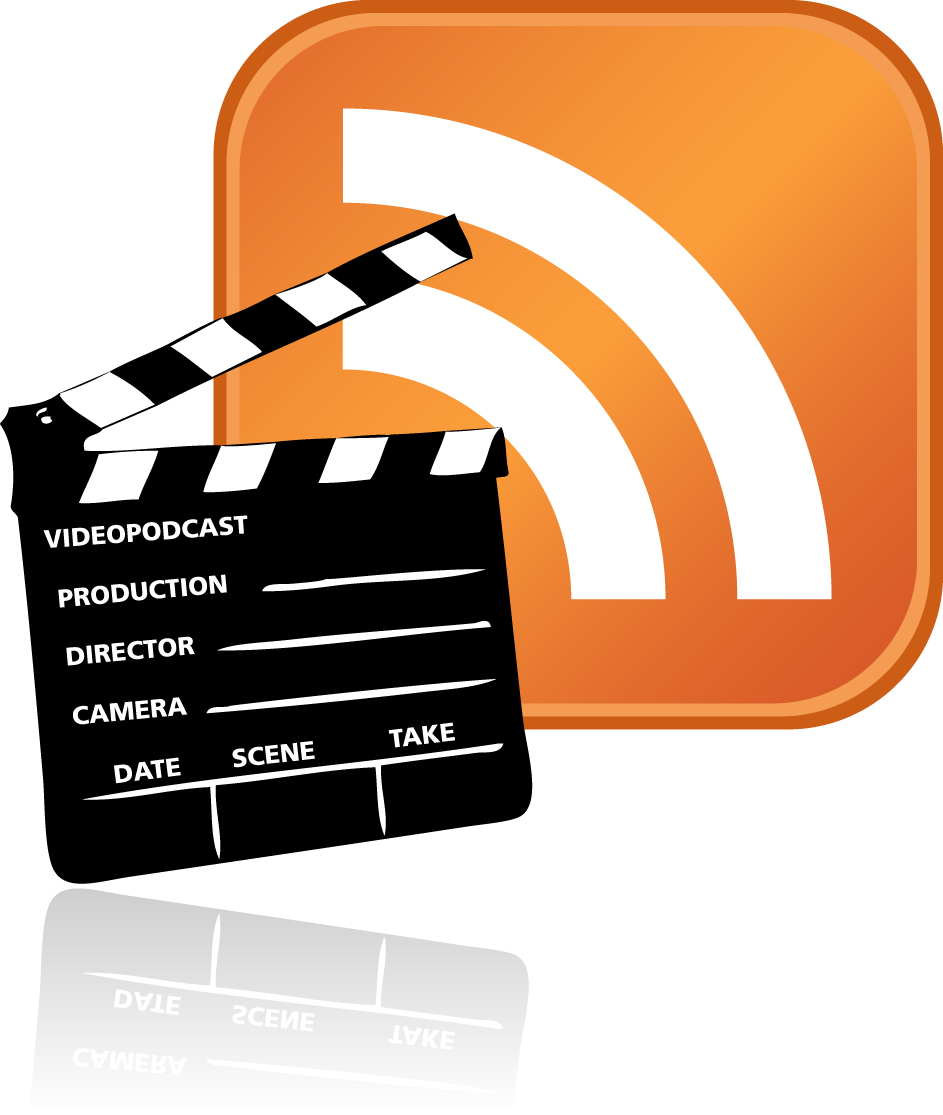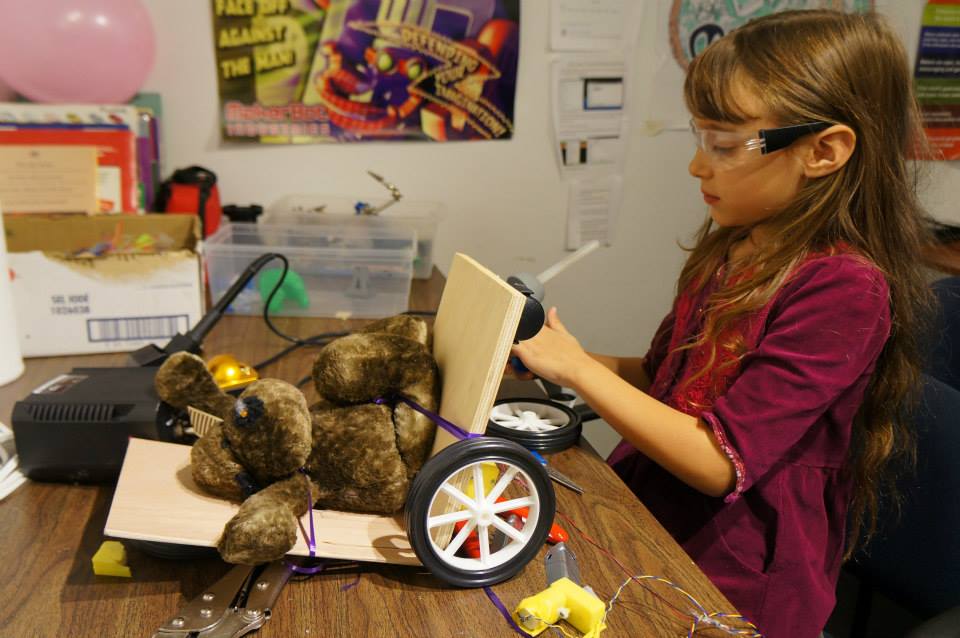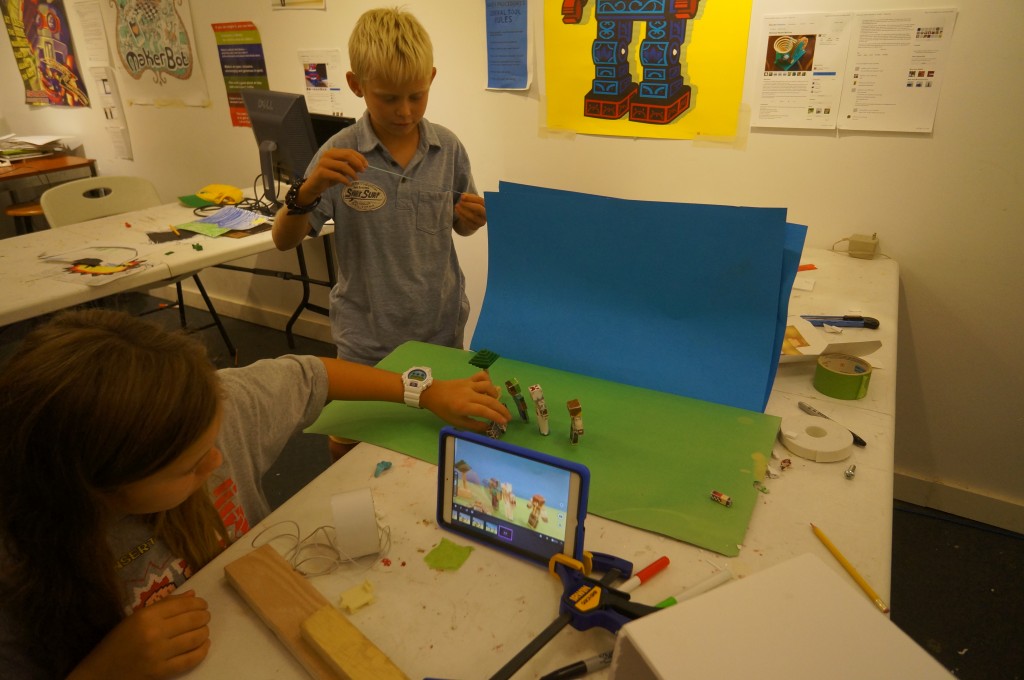 Instructor BIo: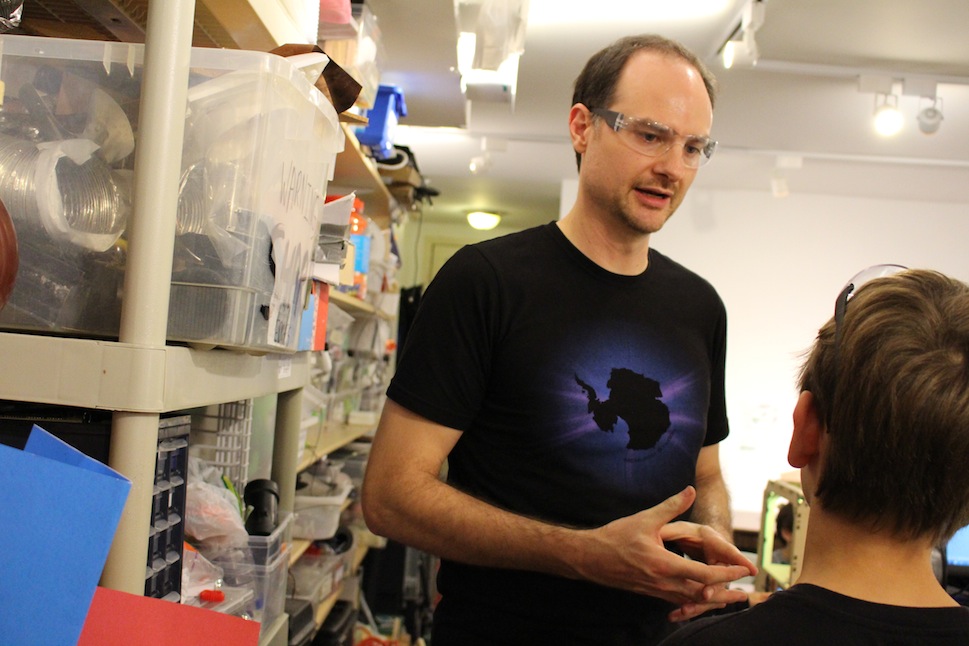 Andy is a lifelong tinkerer and head of curriculum development, having overseen and taught the majority of MakerKids classes and events. He has been the Founder and Creative Director of Dimentians (a web development and marketing company) for 18 years.
FAQs
What have other kids learnt at our past programs?
"At first when I came here, I had no idea how any of this electric stuff worked, and I'm just like, how I am going to be able to make this? But over time with my mistakes, I realized it gets easier and it comes to me and sometimes making a mistake actually teaches you something – why something doesn't work."
What skill level is this program appropriate for?

No previous experience is required-just a desire to make things! Our instructors will show you how to use any tools safely, and teach you anything else you might want to know. If your child already experience with using similar tools or materials - that's great too!

What age range is this program appropriate for?

What is your instructor to student ratio?
How many 3D printers do you have?
7

Do you have any safety measures in place?
Yes, we have safety procedures and training for the kids on how to use the tools safely. Our instructors are also well trained and we usually have a ratio of 1 instructor per 5 kids. Our woodworking shop has a lock on it and kids can use it safely when adults are around to supervise. Kids also wear safety goggles when using certain tools or materials. Any sharp tools are kept well out of reach unless someone needs to use them for a particular project with adult supervision. If you have any questions about this, please contact us.

What is your philosophy towards making?

Our philosophy is to encourage creativity and empower kids with their own ideas for projects. We encourage all kids to participate in our programs and we don't push towards certain activities based on gender or stereotype - it's up to the child what they want to explore and learn about! We also like to encourage children in making their own decisions and to learn by doing, while we act as mentors instead of doing things for them.
Do I have to purchase a ticket in advance?
Yes.
I'm a parent staying with my child. Do I need to purchase a ticket for myself?
No. You only need to purchase a ticket for each child. (eg. 2 children+parent=2 tickets)
Does my child need to bring a lunch or snacks?
Yes.
Do I need to stay with my child during the event?
No.

What are my transport/parking options getting to the event?
We are located at 2241 Dundas St W, about a 5 walk from Dundas West TTC subway station. The 504 King Street car also stops nearby. If you are driving, there is parking across the street at Loblaws.
Do you have other programs?
We have other programs for kids, teens and adults: www.makerkids.eventbrite.com
Where can I contact the organizer with any other questions?
You can email us at info@makerkids.ca