MakerKids Tuesday Open Shop (Ages 3-18) - Pay What You Can
When and where
Location
MakerKids 2241 Dundas St W Toronto, ON M6R 1X6 Canada
Refund Policy
Contact the organizer to request a refund.
Description
Are your kids into Do-It-Yourself, crafts, tinkering, woodworking, electronics, or interested in learning about 3D modelling and 3D printing, toy hacking or making other stuff? Perhaps they like taking things like small electronics apart to learn how they work?
This open shop is great for beginners, as no prior knowledge or experience is necessary, our instructors and mentors will teach them what they need to know! If they already have some experience with different materials and tools, they can learn how to build more advanced projects.

Starting at 4:30 pm and going until 7:30 pm every Tuesday and Friday, our doors are open and our staff will be on hand to help you with everything from woodworking to electronics.You can use our tools and expertise to start creating your next project.
You must purchase a ticket in advance to attend Open Shop.
Roncesvalles Open Workshop Details

Who: Kids and their parents
What: Open shop time
When: Tuesday and Friday evenings from 4:30 to 7:30
Where: Maker Kids (2241 Dundas st west Toronto, ON) downstairs
Why: Because you need a safe place to work on cool stuff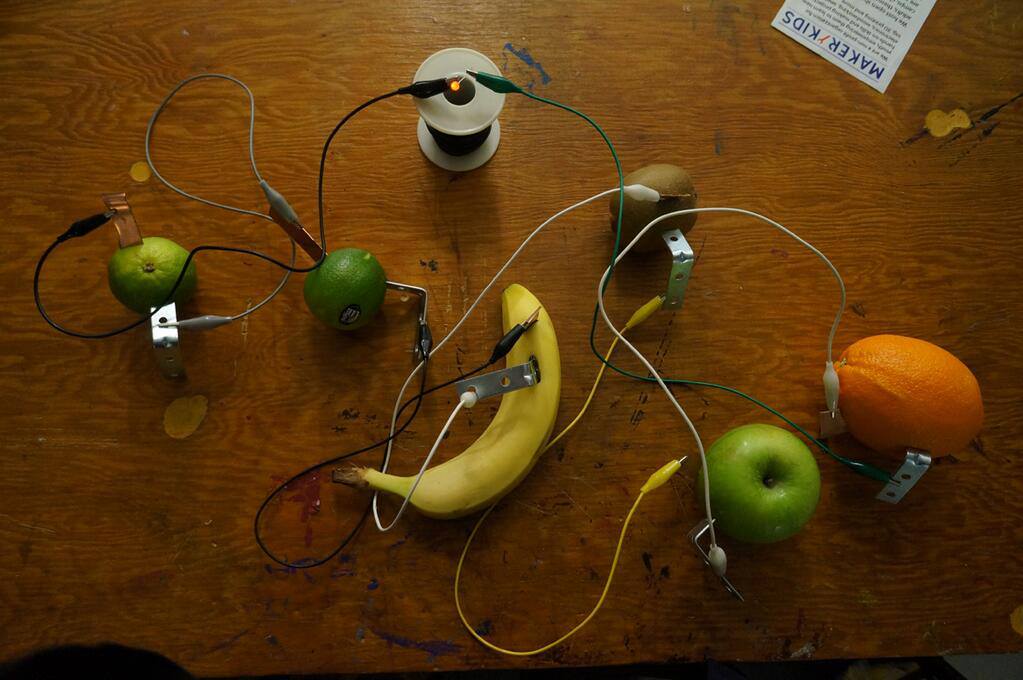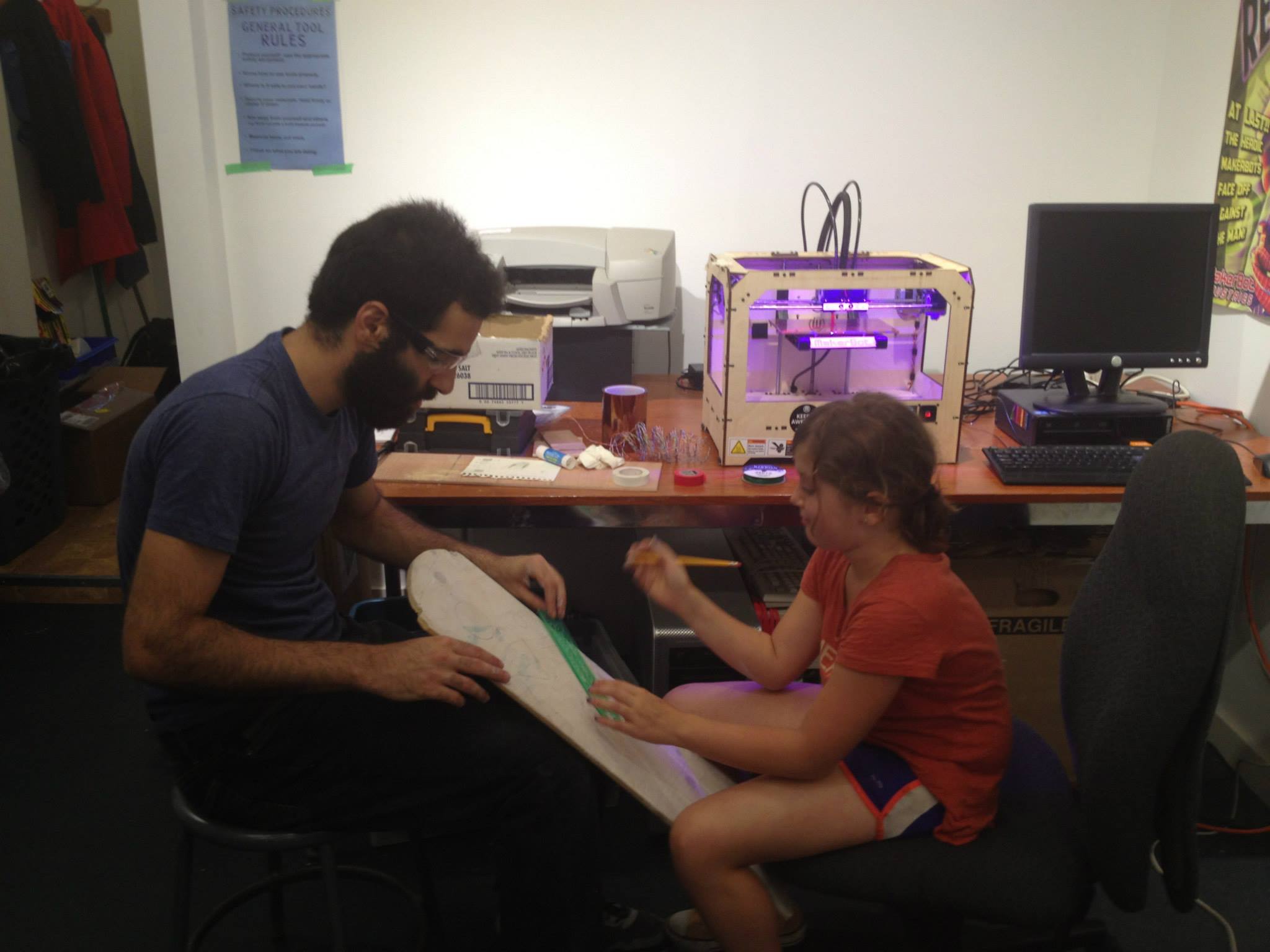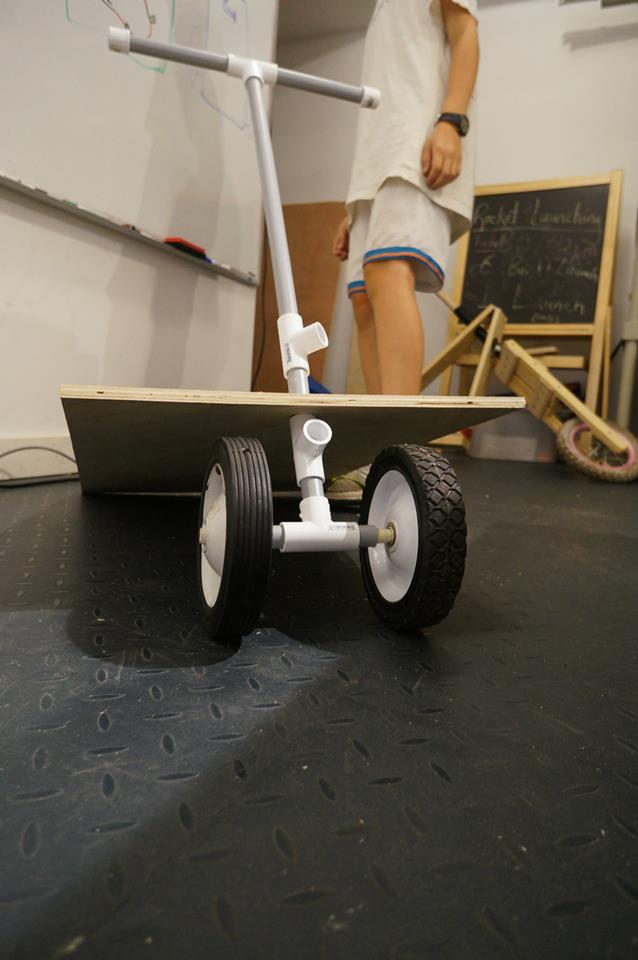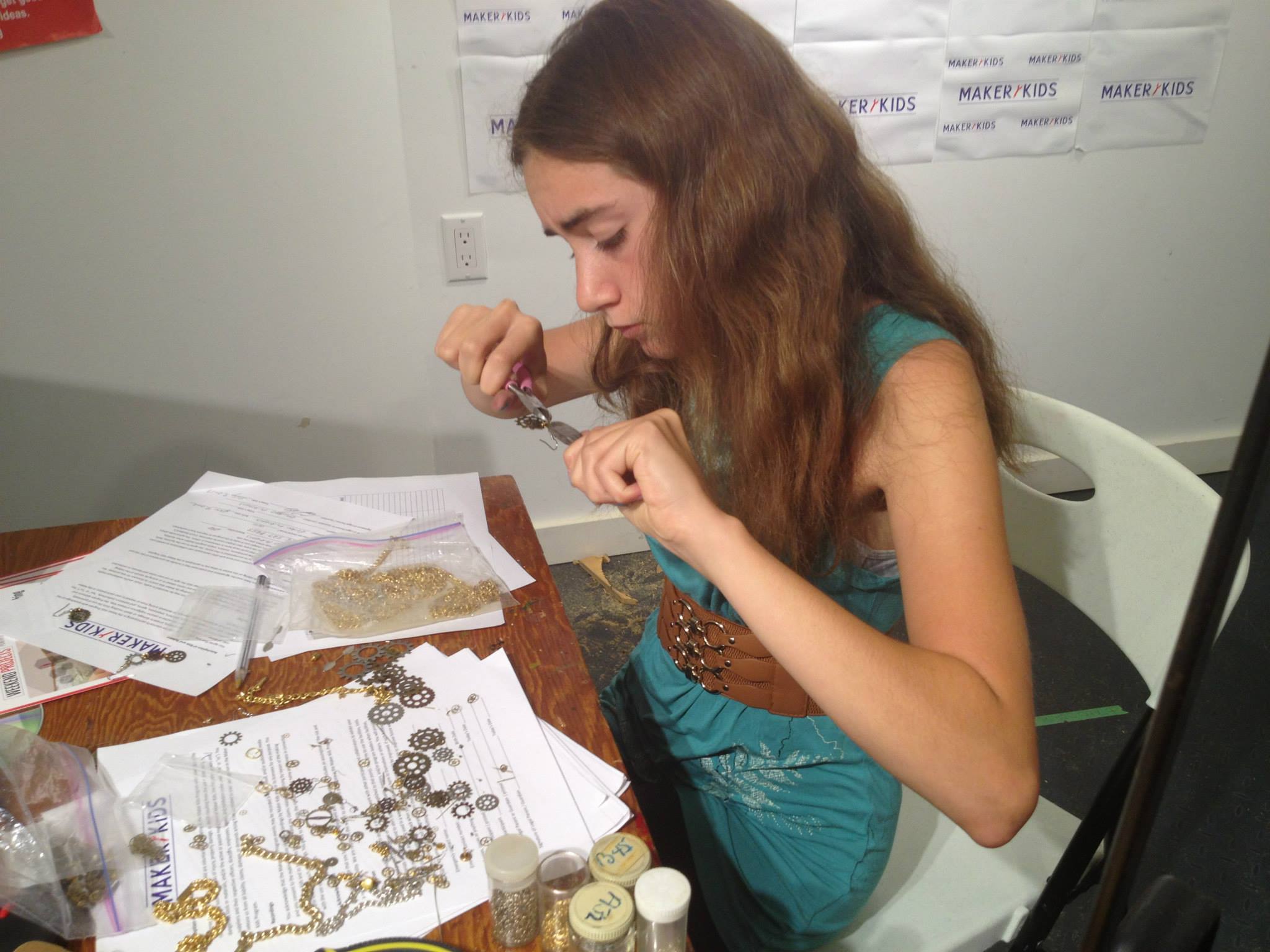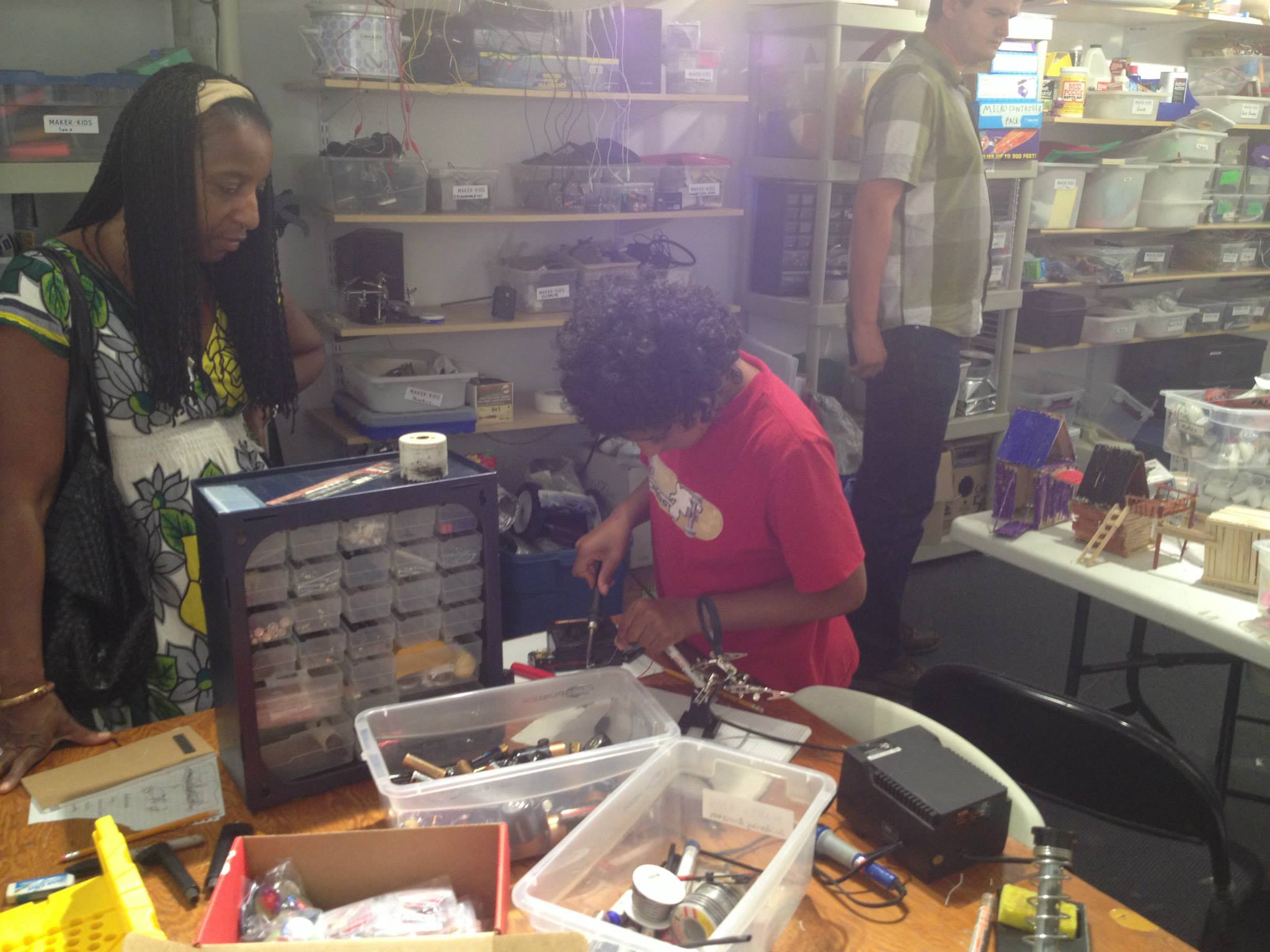 Instructor Bios
Nadim, Makestuffoholic, instructor, mentor: Nadim has been a maker since childhood who has always loved trying a completely new medium or thing to create with. A dabbler in sketching, sculpting, 3D design, woodworking, leatherworking, simple electronics, programming, writing, cardboard crafts, and many other trades – he chases his dream of being able to build or fix almost anything. When not building stuff, Nadim enjoys sword fighting as a viking historical re-enactor, climbing and parkour, a good fantasy or spy novel, late night biking, video gaming, video editing, and writing tutorials. Very much still a kid himself, Nadim seems to fit right in with the MakerKids crowd, combining his passions for teaching, creativite thinking, making stuff, and being childish. He also loves candy and cats.
FAQs
What have other kids learnt at our past programs?
"At first when I came here, I had no idea how any of this electric stuff worked, and I'm just like, how I am going to be able to make this? But over time with my mistakes, I realized it gets easier and it comes to me and sometimes making a mistake actually teaches you something – why something doesn't work."
What skill level is this program appropriate for?

No previous experience is required-just a desire to make things! Our instructors will show you how to use any tools safely, and teach you anything else you might want to know. If your child already experience with using similar tools or materials - that's great too!

What age range is this program appropriate for?

Open shops are appropriate for kids 3-18.

If your child is under 8, please accompany them for the duration of the open shop so that they are following our safety instructions. 6-7 year olds are usually capable of electronics projects like making something light up with LEDs, motorizing something or designing creatures in 3D. One of our regulars is only 3 and they have a lot of fun making drawings, wands, trophies and things out of semi-precious stones.



Do you have any safety measures in place?
Yes, we have safety procedures and training for the kids on how to use the tools safely. Our instructors are also well trained and we usually have a ratio of 1 instructor per 4 kids. Our woodworking shop has a lock on it and kids can use it safely when adults are around to supervise. Kids also wear safety goggles when using certain tools or materials. Any sharp tools are kept well out of reach unless someone needs to use them for a particular project with adult supervision. If you have any questions about this, please contact us.
What is your instructor to student ratio?
What is your philosophy towards making?

Our philosophy is to encourage creativity and empower kids with their own ideas for projects. We encourage all kids to participate in our programs and we don't push towards certain activities based on gender or stereotype - it's up to the child what they want to explore and learn about! We also like to encourage children in making their own decisions and to learn by doing, while we act as mentors instead of doing things for them.
Do I have to purchase a ticket in advance?
Yes.
I'm a parent staying with my child. Do I need to purchase a ticket for myself?
Parents are welcome to stay and participate too, if they also purchase a ticket, as space is limited.
What is the average material cost?
This is usually $5 but can vary depending on what materials and how much you want to use.
How many 3D printers do you have?
7
What is the membership program?
Our membership programs are all-you-can-make! You'll get to specify the start date for your membership after your purchase. Each membership includes: discounted entry to one or more specific programs (in this case Tuesday Open Shop), the ability to bring a new friend once a month for free, project storage during your membership, your own safety goggles which you can personalize, and your own 3D printed magnet nameplate (you get to make it). For other membership options (e.g. siblings, multi-day, etc), visit http://makerkidsmemberships.eventbrite.com
How do I register 2+ children?
You can register two kids at the same time by entering the amount for both of them in the amount field. When you click on "Order Now" to fill out your registration information, there will be a field that says "Child's Name" - just write in the names of the each child attending.
What are my transport/parking options getting to the event?
We are located at 2241 Dundas St W, about a 5 walk from Dundas West TTC subway station. The 504 King Street car also stops nearby. If you are driving, there is parking across the street at Loblaws.
Do you have other programs?
We have other programs for kids, teens and adults: www.makerkids.eventbrite.com
Where can I contact the organizer with any other questions?
You can email us at info@makerkids.ca