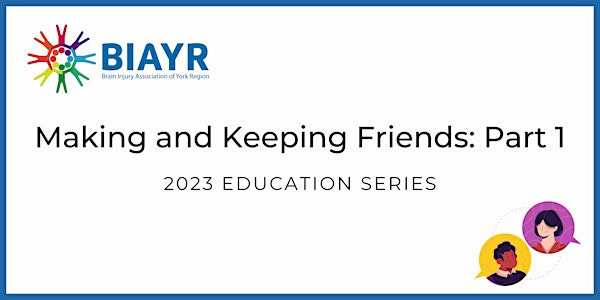 Making and Keeping Friends: Part 1 - 2023 BIAYR Educational Talk Series
Join Simone for Part 1 of this 2 Part Educational Talk Series about Friendship as she discusses useful skills that can be learned.
By Brain Injury Association of York Region
Date and time
Wed, Feb 8, 2023 10:00 AM - 11:00 AM PST
About this event
Please join Simone Friedman (Speech-Language Pathologist), for Part 1 of this 2 Part Educational Talk Series about Friendship. She will be discussing useful skills that can be learned to help make and keep friends!
Making friends can be very challenging. Like learning a sport or piano, making friends is a complex skill that can be learned. However, people often take this learning for granted and the skills are not realized, understood or practiced. In these webinars, Simone will be covering some of these skills.
Part 1 Topics:
The art of Listening
Emotions (what they are, how they are created and how they affect my behaviour)
Thoughts (what kinds, positive and negative, how to assess them)
Perspective Taking, Perspective Getting
Understanding how my emotions and behaviours affect you and vice versa
Understanding context and how it affects friendship
Different levels of friendship and matching up your communication
Part 2 will be taking place on March 15, 2023, check back soon for tickets!
Please note this Educational Talk runs from 1:00pm until 2:00pm, the Q&A component is included in the 1 hour.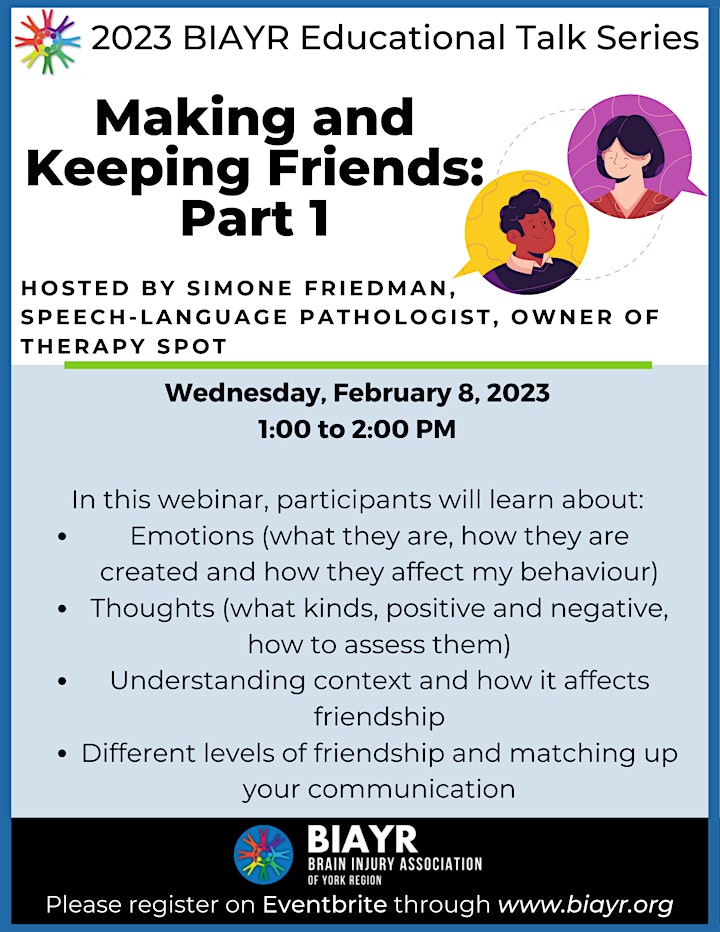 About Simone Friedman:
Simone Friedman is a Speech-Language Pathologist who owns and runs a clinic in Toronto called Therapy Spot. She has been assessing and treating individuals with cognitive-communication difficulties secondary to Traumatic Brain Injury, Mental Illness and Social-Communication difficulties for over 23 years. Aside from running Therapy Spot, managing employees, and working with clients, Simone is an adjunct professor at McMaster University. Simone is an avid learner and recently completed a post graduate diploma in neurobehavioural science. In her spare time, she loves travelling and you can often find her in a small surf village somewhere in the world trying to find calm rolling waves that she can surf.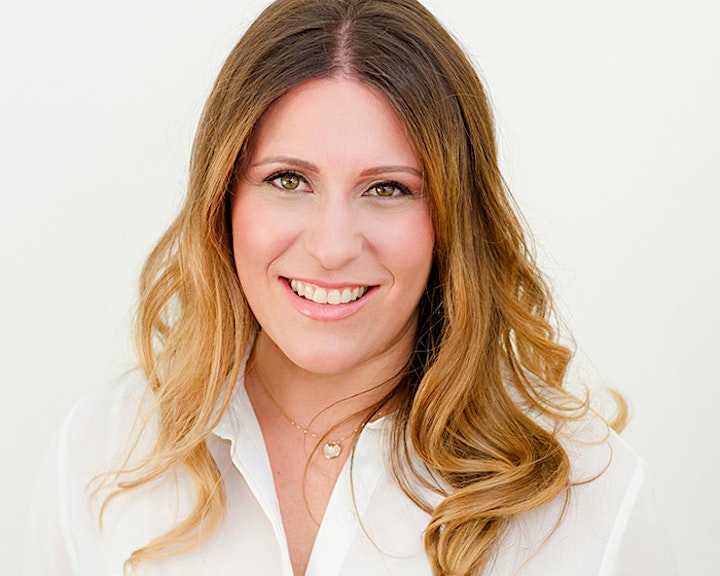 About the organizer
The Brain Injury Association of York Region is committed to helping individuals, and their loved ones, who are dealing with an acquired brain injury.  Our focus is to provide awareness, education, and advocacy.