Making and Keeping Friends (Part 2) - 2021 BIAYR Educational Talk Series
Online educational talk discussing strategies to navigate relationships and conflicts within them
About this event
Brain Injury Association of York Region is pleased to present Making and Keeping Friends (Part 2).
Please join Simone Friedman (Speech-Language Pathologist) again, as she discusses useful strategies to communicate effectively in order to make and keep friends after a brain injury.
The first presentation was on the parts of communication including: listening, knowing yourself, knowing your friend and knowing the context.
This presentation will review the concepts in the first presentation and then will also provide strategies on: navigating relationships and conflicts within them.
Topics:
1. How to control behaviour
2. Knowing the unwritten rules of behaviour (what is expected)
3. Anger management strategies
4. Testing thoughts (are they logical)
5. How to calm the mind, the environment and my thinking
6. How to be assertive and kind at the same time
7. Writing letters of forgiveness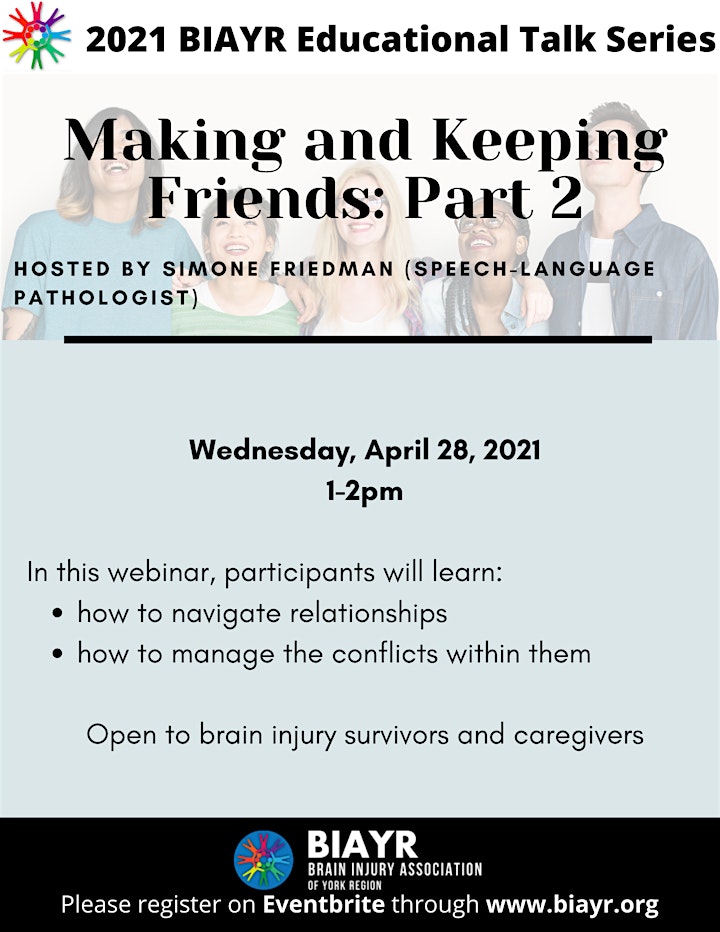 About Simone Friedman:
Simone Friedman is a speech-Language Pathologist and has been working in the field for over 20 years. She has extensive experience with acquired brain injury and mental health. She owns and operates a clinic in Toronto called Therapy Spot. In the past, she has acted as an adjunct professor at the University of Toronto, and has additional training in cognitive-communication, mental health and breathing.