Making Healthy Delicious; easy tips so that you can start loving the foods that will love you back
About this event
Does this sound familiar?
-Your family turn their noses up at anything you make that is remotely ''healthy''.
-You need tips to make healthy food delicious, easy and fast.
-You want to make better choices but you don't have hours to devote to meal prep and cooking.
-You find yourself always falling back into the same old food ruts.
-You're tired of feeling sick and tired and you know deep down that a better diet is part of the solution.
-You're afraid that you don't have the skills required to prepare your own healthy meals.
If this is you then:
Strap on your apron and join me for a fun, hands-on morning of cooking, sampling and discovering. Learn simple, straightforward tips that will save you time and transform everyday meals into healthy, delicious meals the whole family will love.
Hi, My name is Kim, I'm a Registered Holistic Nutrition consultant and Certified Metabolic Balance coach.
My first love is delicious food. My passion is making healthy food delicious and doable.
As a Metabolic Balance coach, my job is to gently guide my clients through the process of changing their diet and lifestyle in order to achieve their health goals.
I realize how overwhelming diet changes can be.
With this workshop, I hope to shorten your learning curve and give you the tools to integrate more of the good stuff in painlessly.
-Imagine simple tips to make all of your food taste delicious.
-Save time and money.
-Enjoy having the whole family on board
-Consume delicious foods that provide more value so you and your family feel better.
The Making Healthy Delicious workshop will be held on:
Sunday June 20th between 10:00 and 1:30
(the workshop will be recorded)
Here's what we will be making:
√Fisherman's Stew; the perfect quick lunch that's so delicious, you'll forget it's healthy
√Sexy Meatloaf; versatile & delicious, this meatloaf is so good it deserves to be called sexy
√Creamy dressing; zingy, creamy and decadent, you'll never buy Caesar dressing again
You will also receive the following recipes:
√Restaurant Garlic Butter; or should I say flavor explosion garlic butter
√Homemade Mac & Cheese; an old favorite elevated
√Easy Hummus; delicious party food or quick easy lunch
√Rockin' Chicken Curry; a delicious, decadent one pot meal
√Leek chowder; hearty, comforting, classic
√Roasted Red Cabbage; a jewel on your plate and for your palate
√Roast Chicken; pure comfort at the end of a busy day
√Indian lentils; delicious, versatile and freezer-friendly.
√Chia jam; let your fruit shine
√Complete grocery list so you can follow along at home
√Workshop recording in case you arrive late or can't stay to the end
As a bonus you will receive:
√Kim's tips to great digestion
√How to calculate your water prescription
√The scoop on poop
Needed equipment: hand held or wand-type blender, medium frying pan, large 6 L soup pot, roasting pan or Dutch oven, large mixing bowl, 6 cup glass measuring cup
**All of the recipes plus a complete grocery list of easy to find ingredients will be available to download once you sign up.**
Since the event will be recorded, refunds will not be issued.
Feel free to contact me with any questions or concerns
I look forward to cooking with you.
Cheers,
Kim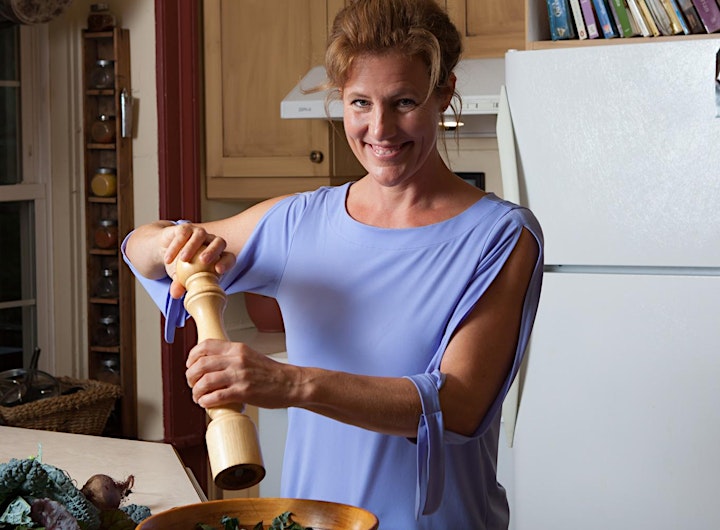 Date and time
Location
Refund policy