Event Information
Refund policy
Contact the organizer to request a refund.
Eventbrite's fee is nonrefundable.
Making HER Future! offers online tech workshops with opportunities for young kids within the Metro Vancouver.
About this event
The children aged between 8 to 12 are invited to participate in this online workshop series along with their primary caregiver (parent, mother, aunt or primary male caregivers) to collaborate in a fun and interactive platform to deliver a tech- based project.
It is a week long workshop with three mandatory online sessions. Attendance to all three online sessions is required.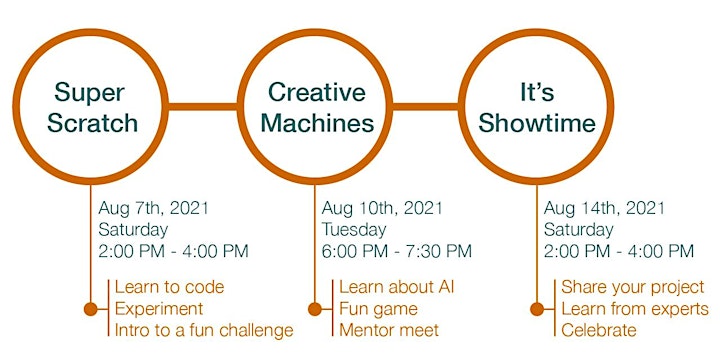 MHF! Workshop Schedule
1. Saturday, Aug 7, 2021 [2:00 - 4:00 PM] - 1st Workshop: "Super Scratch!"
Ever wish you had a superpower? The first workshop will introduce you to Scratch. You will give yourself a superpower and tell us about it through a digital game or a story.
2. Tuesday, Aug 10, 2021 [6:00 - 7:00 PM] - 2nd Workshop "Creative Machines"
Artificial Intelligence (AI) is everywhere! It offers many solutions such as translatation assistance between different languages, and assisting cars to drive themselves! Can AI be creative? Can it draw, play music, or tell a story? This workshop will give you a glimpse into the creative potential of AI
3. Saturday, Aug 14, 2021 [2:00 - 4:00 PM] - 3rd Workshop "It's Showtime!"
In this final workshop, you will get to share the projects you have worked on. This is where you get to shine and share you new skills with your new friends. The presentations will be followed by an awards ceremony!
Here are some important details to consider prior to signing up:
Participating family must be a member of ECCS-BC.
Parental consent is required to join. In fact, one adult is required to attend the workshop along with their child.
Participating family is required to have access to a personal computer or a laptop with a secure internet connection for the duration of each workshop. A microphone and camera will be required to engage in discussion.
Participants should consider dedicating a minimum of 5 hours to the workshop series. The final programming project may take around 4 additional hours.
No previous coding experience is required.
Date and time
Location
Refund policy
Contact the organizer to request a refund.
Eventbrite's fee is nonrefundable.