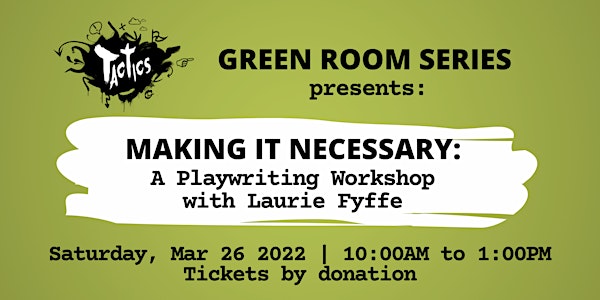 Making it Necessary: A Playwriting Workshop with Laurie Fyffe
In-person and online playwriting workshop presented by TACTICS Green Room Series, led by playwright, dramaturge and AD Laurie Fyffe.
About this event
A playwriting workshop focused on the strategies and tools used in writing the 10-minute play or scene, this workshop will consist of writing prompts and exercises designed to reveal a character's motives and desires, as well as help a writer further the arc of dramatic action. We will address questions about the playwriting process and share ideas. Come prepared to write and, if you are ready, to share your work.
Maximum: 10 participants | Duration: 3 hours with multiple breaks| Venue: Atelier at Arts Court AND online (Zoom) | Tickets by donation
LAURIE FYFFE is a playwright, dramaturge, and Artistic Director of Evolution Theatre. Her most recent play Beowulf In Afghanistan was presented online at the 2021 Ottawa Fringe Festival. In May of 2020, with the support of the OAC, a public presentation of her play Exciting Cause was presented online in cooperation with Ottawa's TACTICS Series. From 2014 to 2017, Laurie was Managing Artistic Director of Ottawa StoryTellers (OST), where she adapted James Bartleman's Raisin Wine (2014), and co-wrote A Winter Tale: The Journey of the Blind Harper (2015). In March 2018, Laurie's play Mirage: The Arabian Adventure of Gertrude Bell received a reading as part of Alumnae Theatre's New Ideas Festival, and Being Helen received a workshop and public reading courtesy of the Ergo Pink Arts Festival. In 2010, Laurie received her MA in Theatre from the University of Ottawa, where she subsequently taught the Principles of Play Analysis. Since the fall of 2017, Laurie has taught at Algonquin College in the Scriptwriting and Professional Writing Programs, School of Media Design. This summer Laurie will be working with Plan B productions as they present Chekhov's The Proposal at the 2022 Ottawa Fringe. Laurie has written an original sequel entitled After The Proposal. Laurie is a member of Canadian Actors' Equity (CAEA), the Playwrights Guild of Canada (PG), and the Canadian Author's Association. Her plays are available from the Guild at https://www.canadianplayoutlet.com/.