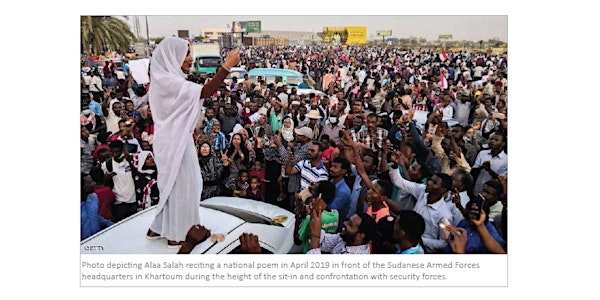 Making Sense of Sudan's Recent Major Political Change
When and where
Location
Hilton Garden Inn Ottawa Downtown 361 Queen Street Monsella A/B Room Ottawa, ON K1R OC7 Canada
Refund Policy
Contact the organizer to request a refund.
Eventbrite's fee is nonrefundable.
Description
Join the CIC National Capital Branch at its next flagship speaker event
MAKING SENSE OF SUDAN'S RECENT MAJOR POLITICAL CHANGE
Featuring Dr. John Goodman, Associate Director for Africa of the Conflict Resolution Program at The Carter Center
Sudan sits at the crossroads of Sub-Saharan Africa and the Middle East. For most of the country's independent history it has been beset by conflict. Under the terms of a peace agreement in 2005, the mostly non-Muslim and black African south split from the Muslim and Arab-dominated north, forming the Republic of South Sudan in 2011. The secession of South Sudan induced multiple economic shocks. The resulting consumer price inflation and economic decline triggered violent protests in September 2013 that flared up again in December 2018. These popular uprisings resulted in the ousting of longstanding President Omar al-Bashir by the military in April, and the formation of a new government under Prime Minister Abdalla Hamdok as part of a three-year power-sharing agreement between the military, civilian representatives and protest groups.
What is the prospect of success of the current power-sharing agreement and the outlook for civilian rule in a country and region beset by authoritarianism, military crackdowns and civil war? What are the obstacles facing the realization of the democratic aspirations of the young women and men who helped bring about these recent changes? What is the role of and constraints faced by the international community in this process?
__
Join our panel of experts who will help answer these questions and clarify the latest developments within a broader historical context:
Dr. John Goodman, Associate Director for Africa of the Conflict Resolution Program at The Carter Center, an organization founded by former U.S. President and Nobel Laureate Jimmy Carter and his wife, Rosalynn, to help prevent and resolve conflicts, enhance freedom and democracy, and improve health
Professor Tag Elkhazin, Adjunct Professor, Institute of African Studies, Carleton University
Professor Baranyi Professor, School of International Development and Global Studies, University of Ottawa
Professor Logan Cochrane (moderator), Assistant Professor, Carleton University, and an Adjunct Professor, Hawassa University, Ethiopia (Institute of Policy and Development Research)
__
SCHEDULE:
5:00 pm: Registration, networking reception, cash bar
6:00 pm: Presentation, discussion
TICKETS:
CIC member: $25
CIC student member: $15
Non member: $35
Non member student: $25
(Prices include Eventbrite registration fee)
Add $3 to ticket price to pay at the door (registration in advance is recommended).
Those wishing to register for payment at the door, encountering difficulties with Eventbrite, or otherwise, may conatct the event administrator by email: ottawa@thecic.org or telephone: 613-903-4011.
The deadline for registration and cancellation is Monday, November 18 at noon.
PARKING OPTIONS:
Underground with elevator to the hotel, or across the street for a flat rate of 6$ starting at 5pm.
---
Soyez des nôtres au Chapitre de la capitale nationale du CIC lors de notre prochain événement signature
TROUVER LE SENS DES PROFONDS CHANGEMENTS POLITIQUES QUI SE SONT PRODUITS RÉCEMMENT AU SOUDAN
En compagnie de John Goodman, PhD., Directeur agrégé pour l'Afrique, Programme de résolution de conflits, The Carter Center
Se trouvant au carrefour de l'Afrique sub-saharienne et le Moyen orient, le Soudan a été marqué par le conflit et ce pour la plupart de son histoire d'autonomie politique. Selon l'accord de paix de 2005, le secteur sud du pays – composé principalement de populations africaines noires et non-musulmanes – s'est séparée du nord du pays, majoritairement Arabe et musulman, formant ainsi la République du Soudan du Sud en 2011. La séparation du Soudan du Sud a produit des multiples crises économiques. L'inflation des prix à la consommation et le déclin économique qui s'en sont suivis ont produit des violentes protestes en septembre 2013, qui ont été ravivées en décembre 2018. Ces protestes populaires ont ainsi entrainé le retrait du Président de longue durée, Omar al-Bashir, par les forces militaires en avril, suivi de la formation d'un nouveau gouvernement sous la direction du Premier Ministre Abdalla Hamdok – dans le cadre d'un plan tri-annuel de partage de pouvoirs entre les militaires, les représentants de la société civile et les groupes contestataires.

Quelles sont les perspectives de réussite pour cet accord de partage des pouvoirs? Quelles sont les horizons possibles pour qu'un régime civil puisse s'instaurer dans un pays et une région très frappée par l'autoritarisme, les répressions militaires et le conflit civil? Quelles sont les entraves à ce projet d'aspiration démocratique des jeunes femmes et hommes qui ont contribué à réaliser ces changements récents? Quel est le rôle et quelles sont les contraintes posées à la communauté internationale dans ce processus?
__
Joignez-vous au panel d'experts qui contribueront à répondre à ces questions et à élucider les plus récents événements dans un contexte historique plus large:

John Goodman, PhD, Directeur agrégé pour l'Afrique, Programme de résolution de conflits, The Carter Center, un organisme fondé par l'ancien président des É-U-A et lauréat Nobel pour la paix Jimmy Carter et son épouse, Rosalynn, voué à la prévention et à la résolution de conflits, à renforcer les libertés et la démocratie, et à promouvoir la santé.

Professeur Tag Elkhazin, Professeur auxiliaire à l'Institut d'études africaines, Carleton University

Professeur Baranyi, Professeur à École de développement international et mondialisation, Université d'Ottawa

Professeur Logan Cochrane (modérateur), Professeur agrégé à Carleton University, et Professeur auxiliaire à Hawassa University en Éthiopie (Institut de recherche de politiques et du développement
__
PROGRAMME:
17 h 00: Inscriptions, réseautage, bar payant
18 h 00: Discussion et période de questions

BILLETS:
Membre du CIC: 25 $
Membre étudiant du CIC : 15 $
Non-Membre: 35 $
Non-membre étudiant: 25 $
(Le tarif du service Eventbrite est compris)

Veuillez ajouter 3 $ au billet si vous payez sur les lieux (les inscriptions avec anticipation sont recommandés).

L'échéance pour vous inscrire ou annuler votre inscription est le lundi 18 novembre à midi.
OPTIONS DE STATIONNEMENT:
Sous-terrain avec ascenseurs vers l'hôtel, ou devant l'immeuble au tarif fixe de 6 $ après 17 h.

___
To join, or renew your membership to the CIC please go to www.thecic.org/get-involved/
Pour vous abonner ou renouveler votre adhésion, prière de visiter www.thecic.org/get-involved/