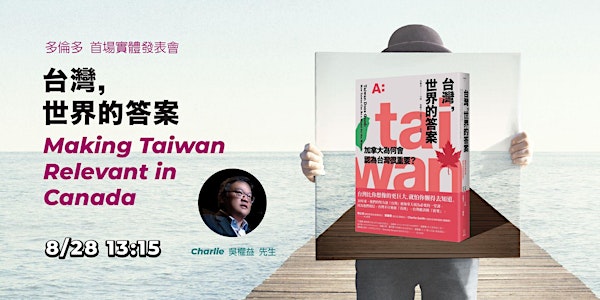 Making Taiwan Relevant in Canada - 2022 TAIWANfest Toronto 台灣,世界的答案
20 years behind the scenes at TAIWANfest! 加拿大台灣文化節 20 年幕後揭密!
When and where
Location
Harbourfront Centre 235 Queens Quay West Toronto, ON M5J 2G8 Canada
About this event
After over 20 years managing TAIWANfest, how does Canada help Charlie Wu find his Taiwanese identity? Other than Indigenous peoples, most Canadians can trace their roots to another heritage or culture in the world; for some people, it could be multiple cultures. An event like TAIWANfest has evolved over the years and the lessons learned have contributed to the publishing of this book recently published in Taiwan.
In Canada, there are more than 200 languages spoken and each language can be attached to a culture or heritage. While this is an important asset to Canada, how do Canadians move forward together? The state of multiculturalism must be advanced beyond respect and acceptance; Canada needs a bolder approach to bring people together for future generations. Seeing and being seen are not enough to cultivate changes in perspectives; touring artists is not about taking a trip to a new place for the first time; purpose and meaningfulness need to be clearly identified to allow sustainable dialogues.
For Charlie Wu, Making Taiwan Relevant in Canada is the beginning of "Taiwan Can Help!"
More details at: https://torontotaiwanfest.ca/making-taiwan-relevant-in-canada/
17年前,台灣文化節走進多倫多湖濱中心;除了兩年受到疫情影響之外,台灣文化節悄悄地成為湖濱中心的重要夥伴之一。或許有很多人不清楚,十多年來,多倫多對台灣文化節的發展有了深遠的影響。如果沒有多倫多湖濱中心的經驗,可能就不會有《台灣,世界的答案》的出版。
吳權益根據過去的經驗與觀察,把文化輸出或文化傳播的策略做了四個面向的分析:【流行趨勢】、【普世價值】、【人民情感】及【國家利益】,幾乎可以做為所有文化工作者梳理及檢驗自己理念的參考。是時候加拿大開始思考多元文化要何去何從,或許也是時候台灣重新思考「Taiwan Can Help」 更深層的意義。
了解更多詳情請前往 https://bit.ly/3cW1fPL
COVID-19 Safety Disclaimer: For the safety and comfort of all attendees, masks are highly recommended inside the theatre. The organizer reserves the right to remove any patron who are causing a disturbance or not following guidelines.
COVID-19 防疫免責聲明:為了所有活動參與者的健康安全,強烈建議您在劇院內全程佩戴口罩。主辦單位並保留取消任何造成其他人干擾或不遵守相關準則之顧客的權利。