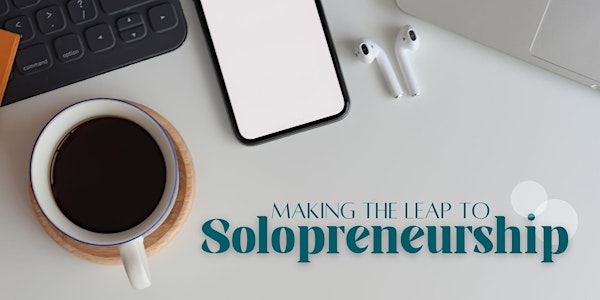 Making the Leap to Solopreneurship
A 90-minute Small Group Coaching Session for seeking freedom from your corporate career.
Refund Policy
Contact the organizer to request a refund.
Eventbrite's fee is nonrefundable.
About this event
Exhausted. That is how many hardworking and normally highly motivated people I meet describe how their life and work are making them feel.
Can you relate?
Maybe you used to love your career, but now you feel overworked, underappreciated, or even burnt out. (I know how that feels. I left my full-time job seven years ago due to burnout).
Maybe you feel dissolution - not just with your job, but with the life it has created for you. The moments that mean the most have become second fiddle to someone else's schedule - and priorities.
You may have established yourself in a career you love and are good at.
Good enough to wonder if you could do it for yourself:
No one else dictating when you work, rest, and play
No more being micromanaged by the hierarchy
And no more hustling for an employer or the goals of an organization.
Can you quit your full-time job and instead enjoy the freedom of working on your own terms? Could you create a life where you balance your work and other passions and spend time with your loved ones however you want?
Sounds fantastic, right? But let's be honest: The thought of leaving the safety of your job for solopreneurship can be terrifying.
You're not alone. Yet just like you, many others are thinking about taking 'the leap.'
Self-employment is on the rise in North America. The known path of the 9-5 with its perceived benefits may have worked for generations before. However, it's no longer working for people today.
I'm inviting you to my exclusive 90-minute small group coaching session: Making the Leap to Solopreneurship, where you can explore what it takes to successfully transform your career and become a solopreneur - and whether or not it's the right step for you and your life.
Connect with others who are considering making the leap and hear my story of how I created a life for myself that makes me thrive. You'll leave the course with a framework to help you decide how and when to make the leap yourself if you choose to.
I've spent the last three years working with individuals through a variety of personal and professional challenges as an Associated Certified Coach with the International Coach Federation. I also have over four years of experience working with entrepreneurs to launch the businesses of their dreams.
Since leaving my full-time job to work for myself nearly seven years ago, I love:
I enjoy being present with my kids more without worrying about what my boss thinks.
Deciding what clients I work with and who I hire - building my own work community is empowering and makes work even more enjoyable.
And having creative ownership of my work - Priceless!
Sound good?
Join us at Making the Leap to Solopreneurship and learn what a career looks like on the 'other side,' ask questions, and explore whether it could be the right decision for you.
Even if you don't think it's for you right now, that's OK. You've got nothing to lose by joining and everything to gain by exploring your options.
So, register now:
Wednesday, December 14th, 6:00-7:30 PM PST for the small group coaching session: Making the Leap to Solopreneurship.
The content of this group coaching intensive is valued at $199, but tickets cost just $49!
Making the Leap to Solopreneurship has life-changing potential - and I'm so excited for you to come and explore the possibilities for yourself.
Invest in yourself today and buy your ticket now.
I can't wait to meet you!
Sue