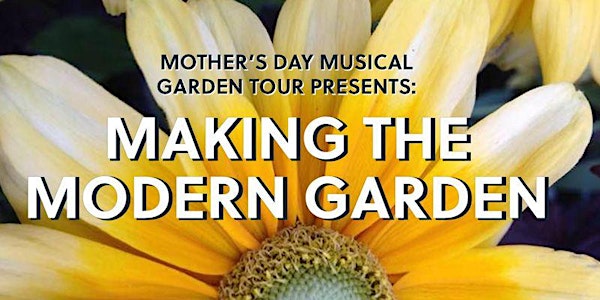 Making the Modern Garden
Victoria Conservatory of Music
Location
Alix Goolden Hall - Victoria Conservatory Of Music
900 Johnson St
Victoria, BC V8V 3N4
Canada
An expert gardener speakers event about West Coast Gardening in a changing world.
About this event
The Canadian Garden Council has proclaimed 2022 as "Canada's Year of the Garden" and we're proud to celebrate with this new event for our 40th annual Garden Tour fundraiser.  
This special fundraiser for the Victoria Conservatory of Music will be hosted in Alix Goolden Performance Hall on Saturday, May 7 at 7:00pm. Guests will have the opportunity to hear from three expert gardeners, ask them questions, and enjoy an evening of celebration of Victoria's vibrant gardening culture.  
Please Note: Entrance for this event will be at the Victoria Conservatory of Music Main Entrance – 900 Johnson Street.
Presentations
Hot New Plants: Cutting Edge Garden Plants for Cutting Edge Gardens Gary Lewis, Owner of Phoenix Perennials 
Presentation Topic 
Phoenix Perennials is among the first nurseries in Canada - and even the world – to offer new cultivars developed by the best international breeders. Gary will give you the inside track on recent new cutting edge garden plants and talk about where plant breeding is heading in the future. If you love new plants, you won't want to miss this talk! 
Irises for the Climate Change Garden  by Dr. Richard Joseph Hebda, President of the BC Iris Society 
Presentation Topic 
We are excited to explore the fascinating and colourful world of Irises, with Dr. Richard Hebda. Learn about their diversity and adaptability, their outstanding long season of bloom along with the amazing range of iris species. Hebda will illustrate varieties from winter to fall bloomers and from miniature dwarfs to 2 m tall giants. He will explain how to choose, plant and grow these remarkable flowers, so wonderfully suited for our Vancouver Island inland climates
Cracks and Crevices: A Bold Aesthetic for Adventurous Gardeners by Paul Spriggs, Co-author of The Crevice Garden
Presentation Topic
Paul will talk about rock gardening, and Victoria's connection to the style exploring local history, examples of some gardens, and plant selection for rock and crevice gardens. He will include examples from his upcoming book The Crevice Garden. How to Make the Perfect Home for Plants from Rocky Places with Co-author Kenton Seth.
Click the link below to purchase Mail Order Tickets to our 40th Annual Mother's Day Garden Tour!