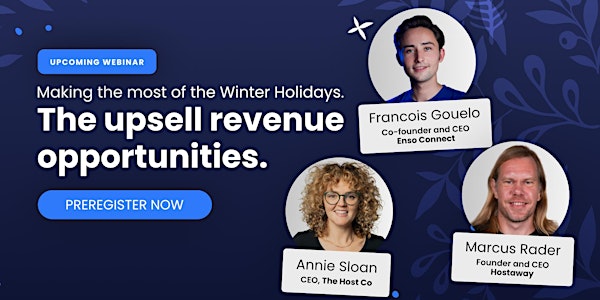 Making the most of the Holidays - vacation rental upselling opportunities
Get a CEO perspective on vacation rental upsells and cross-sells , the impact on revenue and guest experience.
About this event
Holiday season is sneaking up, this year – a little different. With an impending recession and financial uncertainty, you need a resilience strategy. Grow your business with what you already have access to – guests!
We are bringing industry experts to uncover how vacation rental add-ons can help boost revenue all while enhancing the guest experience.
During this FREE webinar you will learn:
Best practices for high-converting upsells and cross-sells
Creative ideas to make your guests happy and earn more money
How to smoothly incorporate upsells in your guest journey to get 5-star reviews, while increasing revenue
Tips on how to use upsells for owner retention
Some vacation rental upsell facts and numbers, that will surprise you (!)
Benefits of attending:
Understand the potential of enhancing your guests' stay and learn how much money you are leaving on the table.
Learn from the CEOs, whose solutions move thousands of dollars in daily upsell revenue.
Become familiar with the practicalities of vacation rental upsells and cross-sells. How to actually do this.
Ask questions specific to your hospitality business.