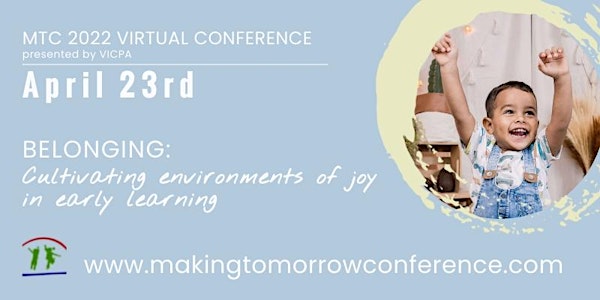 Making Tomorrow Conference 2022: BELONGING
Refund policy
Contact the organizer to request a refund.
Eventbrite's fee is nonrefundable.
Join us on April 23rd, 2022 for a day of learning and inspiration! Get fired up and excited about the magic of the Early Years.
About this event
The MTC 2022 welcomes presenters for 3 workshops - virtually accessed. Enjoy your garden sun, sip on a home-brewed drink or lounge on the couch in jammies while we chat, laugh and learn about Belonging: Cultivating environments of joy in early learning.
Join Dr. Laura K. Doan, Associate Professor & Elizabeth Boileau, Project Manager in Peer-Mentoring Communities of Practice for BC Educators: Opportunities for Reflection, Connection, and Belonging. New and experienced Early Childhood Educators have had to navigate the covid pandemic and industry challenges with skill and patience while continuing to nurture their passion for the education of young children. This workshop will provide details on peer-mentoring and how we can support one another through challenging times.
The MTC welcomes Ana Valle Rivera and her workshop Supporting Child and Family Wellness. We can't always know what adversity children and families have faced in the past or currently face in their daily lives. In this workshop, participants will be asked to think about a diversity of family dynamics, for example, newcomer, immigrant, refugee families and families who have experienced trauma, to think about how we support each of these families best. In this workshop, Ana shares experiences and anecdotes to support educators with understanding what trauma-informed care looks like in action as a caregiver. Throughout the workshop, participants will be asked to think with a pedagogy of humility to better support the children and families they work with.
Kristen RB Peterson presents from Minnesota, USA on Feels Like Home: Creating an Environment that Children Feel Like They are Coming Home To. Children spend large amounts of time in your classroom environment – sometimes more than at home! When the children show up at your door in the morning, it should feel like coming home. In this workshop, Kristen will inspire caregivers and teachers to shift their view about their traditional roles, and lean into a more gentle and joyful approach to facilitating learning. The classroom environment is often seen as the third teacher and Kristen will give caregivers tangible ideas to curate an environment that is conducive to inquiry while also providing a home-like atmosphere.