An inspirational online workshop that encourages young women (14-19) to speak up and take action in what matters most to them.
About this event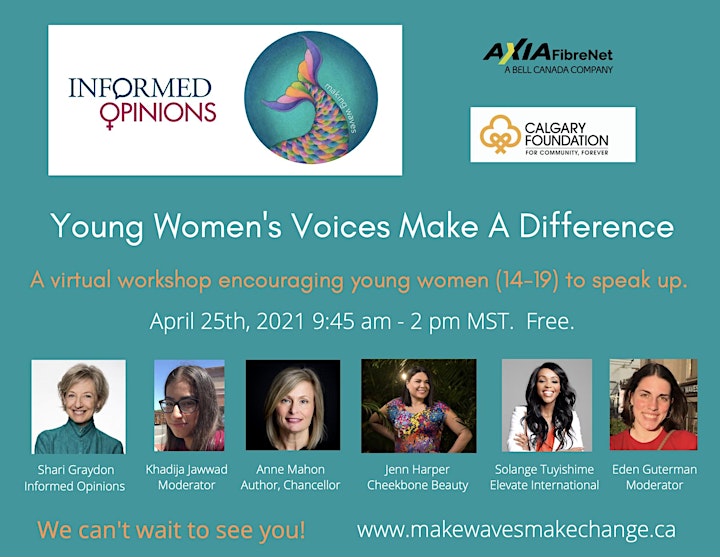 Are you a young woman, 14-19?
Do you want to make a difference?
Do you want to learn how to speak up effectively?
Do you want a zap of energy and inspiration?
Join us for Making Waves: Young Women's Voices Make A Difference
What is Making Waves? Making Waves is a grassroots cross-generational group of women (14 yrs +) who value the power of women's voices in making waves and making change. Together we learn why women's voices are important and how to speak up effectively. Making Waves provides various opportunities throughout the year for women, especially young women, to practice "taking the mic".
On April 25th, we invite young women 14-19 yrs to join us online for our 3rd Annual Making Waves workshop, planned by and for young women.
What is this event about? Made possible by The Calgary Foundation and Axia FibreNet, the event will address the importance of women's voices for democracy, and participants will gain both confidence and experience in being unscripted and unstoppable. Cross-generational learning opportunities will be promoted throughout the day, and young women will be able to practice applying some of the skills shared around speaking up and making connections.
Proposed Agenda:
9:45 a.m. Virtual Doors Open
10:00 a.m. Practical and inspirational cornerstone session on the importance of women's voices with Shari Graydon of Informed Opinions
11:00 a.m. Snack Break
11:10 a.m. Panel Discussion - Young Women's Voices Make A Difference with Special Guests: Jenn Harper, Founder & CEO Cheekbone Beauty; Solange Tuyishime, President of Elevate International; Ann Mahon, Author and Chancellor of the University of Manitoba
12:10 p.m. Lunch Break
12:30 p.m. Break Out Rooms: small group discussions about the morning sessions
1:00 p.m. Take the Mic
2:00 p.m. Farewell
Food and drink:
Make sure you have eaten breakfast before the session starts and have a water bottle close by. There are two short breaks for a snack and lunch, and a bit of a dance around, so ensure those meals are prepared ahead of time.
What you need:
Device for online conference, and something to take notes with.
Registration:
There are only 75 spots, so ensure you can join us before you sign up. Once registered, clear your calendar for Making Waves!
*Want to know more about Making Waves? www.makewavesmakechange.ca