Modules Package 2 | Master research and KPI tracking
About this Event
9 Evening / Weekend Sessions from April 30th – June 2nd
Apply By: April 23rd 2021
Data and research is an essential step if you want you work to have an impact. This combined with knowing how to track the effectiveness of your campaigns leads to a cycle of improving return. Take this if you are a junior or are interested in improving your Social Media Efforts.
Ideal for
Junior position
Those looking to grow internal team
What you get
Become an expert, add foundational knowledge & skills in one area
27-36 hours of class
Digital Badge Certification
Access to M.AD School of Idea's international network
Advertising's industry connections
How it works
3 - 4 module courses
Feedback sessions
Virtual, online classes with industry professionals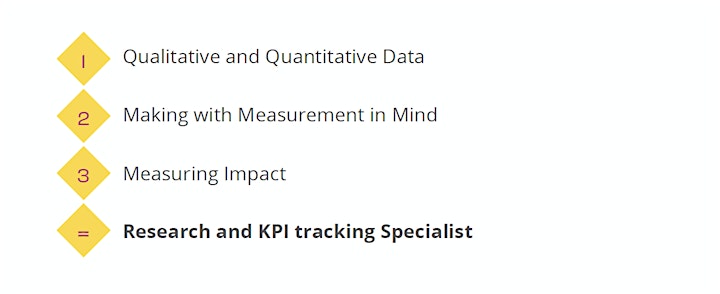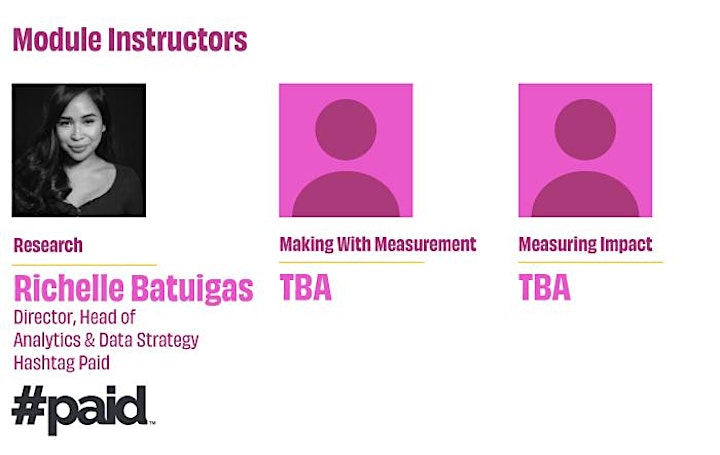 This package includes 3 skill-building modules:
Module 1: Research - Qualitative and Quantitative Data
Answering the age-old question: where to start? You will learn the different tools, agencies and methods for qualitative and quantitative research using digital and traditional means. From working with a research partner to conducting your own research, you will be taught how and when to use each resource.
Key Takeaways
Prominent research firms
Brand tracking studies
Qualitative research basics
Quantitative research basics
Using digital to your advantage
Dates: April 30th, May 1st, May 12th
Module 2: Making with Measurement in Mind
Master the basics of measurement within social media from organic to paid work streams, and how to link KPIs back to your marketing objectives.
Takeaways:
Key objectives in social media buying & related KPIs
An explanation of terms (measurement,variables, test & control group, methodology, correlation, validation, optimization)
An overview of Nielsen brand effects study (platform agnostic) and creative compass (FB only)
Understand flight model and how backend optimization works for creative
Brief examples and creative outputs and report summary
Dates: May 17th, 18th, 27th
Module 3: Measuring Impact
This module shows how you can validate the work you do for their clients using traditional and modern means of measuring impact. From brand tracking studies to models and systems, proving how we are truly putting our money where our proverbial mouth is.
Key Takeaways
How to drive business impact (always ensuring your campaign connects to client goals)
Brand tracking studies and how to initiate
Working with multiple stakeholders, including analytics experts
Measurement frameworks currently used by agencies
Proving value beyond measurement
Dates: May 28th, May 29th and TBA