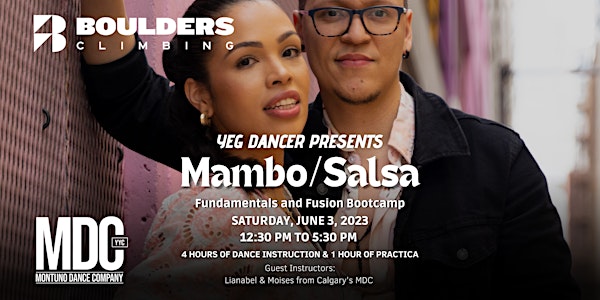 Mambo/Salsa Fundamentals and Fusion Bootcamp Edmonton - June 2023
Moises Gonzalez and Lianabel Selviz from Calgary are coming back to Edmonton to teach a special Mambo/Salsa dance bootcamp!
By Irina Feldesh Latin Dance Edmonton
Date and time
Sat, Jun 3, 2023 12:30 PM - 5:30 PM MDT
Location
Boulders Climbing 10505 107 Street Northwest Edmonton, AB T5H 2Y5 Canada
Refund Policy
Contact the organizer to request a refund.
Eventbrite's fee is nonrefundable.
About this event
FAQ
Who is the intended audience for this event?
If you're interested in learning Mambo, a style under the Salsa dance umbrella, or developing your skills as a social dancer, then the Mambo Fundamentals and Fusion Workshop with Moises & Lianabel is for you!
Mambo can be either smooth and groovy or sharp and high energy. In this workshop we will focus on teaching the fundamentals and some fun ways to use them to spice up your Salsa partner dancing. The workshop is open level, meaning it is geared toward beginner dancers who are just getting started in the Latin dance world, as well as intermediate dancers who are looking to level-up their technique and skills.
Learning to dance can be scary! I know - I've been there! This class will be focused on creating an immersive learning experience in a fun, relaxed environment with zero judgment. No partner required! Just bring your passion and desire to learn! And most of all, HAVE FUN!
Who is teaching this workshop?
Moises Gonzalez & Lianabel Selviz are the directors of Montuno Dance Company (Montuno DC): Calgary's freshest Latin dance school. Montuno DC specializes in Salsa & Bachata and offers group classes, monthly socials (Candela Nights), performance teams, and competition opportunities for all levels.
As instructors, this couple brings their Venezuelan sabor, heritage and love for dance to their students. Moises & Lianabel are known for focusing on social dancing lead and follow technique, musicality, body movement and Latin flavour; all in a friendly, fun and professional environment.
As dancers, Moises & Lianabel stand out on the dance floor for their flavourful movements and their ability to connect and freestyle to the music.
"Movement Over Moves" is what they stand for.
What is the event schedule?
Registration & Waiver Signing, 12:15 pm to 12:30 pm
Salsa/Mambo Bootcamp, 12:30 pm to 4:30 pm
Open Practica (Mini-Social), 4:30 pm to 5:30 pm
Where is this event?
Boulders Lofts @ Boulders Climbing, 10505 107 St NW, Edmonton, AB
Boulders Lofts is located on the second floor of Boulders Climbing. The large studio space features over 2,200 sq. ft. of sprung hardwood floors, over 50 ft. of floor to ceiling mirrors on two walls, high ceilings with exposed wooden beams, soft lighting throughout, and natural light from the south facing windows!
Where do I park?
Free parking is available on site in the designated areas, so please register your vehicle by scanning the QR code once inside the venue.
What should I wear?
Please ensure you bring clean indoor shoes so that we do not damage the studio's beautiful hardwood floor.
We recommend wearing comfortable flats with a non-sticky sole that you can dance in for multiple hours (Jazz Shoes, Toms, Fuego sneakers and Taygra dance sneakers are all great options).
Workout outfits are typically what people wear to these types of events, but other outfits may be appropriate as long as they are comfortable enough to dance in (not too tight, not too short, not too warm, allows you to move your arms, hips, torso, and rest of the body easily, not a tripping hazard, etc.).
What should I bring for food?
Light snacks and drinks will be provided, but definitely bring whatever you may like to consume during the breaks. Let us know in advance if you have any allergies.
The venue has a cafe on site that is open from 10 am to 8 pm. For more information on their menu, see: https://www.dirtbagcafe.ca
Do I need to bring a partner?
The workshops will focus on solo footwork and body movement foundational training. You will not need a partner for the workshops.
What if I have more questions?
If you have any further questions, feel free to reach out via Eventbrite prior to the event start time.