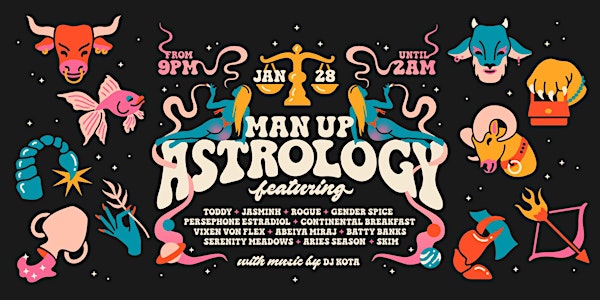 Man Up's ASTROLOGY 3.0 // zodiac drag show & dance party
Yes! Door tickets are available :)
When and where
Location
The Warehouse 550 Malkin Ave Vancouver, BC Canada
Refund Policy
Contact the organizer to request a refund.
Eventbrite's fee is nonrefundable.
About this event
Eternal as the sun's burning light, is we queers' fixation with astrology. (Who's on Co-Star, say 👀!)
For our first show of 2023, we will be honouring every actor in the zodiac -- leaving no sign unloved, unrepresented, and undragged!!!
Prepare yourselves for a night of cardinal sin... we'll be fixed on gender euphoria, and putting narcs on mute!!
Come find yourself at our queer utopia, where EVERY personality will be celebrated.
Channeling their sun signs in all their glory, behold:
✩✩ PERFORMANCES BY ✩✩
♑ CAPRICORN ~ Gender Spice
♒ AQUARIUS ~ Skim
♓ PISCES ~ Jasminh
♈ ARIES ~ Aries Season
♉ TAURUS ~ Toddy
♊ GEMINI ~ Continental Breakfast
♋ CANCER ~ Serenity Meadows
♌ LEO ~ Batty Banks
♍ VIRGO ~ Vixen Von Flex
♎ LIBRA ~ Persephone Estradiol
♏ SCORPIO ~ Abeiya Miraj
♐ SAGITTARIUS ~ Rogue
✩✩ DANCE FLOOR MAGIC ✩✩
with DJ Kota (BIG🦁GRRR🔥ENERGY)
Special 3️⃣ ACT show starting EARLY!!
10:15pm ACT ONE
11:15pm ACT TWO
12:00am ACT THREE
▬▬▬▬▬▬▬▬▬▬▬▬▬▬▬▬▬▬
LAND ACKNOWLEDGMENT:
This event is being held on the stolen, ancestral territories of the Musqueam, Skxwú7mesh-ulh, and Tsleil-Waututh nations. As we live and organize queer space as settlers on these lands, we have an obligation to continuously work to repair harms perpetrated upon Indigenous communities, presently and historically. Settler colonialism has brought (and continues to bring) untold violence to these lands, via unlawful resource extraction, racism in medical and foster care systems, and the intergenerational trauma of residential schools. One way we will strive to give back to and support these communities is by donating a portion of proceeds from this event to the Indian Residential School Survivors Society.
▬▬▬▬▬▬▬▬▬▬▬▬▬▬▬▬▬▬
✩✩ TICKETS ON SALE NOW ✩✩
$16 Earlybird
$21 Advance
$23 At the door
No one turned away for lack of funds - Pay What You Can available! Give us an email in advance if you can at manupdrag@gmail.com
▬▬▬▬▬▬▬▬▬▬▬▬▬▬▬▬▬▬
Event artwork by Ainsley Willow ❤
▬▬▬▬▬▬▬▬▬▬▬▬▬▬▬▬▬▬
This is a 19+ event
Remember to bring 2 pieces of ID
ATM on site!
Coat check available!
▬▬▬▬▬▬▬▬▬▬▬▬▬▬▬▬▬▬
THE BUDDY SYSTEM:
The Buddy System is a grassroots effort to combat rape culture and enhance the safety of our queer events. CONSENT IS SEXY -- AND MANDATORY! Oppressive attitudes and behaviour -- including but not limited to misogyny, transphobia, racism, fatphobia, and ableism -- are not welcome here. The Buddy System will be in effect at Man Up: Astrological Drag. Buddies will be wearing **NEON T-SHIRTS**. Our Buddies are NARCAN trained, and are carrying sealed water bottles, condoms, lube, granola bars, tampons, and more. They will run interference if someone is receiving unwanted attention, can help folks in need find a way home, and generally serve as go-to support people should any problems arise.
▬▬▬▬▬▬▬▬▬▬▬▬▬▬▬▬▬▬
ACCESSIBILITY INFO:
ASL interpretation at Man Up events is available upon request. Please let us know if you or someone you know would utilize ASL interpretation of the emceeing, and we will do our best to book an interpreter! (Email manupdrag@gmail.com) - Please give us 7 days notice to book an interpreter :)
Entrance ramp is located on the north side of the warehouse parking lot, and is 38in wide with a handrail to the left 41in high. Accessible door has a clearance of 45in. Inside entrance is 81in wide. Due to a structural inability to renovate this venue that is out of our control, we are sadly unable to provide an accessible washroom stall, so instead we have an accessible portable onsite. Washrooms are all genders. Light sensitivity note - flashing and moving lights at this event. If you need more information about venue accessibility, please contact Ryn at ryn@eastsidestudio.ca
▬▬▬▬▬▬▬▬▬▬▬▬▬▬▬▬▬▬
Questions, ideas, feedback? Let us know at manupdrag@gmail.com