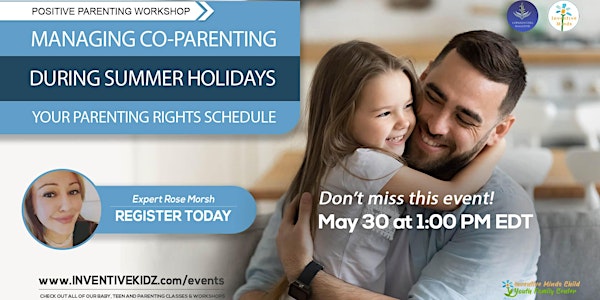 Managing Co-parenting During Summer Holidays Your Parenting Rights Schedule
The summer holidays have arrived!
By Inventiveminds Kidz Academy
Date and time
Tue, May 30, 2023 10:00 AM - 10:45 AM PDT
About this event
The summer holiday season is supposed to be a time for joy and family, a time where you are surrounded by your children and happiness. Unfortunately, for parents who have recently gone through separation or divorce, the holiday season could spell anxiety and stress.
In this 45-minute workshop, we will be discussing strategies on managing your co-parenting relationship and parenting rights schedule with your partner during summer holidays.
Topic: Managing Co-parenting During Summer Holidays Your Parenting Rights Schedule
When: Tuesday, May 30 at 1:00 PM - 1:45 PM EDT
Where: Online Zoom Event
About Your Speaker:
BA Child Development, Parenting Practitioner, Family Mediator and Child Voice Practitioner Rose Morsh is the founder of InventiveMinds Child, Youth and Family Support Centre a not-for-profit organization, which is licensed under the Ministry of Education and OAFM (In process).
Inventiveminds provides Family Law Mediation Services, Private Inspired Montessori School, Early Years Childcare (Montessori), Parent and Youth Support therapy, community services for new moms. Parenting courses related to children Aid Services and Mediation, Separation, and Divorce.
Check out all of our Baby and Parenting Classes & Workshops here: https://inventivekidz.com/events
Join The Parent Toolbox Facebook Community Group Today.
If you have any questions, please contact us at inventivekidz@gmail.com
About the organizer
InventiveMinds Kidz Academy exceed all North America's Child Care Regulation & It is today's leading edge in education in North America!