Description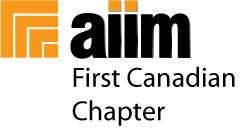 AIIM First Canadian Chapter is excited to welcome Lynn Elwood, Vice President Cloud & Services Solutions at OpenText, to talk about issues and risks of managing information in cloud and hybrid cloud scenarios most
organizations are dealing with today and in the near future.
Cloud applications are now a part of the landscape for all industries, and with these system choices come different security, privacy and compliance issues. This presentation will examine different cloud options and systems and how these affect the choices information and records managers must make to protect critical information assets. Using examples from a variety of industries we will look at concrete benefits achieved by organizations. We will also review cloud specific requirements, standards and cautions to be aware of. We will discuss the use of "consumer" focused applications to manage corporate information and the issues this raises, and leave with guidance on questions to ask as organizations consider cloud for their systems of record and information management.
Our speaker: Lynn Elwood, VP Cloud & Services Solutions, Open Text
Lynn Elwood is responsible for global Cloud and Professional Services market strategy and go to market at OpenText. Presenting and meeting with customers and partners around the world, Lynn shares insights on strategy and benefits realization as organizations consider cloud and hybrid application scenarios. With over 30 years of experience she has worked with technology companies in a variety of leadership roles including engineering, product management and portfolio ownership.
Program Information:
Registration and networking: 8:30 – 9:00 a.m.
Seminar: 9:00 - 10:30 a.m.
Networking: 10:30 - 10:45 a.m.
Dress Code: Our venue requires business casual dress. No jeans, runners, shorts or logo golf shirts are allowed.
Not yet an AIIM member? Sign up to become a member and please don't forget to reference "FIRSTCANADIAN" during sign up.
Be sure to follow us and keep in touch!