Managing Municipal Infrastructure - Visual Bridge Inspection Workshop
About this Event
Managing Municipal Infrastructure - Bridge Inspection Workshop - September 25, 2019
The management of Municipal infrastructure in Ontario can offers many challenges. Balancingpublic safety, asset management and limitedbudgets with respect to aging road networks,water/sewer and bridges make maintenance andreplacement options very difficult.Road closures related to a bridge condition issue can be costly in terms of repair and economically significant to users. Even the shortest of closurescan put the public at risk with the interruption of 911 services and response.
This workshop will offer a classroom and field session focused on the procedures and processes of municipal staff led visual bridge inspections as required by the Public Transportation and Highway Improvement Act and the Occupational Health and Safety Act. The session will also provide guidance related to record keeping for safety, budgeting and insurance purposes.
Regular visual bridge inspections by competentMunicipal Staff can not only save Tax Dollars but also lower risks to public safety!
Allan W. Chow, P. Eng.
Bachelor of Applied Science, 1976, Queen's University
Registered Member of Professional Engineers of Ontario
2012 to Present : Principle, CDS Consulting
Project manager of the McIntyre River and Neebing River Floodplain Mapping projects for the Lakehead Region Conservation Authority. The LiDAR technology is applied to the hydrology and hydraulic analysis in determining the flood line and to create a digital terrain model for mapping the flood line along McIntyre River and Neebing River in the City of Thunder Bay.
Retained by exp. Services Ltd. to conduct a water balance study of Eagle River Gold Mine at Wawa, Ontario. The study investigated the annual hydrological inflows to the mine and the water usage by the mine's operation and to estimate the annual water balance for sizing the reclaim pond and the polishing pond.
Provided multiple visual bridge inspection training sessions to MNRF, Ontario Parks, Forest Industry and Hydro One in Kenora, Thunder Bay, Timmins, Wawa, Sudbury, Algonquin Park, Renfrew and Muskoka.
2012 to 2015 : Civil Engineering Department Lakehead University
Provided lectures during the Fall term for ENGI-3738, Hydrology – a compulsory engineering course for all Civil Engineering students.
Provided lectures during the Winter term for ENGI-0235, Water Resources & Hydropower Development – an elective course for 4th year Civil Engineering students.
2007 to 2013 Engineering Services Supervisor, Northwest/Northeast Region Ministry of Natural Resources
Canadian member of the International Upper Great Lakes Study Board, which was mandated by International Joint Commission to study the Lake Superior Regulation
Plan and to improve the Plan to address the evolving needs of users on Lake Superior, Huron, Michigan and Erie.
Ontario Member of the Lake of the Woods Control Board until retirement. The Board was created by Canada and Ontario to regulate the water levels of Lake of the Wood and Lac Seul, and the flows in the Winnipeg River and English River in Northwestern Ontario.
Set the organizational strategic directions in managing water crossings (culverts and bridges) on Crown land and provided leadership in implementing them. Developed Crown Land Bridge Management Guidelines, which specifies the design criteria of the water crossings on Crown land in the area of hydrology and hydraulic sizing requirements, structural loading capacity, the frequency of inspection after construction, record keeping methodology and other administrative requirements.
Managed provincial budget in water program. Developed a Dam Asset Management Plan and implemented a feasible and sustainable provincial capital work program for all dams owned by Ontario government.
1987 to 2007 : Senior Project Engineer, Northwest Region Ministry of Natural Resources
As Ontario Member of the Lake of the Woods Control Board since 1998, and as Ontario Alternate to the Board from 1992 – 1998.
Managed various aspects and issues in water resources, flood hazards, flood regulations and dam safety program.
Provided engineering support to the districts and Northwest Region in hydrology and hydraulic for water crossings, hydro power development, impacts of construction work to aquatic environment, lakes and rivers water levels management.
Managed capital projects to reconstruct, restore or maintain various infrastructures such as dams, bridges, resource access roads, etc.
Managed the Northwest Region capital budget in water control structures, roads and bridges.
1980 to 1987 : Project Engineer, Northwest Region, Ministry of Natural Resources
Developed MNR Culvert Analysis Program and provided hydrology and hydraulic analysis of water crossings (culverts and bridges) on the resources access roads.
Provided technical support and construction management of various capital projects.
Inspected and evaluated structural safety of MNR dams and bridges on Crown land.
1979 to 1980 : Site Engineer - R.V. Anderson Associates Ltd.
1977 to 1979 : Design Engineer - Totten Sims Hubicki Associates Ltd.
1976 to 1977 : Engineer In Training - Foster Engineering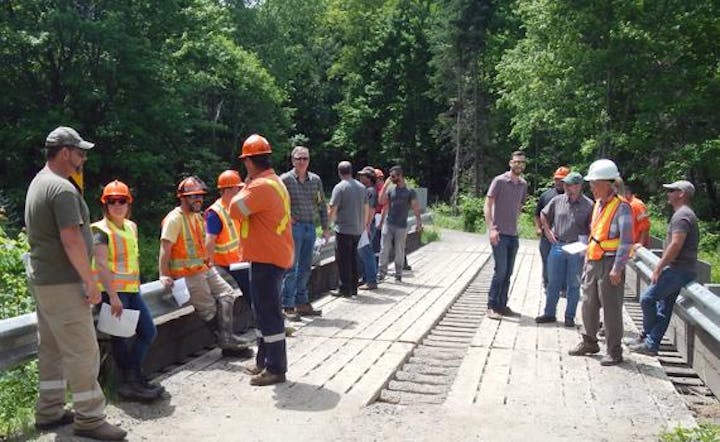 Tim Lee
Diploma in Civil Engineering Technology, Public Works - Centennial College of Applied Arts and Technology (1979).
1996 to 2016 : Sr, Civil Engineering Technologist, Ministry of Natural Resources
Administrative Duties
Coordinator – Southern Region Resource Access Capital Program ($2.0 million annually)
Member – Field Services Divisional Capital Planning Committee (roads & bridges)
Engineering Services provider for Bancroft, Parry Sound and Pembroke MNR Administrative Districts
Leadership - class environmental assessments – Multiple MNR dam structures
Project Manager – special projects such as sediment transport studies, operating and closure plans for MNR landfill sites. Co-author and editor of the 2008 MNRF Crown Land Bridge Management Guidelines.
Instructor - Visual Bridge Inspection Training for MNR and Forest Industry Staff.
Instructor - Ecological Sustainability Leadership Program (ESLP)
Instructor - compliance monitoring MNR and Forest Industry
Instructor - competency training for MNR staff and Forest Industry employees
Expert witness – multiple Ontario Municipal Board hearings and Crown court cases
Resource Access Program
Construction of 145 Forest Access Bridge Crossings across Ontario
Construction/reconstruction of over 200 km of Resource Access Roads.
Responsible for the delivery of access roads and bridges capital projects, including multiple bridge and road reconstruction projects ($2.0 million annually).
Construction contract preparation, administration and project management of multiple simultaneous road and bridge construction projects.
Development of 5 year comprehensive capital plans
Drafting of multiple terms of references for the engagement of specialized consultants to carry out structural evaluations, risk management assessment and detailed design.
Leadership in the development of regional access road policies and procedures for over 1,000 kilometers of primary access roads and over 30,000 kilometers of secondary access roads.
Leadership - risk management and comprehensive planning for forest access roads.
Water Control Program
Construction contract preparation, administration and project management of multiple dam reconstruction projects such as the Kinmount Dam ($400k), Naiscoot Dam ($500k), St. Ola Dam ($650k).
Expert technical advice to municipal councils and private landowners related to flooding events and Provincial Hazard Policies.
Regulator – Lakes and Rivers Improvement Act and Ontario Dam Safety Guidelines
Tendering, Contract Administration and Project Management
Authored and administered numerous, request for proposals, consultant agreements, tenders, specifications and construction contracts.
Project management of all access roads and bridges projects, and multiple construction projects across southern Ontario.
1985 to 1996 : Civil Engineering Technologist, Ministry of Natural Resources
Aviation Facilities
Designer/Facilitator - Central Flight Coordination Centre ($300k), Marks Bay Aircraft Access Road ($150k) and site plan modifications, SSM Aviation Complex ($200k)
Designer - Wawa, Temagami and Espanola Air Bases ($300k)
Project Team Member - SSM Heavy Aircraft Maintenance Facility ($7.8 million)
Facilitator - South Baymouth research centre docking reconstruction; Master plan for the proposed Falcon Fire Response Centre (Sudbury)
MNR Capital Facilities
Project Manager - Thessalon Tree Nursery refrigeration building ($900k), Wawa District office addition ($145k), North Bay Cold Storage building ($160k), Sudbury fire equipment recycle building ($185k),
Resource Access Program
Project Manager - Sinclair Cove Road Restoration ($85k), Evangline Lake road ($290k), Boltim Forest access road reconstruction ($185k) Mckinnon Creek forest access road ($135k), and Wahneptaie River bridge replacement ($270k)
Field Project Manager - Red Squirrel Forest Access Road ($4 million)
Water Control Program
Facilitator - Underwater Inspections of Central Region Dams
Coordinator - Sault Ste. Marie Great Lakes Shoreline Mapping and Great Lakes Engineering Technical Advisory Program
Project Manager - Blue Jay Creek Hatchery, Fox Lake Dam and St. Mary's River Sport Fishery water supply
1981 to 1985 : Technical Specialist , Ministry of Natural Resources, Sault Ste. Marie
Ministry of Natural Resources, Sault Ste. Marie District
1981 : Project Manager and Designer (Civil Engineering)
King Water Treatment Technology, Barrie, Ontario
1977 to 1981 : Technical Specialist , Ministry of Natural Resources, Barrie, Ontario
Ministry of Natural Resources, Huronia District