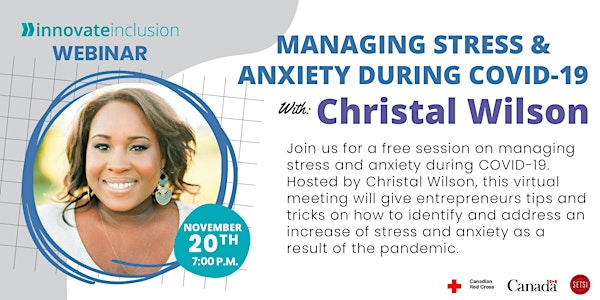 Managing Stress & Anxiety During COVID-19 with Christal Wilson
Join Innovate Inclusion as therapist, Christal Wilson, gives tips to Black founders on how to manage stress and anxiety during COVID.
Date and time
Friday, November 20, 2020 · 4 - 5pm PST
About this event
In partnership with the Canadian Red Cross, Innovate Inclusion has launched a Black Entrepreneurs Mental Health Initiative (BEMHI).
The life of an entrepreneur is filled with dramatic highs and lows. Due to systemic racism, those lows hit harder and more frequently for African-Canadian entrepreneurs. Unfortunately, many African-Canadian community members do not seek out mental health care due to cultural stigma resulting in them trying to cope with anxiety alone.
BEMHI enables Black founders, who may be experiencing mental health challenges, due to isolation and loss of income as a result of COVID-19, to engage with a culturally appropriate therapist at no cost.
As part of the program, we have invited five therapists for a group conversation on how COVID is impacting Black founders and general ways to minimize the impact. Topics include:
Systemic Racism - October 10 @ 5:00 p.m EST
Setting Boundaries - October 25 @ 7:00 p.m EST
Burnout - November 12 @ 7:00 p.m EST
Stress & Anxiety - November 20 @ 7:00 pm EST