Mandating COVID-19 Vaccine: What employers need to know / L'obligation du vaccin COVID-19: Ce que les employeurs doivent savoir
About this event
An exclusive Driving Force webinar "Mandating COVID-19 Vaccine: What employers need to know" will be presented by Bob Basque and Tim Bell from Forbes Roth Basque. Join us to learn what employers need to know about mandating COVID-19 vaccines in the workplace.
Un webinaire exclusif pour les membres de La Force Motrice "L'obligation du vaccin COVID-19: Ce que les employeurs doivent savoir" sera présenté par Robert Basque et Tim Bell de Forbes Roth Basque. Joignez-vous à nous pour apprendre ce que les employeurs doivent savoir sur l'obligation d'administrer les vaccins COVID-19 sur le lieu de travail.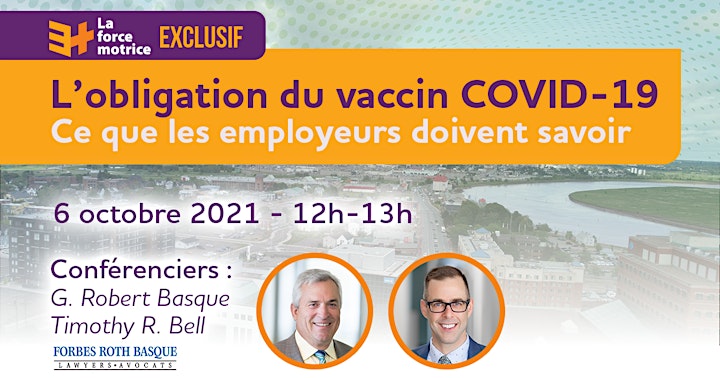 Organizer of Mandating COVID-19 Vaccine: What employers need to know
3plus Corporation (3+) is the regional economic development agency for Greater Moncton. Further to promoting regional economic growth, 3+ Corporation also provides an expertise in investment attraction.
Greater Moncton includes the communities of Dieppe, Moncton and Riverview, and is the fastest growing and the most dynamic urban center in Atlantic Canada. The region's population of close to 150,000 grows to 1.4 million within a two-hour
drive radius, the largest in Eastern Canada.
                                                                                       *****
La Corporation 3plus (3+) est l'agence de développement économique régionale de la région du Grand Moncton. En plus de promouvoir la croissance économique régionale, la Corporation 3+ possède de l'expertise en attraction d'investissements.
La région du Grand Moncton est composée des villes de Dieppe, de Moncton et de Riverview; elle affiche la plus forte croissance au Canada atlantique et constitue l'un des centres urbains les plus dynamiques de la région. Bien que sa population se chiffre à 150 000, ce sont plus de 1,4 millions de personnes qui habitent à moins de deux heures de route du Grand Moncton, faisant de cette zone d'attraction commerciale la plus grande dans l'est du Canada.