Event Information
Location
Free Spirits Wellness
474470 Sideroad 10
Markdale, On N0C 1H0
Canada
Refund Policy
Refunds up to 7 days before event
Description
Dear Free Spirit,
Imagine you could do all this in a day... relax, heal, learn, connect with nature and grow your business.
Would you feel a sense of achievement?
If you answered Yes, join us!
At this experiential Retreat you will:
Learn a practical manifestation process,

Create abundance goals for your business

Unblock your money making ability, learn to believe in yourself and release fears

Ground yourself and your vision through a Labyrinth Walk Sacred Ceremony,

Enjoy the energy of the group, as we engage in exercises and masterminding,

Connect and sing around the fire
August 26, 2017 Retreat Agenda
9:30 Registration and orientation - snacks, tea & coffee will be served
10:00 Focus on the Group: Setting the intention for the day, getting to know one-another and bringing the energy of the group together.
10:30 The Manifestation Process with Irina Benedict. First you will be creating a vision aligned with your purpose. Second you will learn the importance of believing in yourself so you can manifest your vision.
11:30 Fear of success with Irina Benedict. Learn how to recognize the fear of success and self-sabotaging patterns that might run in your subconscious mind and how to let go of them.
12:30 Mid-Day Break featuring Organic Lunch prepared by Chef Chris Bishop of Peasemarsh Farm Leisure time to walk the trails, meditate, journal and connect.
1:30 Money and the family drama. Releasing fears of receiving money, of having money and asking for money.
2:30 The Manifestation Process Third step - you will learn how to be asking the right way so you do manifest the abundance that is rightfully yours.
3:30 Labyrinth Walk Sacred Ceremony
Fourth step - Ground yourself and your manifestation in the middle of the Labyrinth. Visualize your life's upcoming attractions, manifestations of health, support for your business growth and what your heart most desires. Let yourself be embraced by the healing energy of nature.

4:30 Break -snacks, tea & coffee
5:00 How to Take the Right Actions at the Right Time. This is the fifth step in the manifestation process - learn what you need to commit to and how to stay in the flow of abundance.
5:30 Share your Manifestation with your mastermind group for clarity, accountability and focus.
6:30 Break for a Light Organic Dinner prepared by Chef Chris Bishop of Peasemarsh Farm
7:30 Share and sing around the bonfire (weather permitting). This is an opportunity to sit together sharing stories of manifestations, synchronicities and miraculous healings. We might be drumming, singing and dancing, if the mood is there. This will be relaxing time to bond. Closing meditation for abundance & joy.
8:30 End of the day and the beginning of many wonderful Manifestations of Abundance moving your Life and your Business forward by leaps and bounds.
---
When you leave the retreat, it is my intent and vision that you have:
Strengthened your relationship with yourself, with nature, and with your business
Learned some practical steps you can take to manifest abundance in your life and business.
Created Authentic Connections with other Spiritual Entrepreneurs and
Received your own valuable insights from the Labyrinth Walk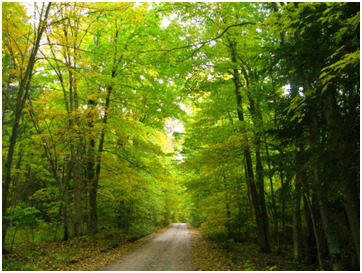 The 84 Acres of beautiful land will provide the base for the retreat. It will hold the tent in a loving embrace, provide trails for walking and freeing your spirit, shade you with trees, and, above all, provide strong grounding energy.
My husband, Marius, and I were delighted to fulfil a dream and buy this space in the spring of 2009. The land has been allowed to grow in its own natural ways, with 25 acres having been planted with white pine. We have welcomed an organic farmer who has worked the three fields and has started a pasture that will welcome future animals.
We created a ceremonial gathering space around a fire pit from the ruins of the old farmhouse. We also created a Labyrinth as a place for meditation and healing. An outdoor office creates a magical space where you can feel nature embracing you while you work on your own wellbeing. We have been building our dream off-grid solar passive house and living there in harmony with the dog Blake, puppy Joy, cat Grace, free-range chickens and geese.
The land has a very serene, clean and grounding energy. The spirit of the land is very loving and embracing. This place is so wonderful and truly been waiting to welcome and receive you. It has been our dream to create this space to support you, through your joy and peace, the betterment of the world.
We look forward to sharing this space with you and to be supporting you as you move forward in your own service and wellness, for yourself and for the world.
Looking forward to co-create a magical experience with you!
Irina Benedict BSc. PEng.
Business Strategist, Spiritual Teacher
Date and Time
Location
Free Spirits Wellness
474470 Sideroad 10
Markdale, On N0C 1H0
Canada
Refund Policy
Refunds up to 7 days before event