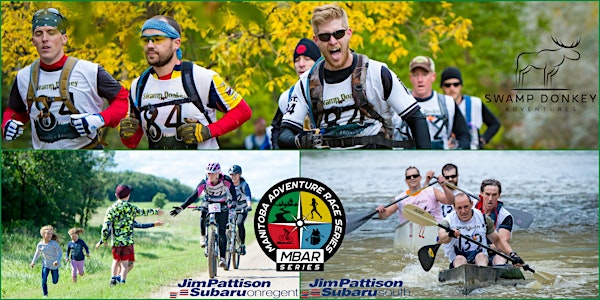 Manitoba Adventure Race (MBAR) Series - Race #3
REGISTRATION FOR #3 OF THE MANITOBA ADVENTURE RACE (MBAR) SERIES
By Swamp Donkey Adventures
When and where
Location
Winnipeg 50 Isabel St Winnipeg, MB R3A 1E6 Canada
About this event
Manitoba Adventure Race (MBAR) Series
Full Race Website with more details
New for 2022, we have created a series to introduce you to adventure racing and/or give you the opportunity to work on your adventure racing skills as a lead up to our premiere 9hr race in September - Swamp Donkey Adventure Race. The Manitoba Adventure Race (MBAR) series consists of three separate events throughout the summer and fall.
Three races offer the opportunity for new racers to tryout their skills and build confidence, as well as the chance for experienced racers to go for speed and refine their strategies. Learn what it takes to be an adventure racer, sharpen your skills, or strengthen your team as you prepare for our premiere event, the 9hr Swamp Donkey Adventure Race.
2022 locations:
- Race #1 - July 17, 2022 - La Barriere Park, MB
- Race #2 - August 20, 2022 - Grand Beach Provincial Park, MB
- Race #3 - October 15, 2022 - Birds Hill Provincial Park, MB
*** Provincial Park Passes are required for Grand Beach and Birds Hill Provincial Parks. This is the responsibility of each racer.
Each of the three races will take place in a different location in Manitoba. Each course will offer different terrain and different discipline challenges, including a race in the dark to really challenge your navigating skills. Locations are tentative and may be subject to change due to current park permit approvals with covid restriction rules.
Solo racers or Teams of Two will use a map to navigate a course at three different series locations throughout Manitoba. Each course will present its own unique challenges. RUN, BIKE and/or PADDLE to reach all checkpoints before the 3-hour cut off. Race yourself, your bestie, your teammates to be the fastest. Make it to the finish line for all three events to complete your MBAR Series Medal!
All participants must follow the most current local Covid guidelines put in place by local authorities and must stay up to date on the rules and regulations regarding Covid-19 when they participate https://www.gov.mb.ca/covid19/index.html or check your local guidelines.
You are responsible for yourself on the roads, trails & waterways. You MUST WEAR AT ALL TIMES a CSA/CPSC approved bike helmet while biking and ULC approved PFD during paddle segments. You must obey all traffic laws, be courteous and respectful on the trails and are appropriately prepared when attempting your segments along with checking road conditions and weather.
WHAT DO I GET!!
• Multi-Sport Adventure Race Style Challenge in 3 new locations
• Collect all 3 parts of the MBAR Series Medal to complete the whole Series medal
• Online race results
• Safety and EMS Service
THE RACE
Each race will take between 2 hours and 3 hours depending on your rate of travel (the average team takes 2.5hrs) and cover approx. 20-30 km. Registration Check-in occurs a few hours before the event start at its designated start location. More details will follow prior to each race as to exact locations and details you need to know. Check each race for specific details about that event.
MAPS
Only maps supplied by race organizers are allowed. You will receive a 1:50 000 topographical map. You may also receive more detailed maps of one or more sections of the race. Knowledge of how to take a bearing with a compass is essential. You will also receive a set of written instructions to aid you in getting from one CP (Checkpoint) to the next. Please refer to them often!
DISCIPLINES
1. Trekking: Your feet will get wet - oh, and likely muddy... Most teams leave on their wet shoes and socks for the entire race. The trekking may be on trails, off trails, on roads or on side roads.
2. Biking: Biking terrain can include roads, secondary roads, double track trails and single track trails. The biking portion can range from easy to intermediate to quite technical. Depending on your skill, some sections may be better walked with your bike.
3. Paddling: Paddling will be on flat water. You must wear your PFD at all times.
All bikes and boats must be human powered, no electric power allowed. Everyone must supply their own equipment.
AGE REQUIREMENTS
Teams of 2: Age limit for the team category is 16 years old. All racers under 16 must race with another racer who is 18 years of age or older, with parental/guardian consent.
Solo: Solo entrants must be 18 years of age or older.
Questions: reach out to us at: registration@swampdonkeyar.com
CATEGORIES
You will have the option of racing solo or in teams of two. Teams must travel together throughout the race course. Both Solo racers and Teams of 2 will be further divided into the following ability sub-categories: Beginner, Intermediate, or Advanced. Racers (solo and team) will have the ability to self select which category they wish to race in. Swamp Donkey Adventures reserves the right to move racers to a lower or higher category if racers are obviously racing in a category not appropriate for their ability level.
SUB-CATEGORIES EXPLAINED
Beginner: Solo or teams of 2 can be made up of any gender. Beginner is meant for people who are new to adventure racing, are riding for fun rather than a result, or do minimal physical training
Intermediate: Solo or teams of 2 can be made up of any gender. The Intermediate sub-category is for people have some AR experience (a couple races) and want to compete in a fun setting, without taking it so seriously. You want to compete but aren't worried about your time or result, and have some physical fitness .
Advanced: Solo or teams of 2 can be made up of any gender. The Advanced sub-category is for those people who want to take each race seriously and compete for a time and placing. This is for those racers who have AR experience, have raced in several AR events, and want the challenge their limits again other racers.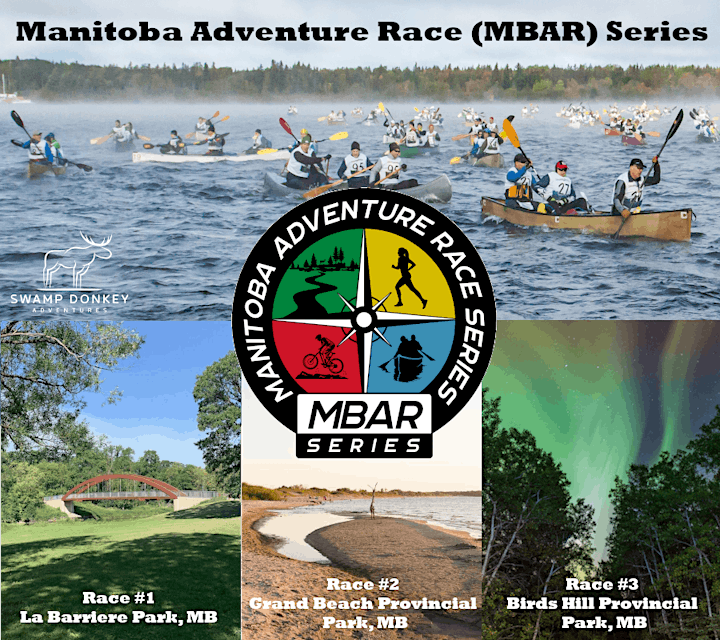 About the organizer
For more than 15 years Swamp Donkey Adventure Racing has put on events challenging thousands of participants around central Canada.
If you have the motivation to push yourself, we'll supply the races that will test your limits!