Manitoba GIS User Group Fall Conference 2014

Wednesday, 1 October 2014 from 8:30 AM to 4:30 PM (CDT)
Event Details

MGUG's 2014 Fall Conference is scheduled for October 1, 2014 at the Victoria Inn Hotel & Convention Centre. We are pleased to announce that TECTERRA have sponsored Dr. Joseph Berry as our keynote speaker for the conference.

MGUG is a group of geomatics professionals and interested individuals using Geographic Information Systems (GIS) for spatial data management, analysis and visualization. Formed to facilitate communication between people working in all areas of GIS, MGUG has a membership that exceeds 600.
Our 2014 Fall Conference builds on the success of past events with an anticipated audience of over 300 delegates from diverse backgrounds including private industry, consulting companies, universities, resource development companies, government, non-government agencies and others.
The MGUG Fall Conference provides a forum for provincial, national and international speakers to discuss a variety of topics related to GIS and geomatics and for vendors to promote their services at an Exhibitor Tradeshow.
---
Call for Presentations Ends August 1st
The Call for Presentations for MGUG's 2014 Fall Conference ends August 1st. Please see the MGUG Conference 2014 Call For Presentations document for additional information. All presenters will receive a MGUG Mug!
---
Pre-conference evening Mixer/Ice-Breaker:
**On the day prior to the conference, MGUG will organize an informal evening pre-mixer reception in the lounge at the Victoria Inn Hotel. Please join us and come stand on the 'Canada from Space' giant floor map!**
Pre-conference evening Mixer/Ice-Breaker is Tuesday, September 30th , 5:00 pm - 8:00 pm and situated within the Hotel Lounge
---
Joseph Berry

Joseph Berry is the principal of BASIS, consultants and software developers in GIS technology and serves as an Adjunct Faculty member in Geosciences at the University of Denver and an Adjunct Faculty member in Natural Resources at Colorado State University.
 He is a contributing editor for GeoWorld magazine, author of the "Beyond Mapping" column since 1989, written over two hundred papers on the analytic capabilities of GIS technology, and authored the popular books Beyond Mapping, Spatial Reasoning and Map Analysis, Map Analysis and the seminal online book series Beyond Mapping I-IV.
Shari Decter Hirst
 Brandon Mayor Shari Decter Hirst was elected in the fall of 2010 and has inspired Brandon's senior leadership team to strengthen its commitment to efficiency, public service, transparency, accountability, and consultation, all of which have been embedded in the systems and processes within City Hall.
 Brandon Mayor Decter Hirst is involved in the following committees, boards and community organizations: Audit & Finance Committee (Chair), Brandon & Area Planning District Board, Brandon Downtown Development Corporation and Personnel Committee(Chair)

Canada From Space Giant Floor Map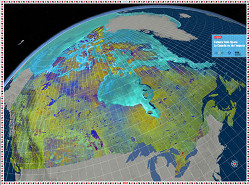 The "Canada from Space" floor map will be presented in the upcoming MGUG fall conference on October 1st.
The map is comprised of images taken by Canada's RADARSAT-2 satellite.
"Canada from Space" is comprised of images taken by Canada's RADARSAT-2 and is the first of its kind. Explore how Earth observation satellites monitor Canada and can be used to protect and prepare Canadians.
Please click here for additional information.
---
Conference Registration Information:
Conference registration fees will be kept to a minimum and all registration fees are non-refundable but are transferable to another participant for this event:
• 75$ - Early Bird Admission (by September 8th)
• 90$ - Regular Admission
• 40$ - Student Admission (student ID required)
• Attendance for All Sessions

• Exhibition/Trade Show Admission

• Entertainment & Free Wi-Fi

• Chances to Win Conference Prizes

• Pre-conference mixer

---
Hotel Information:
If you or your team require accommodation for the event, the Victoria Inn Hotel & Convention Centre will offer discounted room rates of $115.00 plus taxes. Please contact the main desk at (204) 786-4801 and make mention you are attending the MGUG 2014 Fall Conference. Conference Code is 603973.
The Victoria Inn Hotel & Conference Centre is located within minutes of the James A. Richardson International Airport and while staying with the hotel guests enjoy Wi-Fi internet access, 24hr complimentary airport shuttle and complimentary parking.
---


Sponsorship Information:
Sponsorships are critical for a successful conference.  If your organization is interested in sponsoring the MGUG 2014 Fall Conference, please download the Sponsorship Package below.
 Sponsorship benefits can include:
• Display of your logo for one year on the MGUG website as an Association Sponsor.
• Display of your banner and logo at the Conference, on PowerPoint screen images and in the Conference Program;
• Distinct display of your logo within the Conference Section of our website;
• Recognition as a Conference Sponsor during the event;
• Complimentary exhibitor booth display.
 MGUG 2014 Fall Conference Sponsors Exhibitor Information
When & Where

Victoria Inn Hotel & Convention Centre
1808 Wellington Ave
Winnipeg, MB R3H 0G3
Canada

Wednesday, 1 October 2014 from 8:30 AM to 4:30 PM (CDT)
Add to my calendar
Manitoba GIS User Group Fall Conference 2014