Join Eight Manitoba Provincial Heritage Associations (PHA's) at the "Heritage Summit 2021 " to discuss the state of heritage in Manitoba.
About this event
About the Heritage Summit:
A group of eight Manitoba Provincial Heritage Associations (PHAs) is presenting a FREE, ONLINE "Heritage Summit 2021" to discuss the state of heritage in Manitoba. This will be the second year that such an all-encompassing meeting has ever been held in Manitoba. With five moderated panel sessions this day promises to bring together experts and practitioners in the heritage field to share their practices, struggles, triumphs, and goals for the heritage field. The Heritage Summit is hosted by eight Manitoba Heritage Agencies and sponsored by the Province of Manitoba, and The Winnipeg Foundation.
HOW TO JOIN THE WEBINAR:
https://us02web.zoom.us/j/83057665932
Or Telephone:
Dial(for higher quality, dial a number based on your current location):
Canada: +1 647 374 4685 or +1 647 558 0588 or +1 778 907 2071 or +1 204 272 7920 or +1 438 809 7799 or +1 587 328 1099 or +1 613 209 3054
Webinar ID: 830 5766 5932
International numbers available: https://us02web.zoom.us/u/khzhitWP4
About the Manitoba Heritage Summit:
The Manitoba Heritage Summit will achieve the following four objectives:
Identify common themes among PHAs relating to heritage and history in Manitoba,
Identify present and future opportunities and challenges that will be beneficial for the delivery of heritage-related programs and the management of heritage resources around Manitoba.
Foster improved collaboration and communication between PHAs , heritage organizations, and smaller heritage facilities around the province.
Discuss the results of our 2020 Sessional Paper on the state of heritage in Manitoba and its development over the next 10 to 20 years, toward a long-term vision for Manitoba's 200th anniversary in 2070.
What is "heritage"?
We embrace the broadest possible interpretation of this term as illustrated by the diversity of Provincial Heritage Agencies involved in organizing the Manitoba Heritage Summit. It includes such components as the conservation and restoration of built structures and natural spaces; the genealogy of families, communities, and groups; the collection and preservation of written and spoken information, and physical artifacts; the archaeological record; and the sharing of heritage stories, traditions, foods, and more. It engages and integrates people from many perspectives, including the general public, advocates, managers, and researchers.
Who can attend the Manitoba Heritage Summit?
The Manitoba Heritage Summit is open to everyone, both professional and amateur. Participation is especially encouraged by people connected with heritage in their community, including involvement with museums and archives, local historical societies, municipal heritage advisory committees, local and regional governments, and heritage advocacy groups.
Why should I (or my community or organization) attend the Manitoba Heritage Summit?
The anticipated benefits of the Manitoba Heritage Summit will be to:
Share information to the mutual benefit of all participants,
Provide a forum for discussion of the challenges and opportunities for heritage organizations in Manitoba,
Enable networking and better communication between all heritage groups, and forging of long-term relationships, and
FAQ:
What will it cost to attend the Manitoba Heritage Summit?
There is NO COST to attend the Manitoba Heritage Summit, other than for your personal travel and/or Internet connection to the livestream. However we do accept donations to help offset the costs of this event through donations to the Manitoba Historical Society
Donate to the Manitoba Heritage Summit here
How do heritage organizations or how does heritage contribute to the economy?
A comprehensive statement of the economic benefits of galleries, libraries, archives, and museums (GLAMs) in Canada has been developed by the Canadian Museums Association:
View Statement on GLAMs in Canada here
How does heritage preservation contribute to cultural diversity?
Manitoba is a multicultural province that benefits from people with diverse views, experiences, backgrounds, and ethnicities. Fostering awareness of the intrinsic heritage of a community leads inevitably to greater tolerance toward, and celebration of, all people.
Contact Us:
For further information, or to ask questions about the Manitoba Heritage Summit, please contact: Tracey Turner (Manitoba Historical Society) at info@manitobaheritagesummit.ca or leave a voice mail message at 204-947-0559.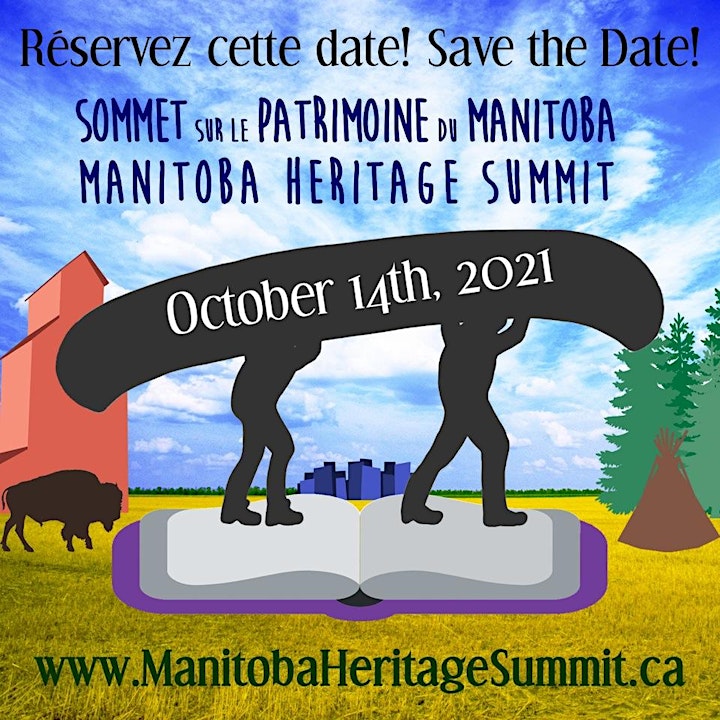 Organizer of Manitoba Heritage Summit 2021