Description
Please join David Powell, 2019 President of the Manitoba Real Estate Association and Harry DeLeeuw, Chair of REALTOR® Week at the 2019 Manitoba REALTOR® Network Symposium: Building on Success.
Building on Success is a government relations symposium for REALTORS®, hosted by the Manitoba Real Estate Association. The Manitoba REALTOR® Network Symposium will be held at the RBC Convention Centre in downtown Winnipeg. This high-calibre summit is the premiere event of Manitoba's annual REALTOR® Week. With engaging talks, presentations and panels, the half-day program provides a unique, non-partisan platform featuring the ideas and opinions of some of the province's most knowledgeable political and economic leaders, experts, and media personalities.
This year's dynamic, insightful and engaging symposium features all three leaders of Manitoba's political parties and The Honourable Brad Wall, former Premier of Saskatchewan. Brad Wall served as the 14th Premier of Saskatchewan from 2007 to 2018 when he retired from public life. During Wall's time in office, Saskatchewan added over 60,000 new jobs and broke population growth records welcoming over 160,000 new citizens through the decade of growth. His government's growth plan reformed labour legislation and regulatory environments to ensure fairness, sustainability and economic competitiveness. Wall currently operates his own business and is a special advisor to the national law firm Osler, Hoskin and Harcourt LLP. He is an itinerant columnist for the BOE Report and the National Post and was recently named to the Advisory Board of the Canadian Global Affairs Institute.
Photo: The Honourable Brad Wall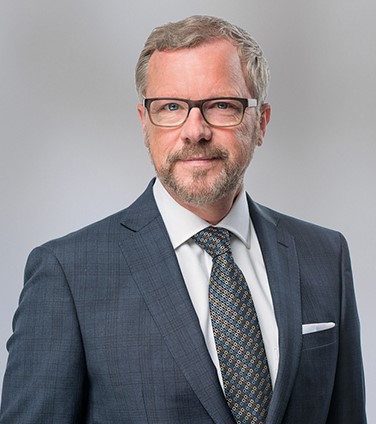 ITINERARY (subject to change)
9:30am Registration/Coffee
10:00am Welcome and introduction by Harry DeLeeuw, chair of REALTOR® Week and the 2019 Manitoba REALTOR® Network Symposium.
10:15am Message from the Premier of Manitoba, The Honourable Brian Pallister, Leader of the Progressive Conservative Party of Manitoba
10:30am Perspectives on the Manitoba economy panel discussion featuring Sandy Trudel, Economic Development Brandon; Greg Dandewich, Economic Development Winnipeg; Mariette Mulaire, World Trade Center Winnipeg; and Jamie Wilson, Communities Economic Development Fund.
11:30am Message from Wab Kinew, Leader of the Official Opposition in the Manitoba Legislature
11:45am Lunch
12:25pm Message from Dougald Lamont, Leader of Manitoba Liberal Party
12:40pm Keynote speech by The Honourable Brad Wall, former Premier of Saskatchewan. Mr. Wall is on the board of the Calgary-based oil and gas company Whitecap Resources, and special adviser for the law firm Osler, Hoskin and Harrcourt LLP.
1:10pm Perspectives on Manitoba politics panel discussion featuring: Richard Cloutier, co-host of the News, 680 CJOB; Sean Kavanagh, Provincial Affairs Reporter, CBC; Mary Agnes Welch, Research Associate, Probe Research; and Cam Clark, General Manager Westman Communication Group.
2:10pm Networking Break
2:25pm 2019 REALTOR® Advocacy Issues with MREA Manitoba Political Action Chair Lorne Weiss

2:45pm Presentation of the Brian M. Collie Award by Lorne Weiss, MREA Manitoba Political Action Committee Chair
2:50pm. Sponsor draw
3:00pm Closing Remarks
---
FAQs
What is the cost to attend Building on Success?
This event is open to all Manitoba REALTORS® and admission is free. If you are registered and your plans change, please change your registration status on this website to make room for someone else to attend. A $25 fee shall be charged to those who do not show to the event. The attendee shall not be held responsible for non-attendance due to Force Majeure.
What are my parking options?
The RBC Convention Centre Winnipeg has two separate climate controlled underground parkades (North and South) with 729 parking stalls. Designated parking stalls are located adjacent to each elevator with charging stations in the south parkade for electric vehicles.
A reminder that even though the parkades are monitored by Security Officers and cameras 24/7, it's still important that articles of value not be left or stored in any vehicle as the Convention Centre is not responsible for any loss or theft.
North Parkade – 2 levels of parking:
The entrance to the North Parkade is from Carlton Street (East), with the exit of the lower parking level onto Edmonton Street (West). The exit for the upper level is via Carlton Street exit (daytime hours to 3pm) or via Edmonton Street.
Passenger elevators and stairwells are located at the corners of each level of the parkade.
The North Parkade accepts cash, credit & debit cards at exit. Exit open 24 hours.
South Parkade – 1 level of parking:

The entrance and exit to the South Parkade is from the back alley at the south end of the building off of Carlton Street (East) or Edmonton (West).
Passenger elevators are located on the north wall (York Avenue) and stairwells are located on the east wall (Carlton Street).
The entrance to the South Parkade is open Monday to Friday from 6 am – 4 pm.
The South Parkade accepts cash, debit and credit cards for payment at the pay station located beside the elevator and credit cards only at the exit.
Do I need an entrance ticket?
You do not need to present a ticket at the door. Once you register on this website, we will have a record of your registration.
Who can I contact with questions?
The organizer, Natalie Yourchek, MREA Operations Coordinator can be reached at 204.772.0405 or email: nyourchek@mrea.mb.ca.
Who are the Guest Speakers? (subject to change)
The Keynote Speaker is the Honourable Brad Wall
All three leaders of the Manitoba political parties will speak at the event:
The Honourable Brian Pallister, Premier of Manitoba, Leader of the Progressive Conservative Party of Manitoba
Wab Kinew, Leader of the Official Opposition in the Manitoba Legislature
Dougald Lamont, Leader of Manitoba Liberal Party
Economic Development Panel Speakers
Sandy Trudel – Director, Economic Development Brandon
Mariette Mulaire – President and CEO, World Trade Center Winnipeg
Jamie Wilson – Chairperson, Communities Economic Development Fund
Media Panel Speakers
Richard Cloutier, co-host of the News, 680 CJOB
Sean Kavanagh, Povincial Affairs Reporter CBC
Mary Agnes Welch, Research Associate, Probe Research
Cam Clark, General Manager Westman Communication Group