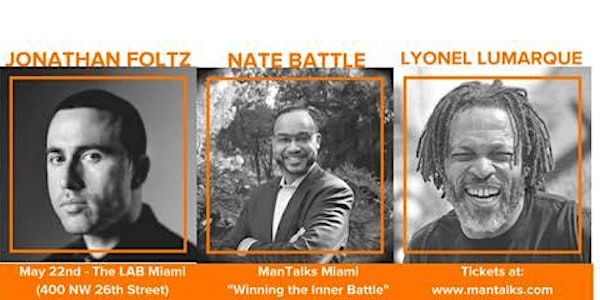 ManTalks Miami: Winning the Inner Battle
Location
The LAB Miami
400 Northwest 26th Street
Miami, FL 33127
Description
ATTN: MEN AND WOMEN
We have a serious conversation to have... said us men!
The ManTalks Miami non-profit organization is having our next gathering on May 22 at The Lab in Wynwood. Come after work for some of the best networking and deeper conversations you'll ever have on the topic of what it means to be a modern man in today's society.
This next event is a very special one as we talk about the biggest question men have regarding the expression of their masculinity and other core values: Winning the Inner Battle.
You know the battle... the one where men have been taught emotional suppression in absence of emotional resilience. Nearly 90% of men over 19 years old can't identify a best friend. ManTalks inspires bold conversation inspired by 3 speakers with an incredible story; in order to extract strategies and life lessons on how to be a man in today's society through full expression of one's authentic and, in most cases, vulnerable self.
Join us. All men and women that aren't afraid of extremely bold and real conversations about masculinity and vulnerability are welcome to be a part of it and in fact, it is highly encouraged. Sometimes "Winning the Inner Battle" is recognizing the voice of suppression inside of our heads and just finally say YES to taking life to the next level.
You owe it to yourself as well as the future men of the world and say YES. We hope to see you there.
---
About the speakers:
Nate Battle is a speaker, life coach, and author of the recently released book, "Battle: Three Phases of Endurance During Crisis - How to choose to have peace one battle at a time."
Through his 30 plus years of professional experience, Nate has worked with businesses ranging from small startups to Fortune 100 companies. He has owned his own businesses and helped many others achieve their entrepreneurial goals.
Despite starting over from nothing after tracking towards becoming a millionaire three times, he bounced back with a renewed strength and invaluable knowledge of exactly what not to do.
As a cancer survivor, Nate volunteers to speak at American Cancer Society Relay of Life events to help educate and raise awareness in support of their efforts to celebrate and save lives.
With the release of his first book, Nate is transitioning from corporate life to fulfilling his dream of motivational speaking. Throughout this journey, he is fulfilling his personal mission statement: encouraging others to endure through challenges while inspiring them to live to their fullest potential.
Nate has been married to the love of his life for 32 years and has 3 children of whom he could not be more proud.
---
Born and raised in Petionville, Haiti, Lyonel Lumarque came to the US when he was just 14 years old. After college, he joined one of the best fraternities in the country—The United States Army. Being in the Army was a surreal experience for him, and he can say that the bonds he made there will last until he takes his last breath.
Lyonel has endured several significant challenges in his life, and has also had many successes along the way. However, life punched him in the gut a few years ago when he lost his business, all of his money, possessions, and his family—all in the same year.
He was left with no choice but to reinvent himself, and so he began focusing on serving others and helping them become the best versions of themselves they can be. Now, he gets to live his passion every single day doing this as a lifestyle coach, trainer, business coach, inspirational speaker, and mental coach.
Lyonel owns LyonStrong Training Systems, where his mission is to help people move better, as well as get fit and strong not just through exercise and nutrition training, but through mindset training. He lives what he teaches and aims to help anyone who is absolutely willing and serious about changing, about becoming who they want to be, and about winning their own inner battle.
---
Jonathan Alexander Foltz is a futurist, philosopher, entrepreneur, and digital frontiersman. He is well-versed in the world of business, having taken part in the creation and growth of over 16 different companies ranging from a highly recognized reptile import, export, and propagation business, to a creative marketing agency that has worked with several big names including Audi, Coca Cola, and Maserati.
He is also a deep-rooted knowledge seeker that enjoys learning about sacred truths, mysticism, lost and forgotten texts, human behavior, and ancient philosophy. He has travelled around the world to learn from some of the greatest teachers on the planet on these subjects. His insatiable thirst for growth has inspired him his journey of discovery on not only how mankind can reach the pinnacle of his performance, but more importantly, how to shortcut this process.


Jonathan is also highly attuned to the major shifts in technology today, as the digital revolution is upon us. His aim is to show the world how to harness the power available at its fingertips and utilize it to its advantage, while simultaneously being fully aware of the drawbacks and repercussions of its use.
Jonathan has recently launched a brand new movement called "Digital Frontiersmen" that elaborates on the new "Digital Revolution" that is changing the way business is done on the planet. His marketing agency, Digital Age Business, is now running 4 of their own eCommerce sites that sell products globally. They also buy, flip and sell Digital Real Estate. It is through these digital formats that he teaches, educates, and inspires entrepreneurs from around the world through his teachings on business, axiology, and the major changes that are happening in technology today.