This webinar will have a closer look at the advanced manufacturing sector and its trend towards development and adoption of technologies
About this event
As the manufacturing sector is increasingly moving from blue collar to white collar and embracing the light blue realm, the wealth and magnitude of where the next generation of technology, transformation, people and opportunities could take us is exponential.
This webinar will have a closer look at the advanced manufacturing sector and its increasing trends toward the development and adoption of innovative technologies to create new products, enhance processes and establish more efficient and cost-effective ways of working, thereby improving competitiveness of the manufacturing sector on a global scale.
Moderator for the session is Ulrike Bahr-Gedalia, MA, BA, Senior Director, Digital Economy, Technology and Innovation at the Canadian Chamber of Commerce.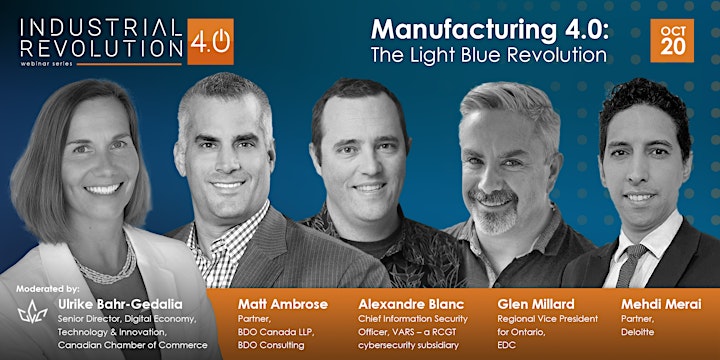 Panellist for the session include:
Matt Ambrose, Partner | BDO Canada LLP | BDO Consulting
Glen Millard, Regional Vice President for Ontario | EDC
Alexandre Blanc, Chief Information Security Officer | VARS - a RCGT cybersecurity subsidiary
Mehdi Merai, Partner | Deloitte
Please note that this event will be recorded/filmed/photographed and that images maybe be used in our corporate and marketing materials, on our website and in social media.
Contact us: info@chamber.ca OR 613.238.4000
Organizer of Manufacturing 4.0 – the Light Blue Revolution
Since 1925, the Canadian Chamber of Commerce has connected businesses of all sizes, from all sectors and from all regions of the country to advocate for public policies that will foster a strong, competitive economic environment that benefits businesses, communities and families across Canada.
With a network of over 450 chambers of commerce and boards of trade, representing 200,000 businesses of all sizes in all sectors of the economy and in all regions, we are the largest business association in Canada, and the country's most influential. The primary and vital connection between business and the federal government, our views are sought after and respected by government, business leaders and the media thanks to our well-researched reports, analyses, position papers and policy resolutions that reflect a broad business perspective.